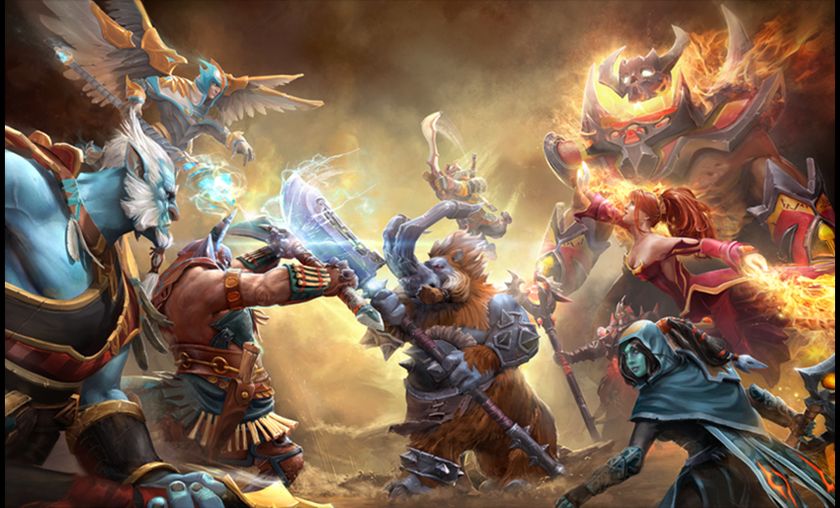 September end : Top Workshop submissions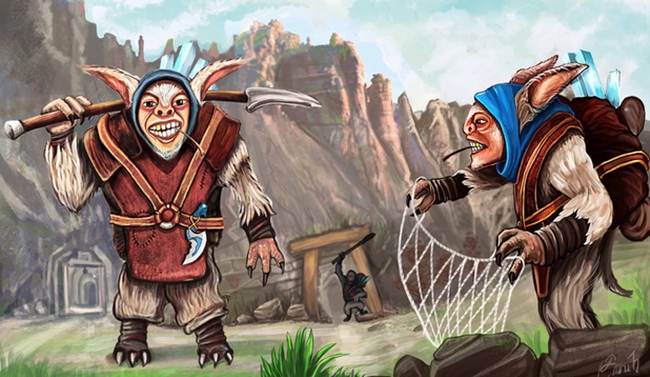 Loading screen made by 'abutalabashuneba' for Meepo.
From a junkyard Clockwerk set to a monkey courier drawn from childhood stories, Workshop artists caught our eyes once again this week.
Workshoppers submitted an explosion of sets this week, proving that players are still interested in cosmetics. Each artist came up with increasingly reckless ideas, hoping to garner our support and our votes.
This set gave much-feared Magnus the title of "chief," showcasing a great initiator/warrior who uses his skills to catch his enemies together and destroy them. I asked the concept artist to tell us a few words about his set.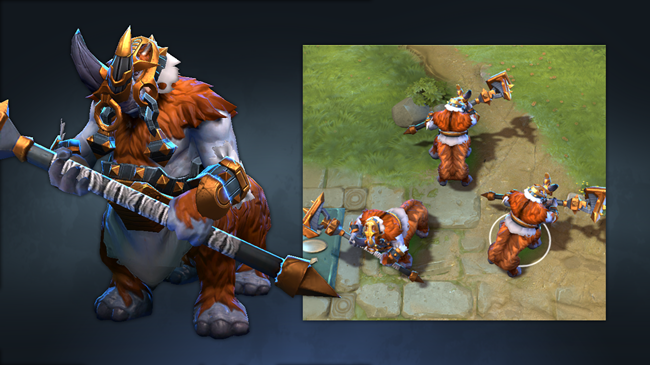 Gorbatov Aleksey: The main goal of my concept was originality. I wanted to bring something new to the set. So I decided to add a rarely used flat surfaces and make two horns instead of one. To add gold in the set was a spontaneous decision, just like gold, because it makes the elite set.
Designed as a fearless pirate, Slark is one of the most picked hero lately. Even though Valve released an item for him in TI6's Immortal Treasure III, this hero continues to drag attention from workshoppers. A nice combination between Kunkka and Slardar, "Cursed BlackFlag" is a five-item set, including a very nice pirate hat.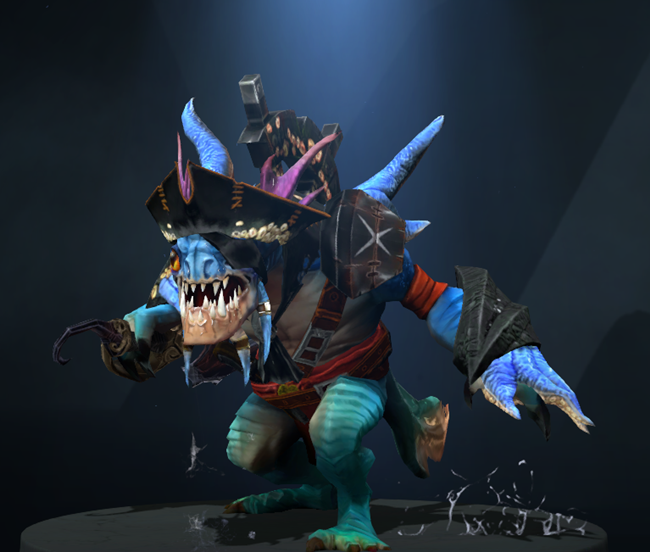 Pitched into Dark Reef (a sunken prison where the worst of the sea-breed are sent for crimes against their fellow fish) for unknown crimes, Slark spent half a lifetime without kin or kindness. He learned to trust no one. Somehow he escaped from the prison, and he adopted a pirate identity to stay hidden.
Avenging Guise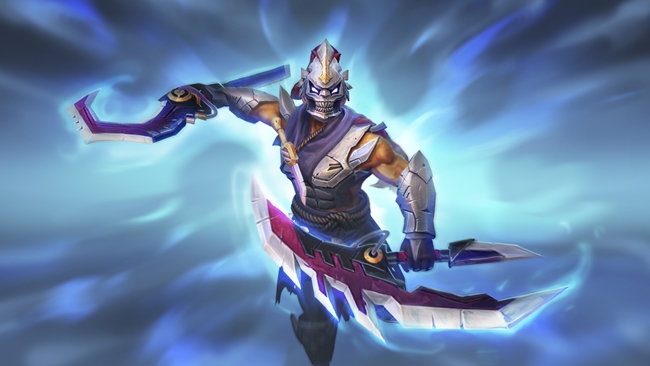 A different Anti-Mage set caught my attention this week: it's marvelous armor for the carry who doesn't love magic.

Nikita Evsikov, about his set: When we choose heroes for our next set, we usually look at Workshop submissions and current meta. So, this time, when we looked on heroes we chose Anti-Mage because he has a low amount of sets in the Workshop and people always like to play this hero, he's popular. The whole process of sets creation is big, but usually first step is concept art, and KA'aS did an awesome job with it.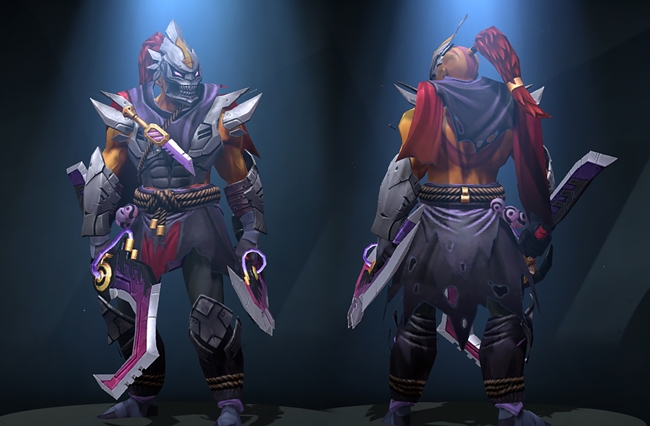 We tried to make something new: new colors, forms and ideas, a new set that will look good from the game. The second step is my work, and I just follow concept art and make 3D model and textures. Also, we spent a lot of time for in-game testing, we always fix things, trying to make it better and better and only after 2-3 weeks from the start we submitted this set in the workshop, and now, you can see it by yourself.
Autumn's Grace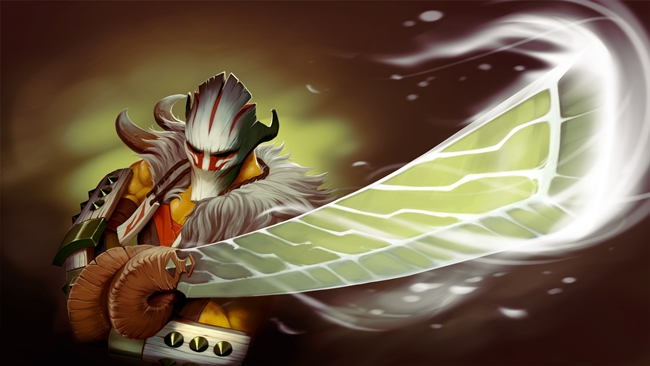 I hadn't seen a set for Juggernaut submitted in a long time. Curious, I reached out to the Workshop artist who designed it to discover the reason he chose this hero and what he thought about the design.
Michael Shilliday: As far as the design goes, I'm a really big fan of Juggernaut's default items and the few sets Valve accepted for him when they launched the item store. The original version of my set was done for "New Bloom" event but textures were pretty flat and it didn't feel right.
I reconsidered redesigning "Autumn's Grace" because I'm excited about his upcoming Arcana. I managed to sneak a scrolling texture effect to the sword before I submitted it. It was easier than I thought. As far as time goes it only took a few weeks to make in the first place, but I spent two additional weeks to refit it to Juggernaut's new model so I had to retexture everything.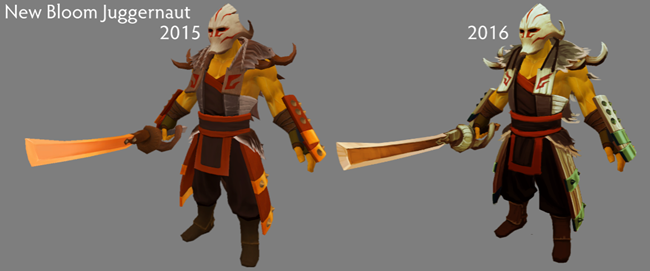 It's hard for me to use any mask that isn't his default, too, so I wanted to design something that returned to his roots but still felt different. That's the common criticism I've gotten with this set from others is the resemblance to the default, but I actually see that as a job well done--that was the whole point. I know there is an audience for that kind of thing.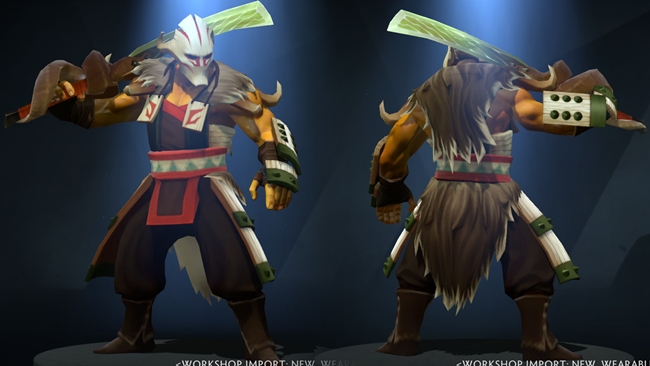 When sets get added to the store there's always the usual wave of comments that argue that everything is way too crazy these days. I'm always told I should stop designing "safe" sets, so I thought about ideas for some crazy uncharacteristic sets for other heroes since that seems to be what Valve wants these days, but it's just been hard to get motivated to work on them. Also, the stagnation of chests this year is a huge demotivating factor.
AncientFace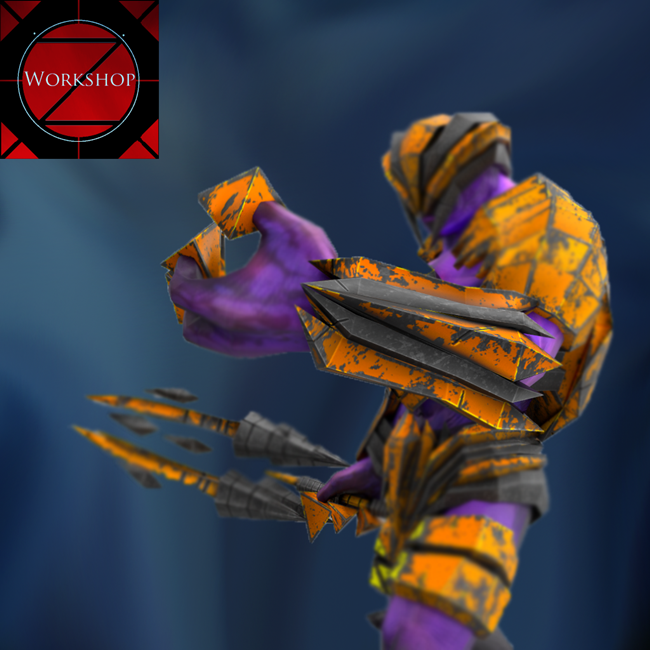 I loved this old, rough style of Void immediately. Words are unneeded for this, especially when the artist thought about a whole story for this set.
Darkterror the Faceless Void is a visitor from Claszureme, a realm outside of time. It remains a mystery why this being from another dimension believes the struggle for the Nemesis Stones is worth entering our physical plane, but apparently, an upset in the balance of power in this world has repercussions in adjacent dimensions. Time means nothing to Darkterror, except as a way to thwart his foes and aid his allies. His long-view of the cosmos has given him a remote, disconnected quality, although in battle he is quite capable of making it personal.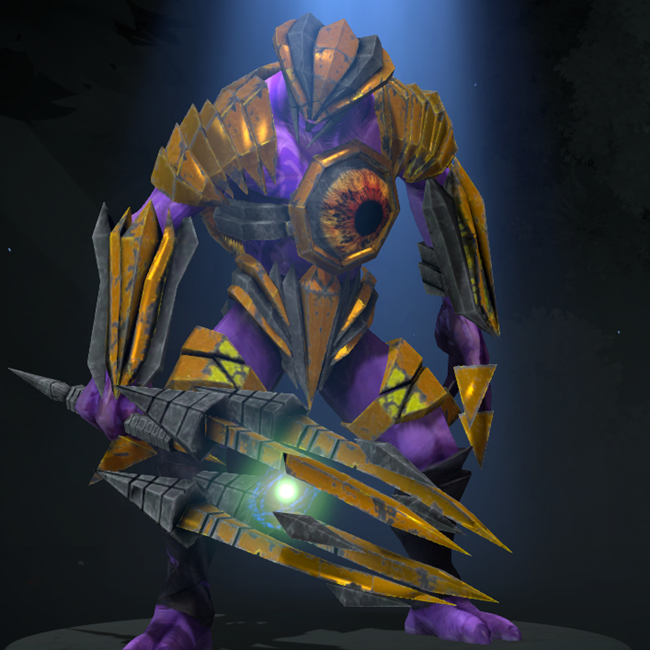 Also, there was a rumor that Darkterror was a scientist on his planet who created armor and weapons.However, nobody accepted his work.So he put on his armor and took his weapon to test them,but something went wrong and teleported him to unknown dimension and time.When he found the mistake that glitched his suite the only way to fix it and get back to his planet was Nemesis Stone. Fight for stone begins! 
The Fire Harlequin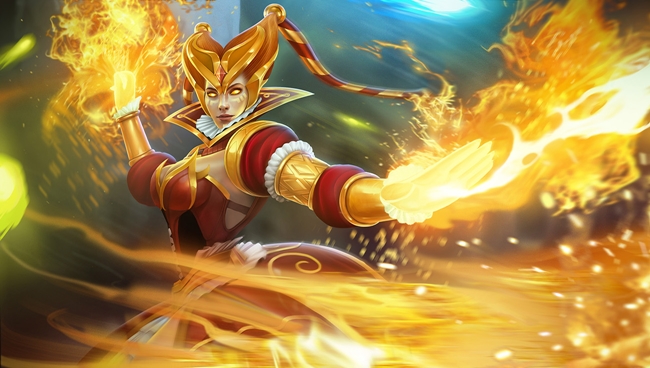 Well, that's a unique style for Lina: a buffon whose hands are on fire! Who could ever think that up? The set keeps the hero's basic colors, but are the same time the artist juggles them to create a charming effect.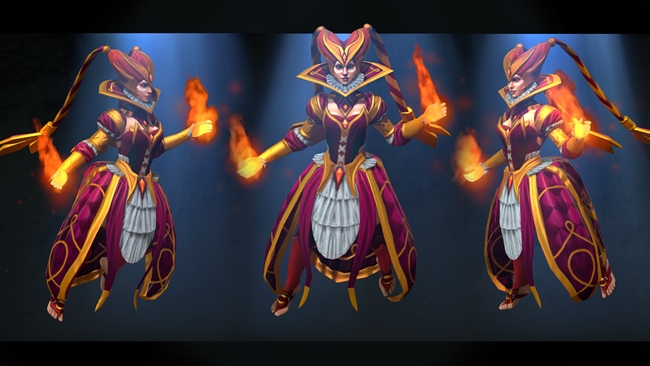 Every item of "The Fire Harlequin" is so well-defined that we only have to congratulate the concept artist and give him some votes.
The second submitted Pit Lord set is now on the waiting list among the others. It is extremely detailed, a characteristic trait for Liangbinge, the Chinese Workshop artist who manages in one way or another to design set after set.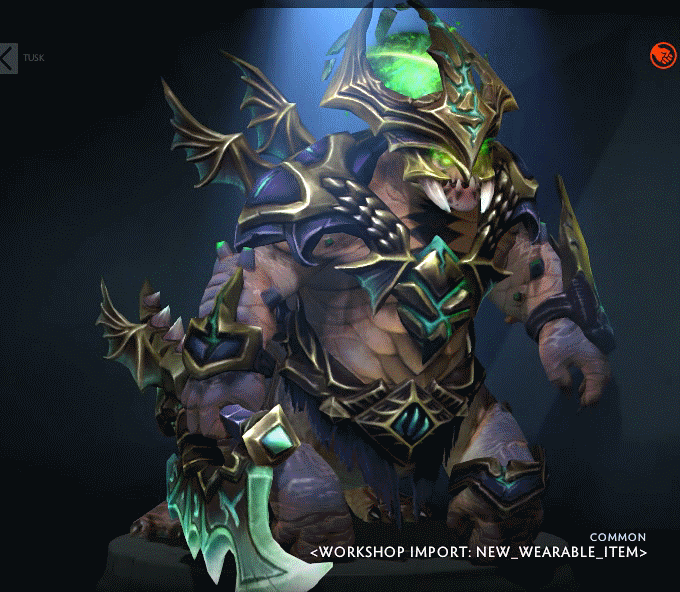 I strongly wish that these new Pit Lord items will be released on the market. But I don't want them to affect the hero's pick rate because Pit Lord picks are already scary enough!
All full of lightnings and electricity, "Thunder Rage" shows Disruptor as a fearless warrior instead of a humble support who keeps the enemies away when his carry is in danger.

Created from the remains found at the landfill, this Clockwerk looks amazing! The messy, old armor fits him very well. Only a great creative mind could have thought of something like that!

To find out more about it, I reached out to Vladislav 'Kidalv' Kirvel and asked him to share his thoughts with us.

Kidalv: I've decided to make Clockwerk in the knight's style because I wanted to create something unique that never was created on Cockwerk before. My set was based on 3 items: helmet, shield on the back, and crossbow. Other parts were created to accompany these three. I hadn't got a proper concept on the sheet of paper, everything was in my mind, that's why I've recreated the weapon, rocket, and cog to match the idea. I've used the junk style because I thought that Clockwerk is something modern and it can't look like a medieval knight.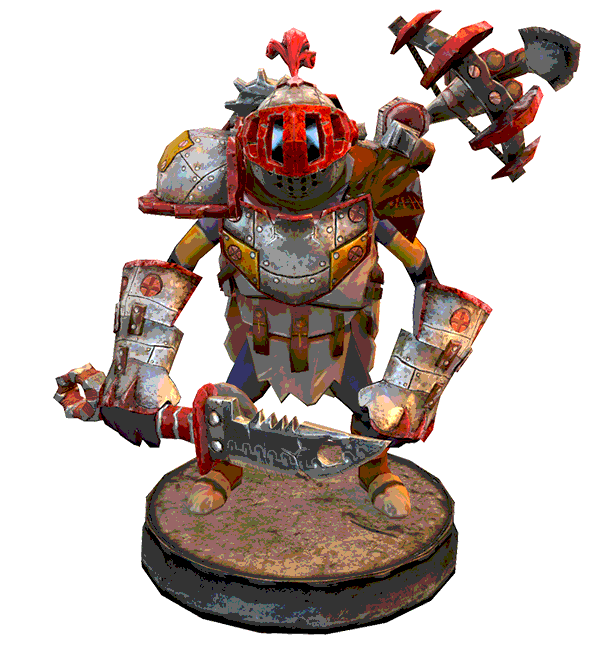 I never think about the name of the set at the beginning, because usually I change my primary idea while I create the set. I think about the name and description in the end, when all preparations are finished and I'm ready to publish. When I saw my set ready, I understood that every part of my set is dirty and damaged, same as rubbish that you can find in the junkyard. That's why I decided to take this name.

Carpet King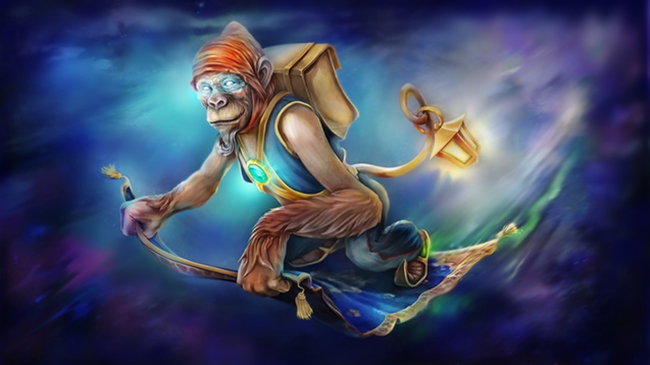 A unique courier drawn from childhood stories was submitted this week. A cute little monkey (that flies on a carpet when it's upgraded) waits impatiently to bring your items as soon as Valve will accept it in the Marketplace.
One of the loveliest wards I've seen is waiting for your votes. How could you resist those cute little eyes that will show you the way intro the enemy's jungle, eyes that will remove your fear of invisible creatures? The details are thorough, the colors are vivid, and the theme makes them sure to be introduced on the market soon.