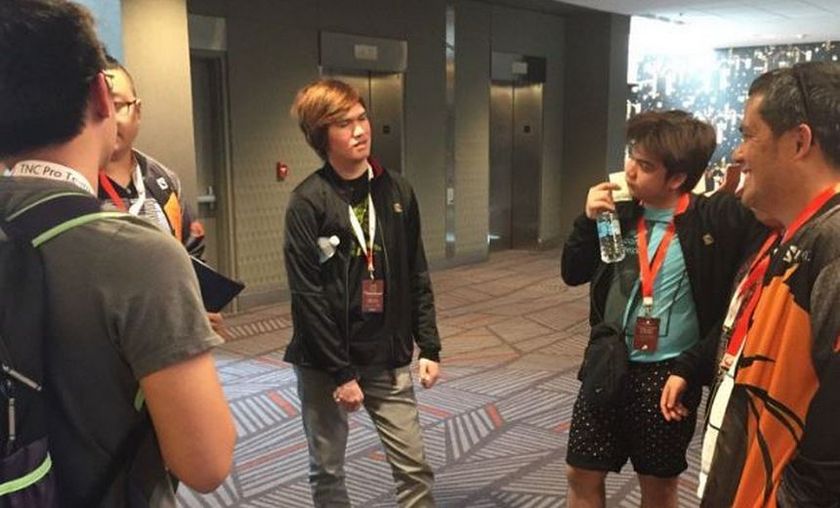 TnC's amazing run was all in vain

TnC took everyone by surprise in Group A as they managed to take games off many teams. Unfortunately for them, their 2-0 series win versus Escape Gaming wouldn't make a difference, as they were dropped to the Lower Bracket of the main event.
Game One
Bans
* This player was a stand-in for this match
The first ten minutes of the game saw both teams drawing rather even across the board, but once that point was passed, TNC looked to take full control of the game. It was only when Escape Gaming claimed an aegis that TnC made a slight slip up and allowed the Dire team a small chance to come back into the game. When TnC were stronger and ready to go high ground they looked to be ready to take it with ease, but with a magnificent wrap around smoke from ESC they defend their barracks. A few moments later the pendulum swung again as ESC made a Roshan attempt that ended with them being quickly wiped off the map, who moved to top lane and pushed down the barracks with the aegis in hand.
With no hope in sight as TnC dominated them at the end, ESC threw in the towel, giving game one to TnC.
Game Two
Bans
* This player was a stand-in for this match
This game would see TnC dominate as they marched toward high ground before twenty minutes and dropped the tier three top tower. But suddenly they started making small errors and Escape Gaming found a small window back into the game. In this window, Escape began to push out the lanes and held TnC away from another high ground push. But the Dire came back onto the high ground again at thirty two minutes and cleaned up top and mid melee barracks, leaving Escape's base and hopes in a very fragile situation.
After grabbing an aegis, TnC marched bot and wiped their way through the Radiant base, ensuring themselves a 2-0 win.
However, unfortunately for TnC, this win was in vain. With Alliance taking down EG 2-0, it meant that TnC would be one win short of reaching a tiebreaker against Alliance, and would sadly be going into the main event of TI6 in the Lower Bracket.
Team
G
W
L
P

14
11
3
11

14
9
5
9

14
8
6
8

14
8
6
8

14
7
7
7

14
6
8
6

14
5
9
5

14
2
12
2
Matches and results
And with that Group A in the TI6 group stage comes to a close.