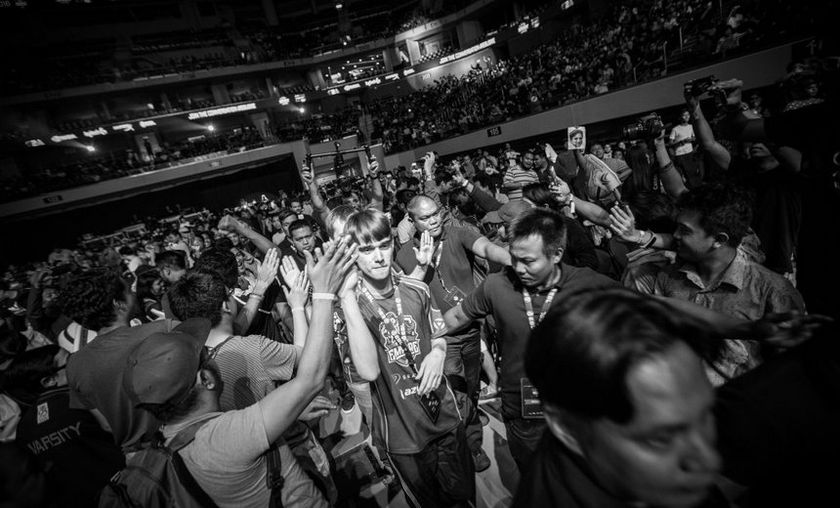 Team Empire find themselves a spot in the ESL One Manila Semi Finals

photo credits @ESL One
In a phenomenal best of three series, the underdogs Team Empire upset Team Secret once more, this time sending them home as they progress towards the Semi Finals
The Group B decider between Team Empire and Team Secret was possibly the most intense series at the ESL One Manila, with both teams bringing out the best in each other.
Game One
Bans
* This player was a stand-in for this match
Both Empire and Team Secret produced a rounded draft with a lot of focus on the current meta. The Game began with both mid heroes exchanging blows, but with the help of a few rotations, Team Empire was able to secure the first blood followed by an immediate trade. The game progressed at a slower pace as both teams found it difficult to secure kills, although the Mediallion and Invoker's Sun Strike did mean Clinkz was able to decimate heroes within seconds.
At the twenty minute mark Secret was looking strong with a ten thousand lead in net worth. As the game progressed, both Batrider and Beastmaster were able to get some crucial pickoffs with their ultimates, which brought Team Empire back into the game. The Gyrocopter managed to find good farm, posing as a potential threat to Team Secret, but they came back strong and were able to take the top barracks while Team Empire was trying to slay Roshan. This advantage helped Team Secret to position well and win some crucial fights. The fight near the Dire Secret Shop gave Secret the opening to win the game.
Game Two
Bans
* This player was a stand-in for this match
Team Empire and Team Secret drafted explosive lineups with a plethora of AOE spells coupled with global presence. The game was initially in favor of Team Secret as they were able to find consistent pick offs. The Precision Aura from Drow Ranger helped them with their damage output, but Team Empire remained undeterred. They were able to find farm on their cores, and their Rubick made some highlight plays with several Ravage and Blackhole steals. The Blackhole steal around the 24 minute mark gave Team Empire the teamfight that they desperately needed.The ultimate steals were well synergized with follow ups from Dark Seer's Wall and Nyx Assasins's Impale. Spectre was able to time his haunt well.
Empire was able to position themselves well during fights, and Team Secret fought as hard as possible but was unable to defend the highground against the well co-ordinated Team Empire. The game had some flawless plays from both sides but in the end Team Empire emerged the victors to level the series. 
Game Three
Bans
* This player was a stand-in for this match
Both Teams had pretty standard lineups except for Team Secret's Lifestealer, which seemed quite unusual. Team Secret was able to secure a quick first blood in the radiant jungle as the game progressed. Empire had a good start in return as they got a few pick offs in the bottom lane. The game was not favoring either team as both got the farm and the kills. Eventually Secret was able to pick themselves up with some shenanigans from Lifestealer Infestation.
Meanwhile Slark found sufficient farm and purchased a very quick Eye of the Skadi. Empire slowly gained control over the game as both Slark and the Nature's Prophet found both kills and farm. Team Empire also kept all the lanes pushed and applied sufficient pressure. With a substantial networth difference, the Slark was out of control, and the Disruptor got some clutch ultimates to turn the tide. Eventually Team Secret succumbed to pressure calling out the final GG.
Things at ESL One Manila have just gotten interesting as both Team Empire and Wings Gaming have surprised everyone with their progress.