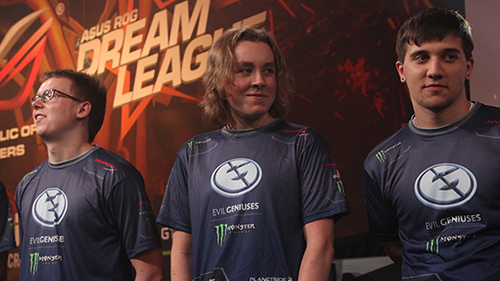 The Summit 2 Day 3: Evil Geniuses eliminate Not Today

It's the third day of The Summit 2 and it's time to begin the best-of-five elimination bracket between the six teams. Only Evil Geniuses, Not Today, Vici Gaming and Team Tinker are in action today as we finally discover which two teams will be eliminated from the competition and who will go on to face Cloud 9 and Secret Team in the semi-finals. First up, Evil Geniuses take on Not Today in the top half of the bracket. Evil Geniuses will be hoping their bad form in the tournament will have ended after losing their first three opening games. Not Today have had some spirited performances but were only able to pick up one win during the group stages. They last met in their group stage match yesterday where Evil Geniuses won quite convincingly, so the Americans have the edge but will the Peruvians be able to pull off a surprise victory?
Later today, the second best-of-five will feature Vici Gaming and Team Tinker. The Chinese qualifier winners Vici Gaming have looked fairly convincing in the group stages but dropped two games against Secret Team and Evil Geniuses to keep them outside of the top two places in the group stages. They were also able to defeat their opponents Team Tinker, who will be looking to improve on their group stage performances after only picking up a single victory against Evil Geniuses. 
Evil Geniuses vs. Not Today - 1:0
Evil Geniuses never looked in too much trouble in this match after drafting a greedy lineup including a jungling Enigma who remained unchallenged during the laning stage as Not Today opted for a lone Legion Commander on the bottom lane. Mihawk's Legion could not handle the pressure of the combined stuns of Sven and Witch Doctor throughout the game and dropped five early game deaths and struggled to get any success in duels. A failed attempt at a smoke gank six minutes in meant Not Today lost three heroes and things never recovered from there for the Peruvians. Within fifteen minutes Evil Geniuses were ahead by seven kills, and all Not Today's tier two towers were all destroyed within twenty two minutes. Anti-Mage was a lingering hope for the Peruvians, who didn't die through the entirety of the game and even picked up the Aegis early on, but Not Today could not handle the pushing pressure from Evil Geniuses as they began pushing into their base and by 33 minutes Arteezy's Death Prophet pushed carefree to take their final racks and force the 'GG' call.
Evil Geniuses vs. Not Today - 2:0
Any hope of a comeback in the second game from Not Today were quickly dented as Evil Geniuses were able to secure three kills in the opening three minutes, but the Peruvians held firm to remain in the game. Evil Geniuses put together a lineup including Razor, Faceless Void and Weaver, and all three of them picked up large amounts of farm. They discovered this wasn't going to be as easy as the previous game as Not Today were able to take towers and a good performance from Mihawk's Necrophos meant he was able to keep key heroes out of the game throughout. But the lane dominance from the Americans began to take effect after thirty minutes, and despite losing all their Tier 2 towers the Americans were able to team wipe the Peruvians twice, including a team fight in which Universe's Faceless Void got trapped in some trees during his Chronosphere. Another destructive team fight left Not Today no option but to call 'GG' as Evil Geniuses pushed up the mid-lane to destroy their base.   
Evil Geniuses vs. Not Today - 3:0
Not Today took a different tactic after the Brewmaster was banned for the third game and picked a greedier lineup including Enigma, Ember Spirit and an interesting tactic of having Mihawk play an offlane Invoker. This role backfired in lane against Tiny and Io, as they began repeatedly killing Invoker, picking up four kills in seven minutes against the Peruvian player. Evil Geniuses were clearly ahead in the laning stage for the third game in the series and this was assured with a team wipe twelve minutes into the game. There was no comeback for Not Today in this game, Evil Geniuses were dominant and took their time picking off their opponents one by one. Some team fights went in the Radiants favour but a dream coil and double ravage as Evil Geniuses entered their base let the Americans take two sets of barracks and even had Arteezy's Tiny dying in the enemy fountain just to pick up kills. Despite the humiliating end to the series Not Today refused to give up and forced Evil Geniuses to end the game by destroying their ancient. Evil Geniuses will go on to take on Cloud 9 in the next round leaving Not Today to settle for 2.5% of the prizepool.