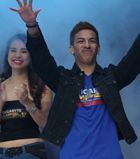 IAP.XctN, Team Malaysia and others at MGPL 2014

The majority of the teams are revealed for the upcoming MPGL Grand Finals in the Philippines, November 29. It is one of the biggest events for the South East Asian scene.
About four weeks ago, we reported that the MPGL Grand Finals of 2014 are coming. Now, more details are announced as a list of teams is public among other things. MPGL is like a mini-version of The International for the people of the Philippines, where they can meet up with other fans as well as seeing famous SEA players battle it out. The event takes place at Skydome, SM City North Esda, Philippines from November 29 to 30.
Teams will be participating from surrounding countries, giving it an International appeal. Worth noting is that Arrow, Mineski and MSI EvoGT will not be having teams playing at the event due to the recent matchfixing scandals.
Participating teams (highest national ranks in MPGL)
Inter Active Philippines ExecratioN

Team Malaysia

Mith Trust

Insidious Idol

Gse7en

JoeNet Elite Team

NVIDIA Aces

Rave
Further slots are also given to the five more teams
Awake (rank 2 Thailand)

iDEAL.Gigabyte (rank 3 Thailand)

Rank 1 of MPGL PH qualifiers (played Nov 15 - 16)

 Rank 2 of MPGL PH qualifiers (played Nov 15 - 16)

Rank 1 of SEA Online Wild Card qualifiers (played Nov 3 - 14)
Teams have been gathering points throughout the multiple MPGL instances which has been held throughout the entire year. Finishing high in those comes with a small prize purse of it's own, but more importantly, it can make your team eligible either for a direct slot at the Grand Finals or at least a place in the wild card qualifiers.
Prize pool
1st - $12,000 USD + 60% of contribution pool
2nd - $5,000 USD + 25% of contribution pool
3rd - $3,000 USD + 15% of contribution pool
Currently just above $9,000 have been contributed, and comes not only from DotaTV ticket sales but also from gear/merchandise sales as well as donations. The total prize pool is as of now around $31,000 which is a lot of prize money for a South East Asian tournament, a region where the common prize pool typically is a fair bit more modest than in Western counter-parts.
Source: Mineski
Headline photo taken at 2013's MPGL finals