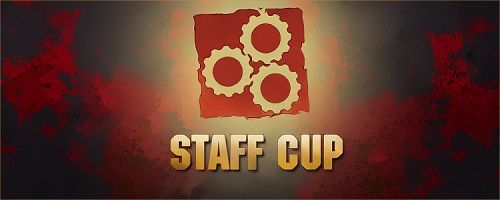 Staff Cup is back - GGnet goes for glory
You know the post-TI depression is truly over when the best of the best clash again in a fierce competition. 16 teams will fight for glory once more in a heated competition where there will only be one winner. The Staff Cup has returned!
The biggest and most important tournament of THE YEAR is upon us. Just kidding, just Staff Cup. 16 teams from all over the web will compete to show off their 3kMMR skills on camera. Your neighbourhood coverage crew, those random tournament admins and the ever so lovely and awesome newswriters finally get a step into the limelight. 

The tournament format will be the same as for previous editions. There will be a groupstage with four teams per group. The top two will advance to the single-elimination playoffs. The finals will be best-of-three, whereas all other matches will just be best-of-one. The tournament will be played in Captain's Draft mode.

Staff Cup will be held on Saturday, 30th August, starting at 16.30 CEST. Official broadcaster have yet to be determined, but the likes of Tobiwan and GosuGamers will provide first person streams. 
Participating teams, some of which are still subject to change:
Note: The GD Studio, BeyondTheSummit and DotaCinema have all been invited but declined (read: chickened out).
Participating teams

GosuGamers
joinDota #1
D2L Scrubs

4Guys,1Girl and a Dota cup

HighGroundTV
Cyborg
Dota 2 Romania
Readmore
2p.com
TeamLiquid
Jeuxvideo.com
Managers
joinDota #2
StarLadder
WePlay.TV
Twitch

Note: The GD Studio, BeyondTheSummit and DotaCinema have all been invited but declined (read: chickened out).
GosuGamers has made a few roster changes in regards to the previous installements. Former captain Vladimir 'Angel' Kojadinovic will not be able to attend the tournament. However, the team has found a suitable replacement in former Senior Editor and current Dota 2 Lead Sovann 'Skim' Kim. As a temporary stand-in just for this tournament, the star studded team has acquired help of former HoN Crew Lead Sören 'Fantasy' Vendsahm.
Current GGnet roster:
Sovann 'Skim' Kim (C)

Linus 'Tjernobylbarnet' Staaf

Daniel 'PatrickBaitman' Lintott

Yuliy 'HellDisaster' Yuliev

Sören 'Fantasy' Vendsahm

Notable players in this edition of StaffCup include TobiWan, Maelk, WhatIsShit, Ayesee, CyborgMatt, PyrionFlax and Shane. 
Credit to joinDota's Kibyu for hosting and organizing this event.