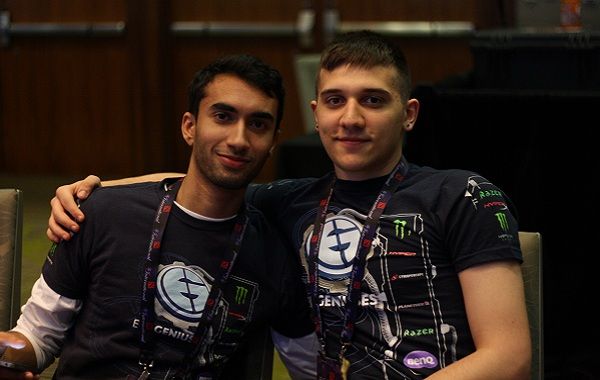 VG, EG stand atop of standings, final groups day tomorrow

Vici Gaming and Evil Geniuses currently share the top spot on the group stages, and are both highly likely to finish within the group's top two positions. The rest of the group stage matches will be played tomorrow, with a number of crucial matches and possible scenarios.
Evil Geniuses is now riding on a seven-game winning streak, enough to push the American team into a tied first place with Vici Gaming. With a better day 1 and day 2 performance, VG had a chance to guarantee themselves a top two groupstage finish, but they suffered losses against western teams EG and Cloud9 today.
The top four remains unchanged, as Chinese teams Invictus Gaming and DK follow through with 9 wins over 14 games. Both of them fared with 3-2 scores today. Cloud9 also had a strong day as they amassed a 3-1 record, including wins against teams with currently higher records than them - Vici Gaming and Invictus Gaming.
Our event blog for day 3 can be found here.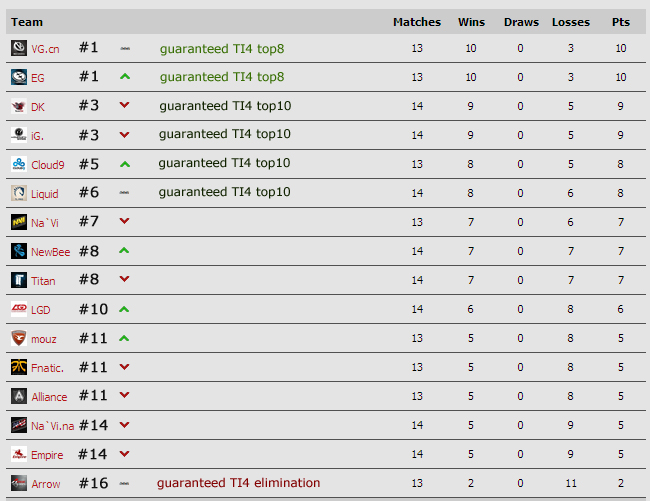 Contrary to the hectic first three days of the groupstage wherein 36 games are played per day, the fourth and final day for this phase only has twelve scheduled. After that, all necessary tiebreakers will also be played.
With ten wins against just three losses, Vici Gaming and Evil Geniuses easily have the most comfortable position heading into the final group stage day. They only have to win one out of their last two games to secure a top two finish: VG is scheduled to face Arrow and iG, while EG has matches with DK and Alliance.
Invictus Gaming and DK both have nine points apiece, but they have already played 14 games. The only way they can finish with a tied score within the top two is if EG and VG lose both their matches. A similar scenario applies to Cloud9, who can still potentially get ten wins.
Na`Vi and Liquid are both still on a position to reach a top 6 finish in the group stage, which would ensure qualification on the main event. It also means a cash prize of more than $500,000, a big difference from the $48,000~ or below of those placing outside of it. Na`Vi, with seven wins, still need one more win to secure a finish within the top ten of the group stage.
NewBee and Titan are in the middle of the pack with identical 7-7 record. They cannot make the top 6 anymore but they would like to improve their chances by going for wins tomorrow. A loss could potentially put them in an elimination tiebreaker with teams like LGD, mouz, Fnatic and Alliance. Seven seems to be the magic number, and finishing with less wins seems to pave way for elimination.
Arrow Gaming is so far the only team officially eliminated from the competition. Empire and Na`Vi.NA still has a small chance to enter top ten with at least a tied score, but they have to meet a specific set of results; they need to win their final game, LGD loses their last game, and the teams mouz, Fnatic and Alliance losing at least one of their two final matches.
The bottom six teams outside the group stage will be eliminated. Necessary tiebreakers will be played tomorrow to determine a specific 1-16 placing.
It's the holy grail of The International 4 coverage!

Highlight cliips are aviailable on our YouTube channel. You can also visit our wiki page for more information on The International 4.