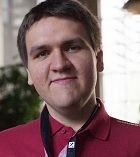 Dominik "Black" Reitmeier "I won't stop fighting to find a new team"
Dominik "Black" Reitmeier, after several months of inactivity in the Dota 2 competitive scene after the end of LGD.int, speaks on his current situation and future plans in a long blog post.
Dominik "Black" Reitmeier, one of the most well known farmers in Dota 2 the famous carry player, had been AWOL from the competitive scene for several months ever since LGD.int disbanded. Whereas his former teammates decided to return to the Western scene for new opportunities, Black decided to continue his stay in China with the hopes of "building another team together" with LGD.Ruru. Despite the lack of success to make or find a new team, Black remains optimistic as he highly reveres the "Chinese's approach to the the game". Black held tremendous gratitude towards LGD.Ruru for the help and faith that she had given to Black during his stay with LGD.
Unfortunately for Black, his conversations with IceIceIce, Burning and Mushi lead him to discover the tight-knit community of the Chinese Dota 2 scene. It would be difficult for him to be a part of a competitive Chinese team even if he was "able to master Chinese". Nevertheless, Black found that he had "improved a lot" and would most definitely "hope to one day return to [China] and compete amongst them".
Reportedly, with the International happening two months earlier than last year, teams are scrambling to stabilize their roster to earn an invite to the upcoming event. Still without a team, Black acknowledged that his chances of attending this year's International is getting slim. Nevertheless, he is already looking forward and stated that he "won't stop fighting to find a new team [and will] redouble [his] efforts to earn a spot at TI5".
Source: TwitLonger