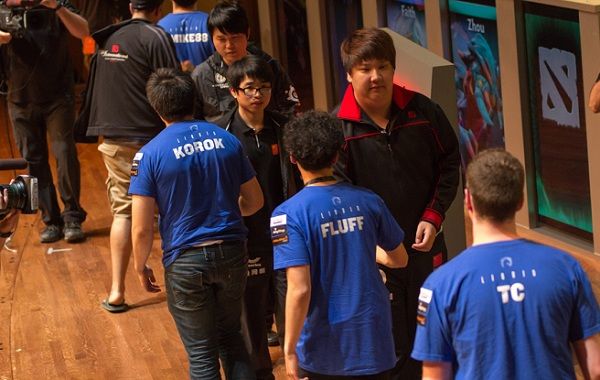 TI3 day three recap - dual-EU upper final


The winner bracket final is known, it'll be an all European showdown while the lower bracket currently have all four teams being from Asia (three of them from China).
Upper Bracket
Round 2 - Best of 3
Round 3 - Best of 3
Lower Bracket
Final
>> Newsticker for Day 3 - match updates, drafts, scoreboards, live blog
Upper bracket
Alliance went up against DK in the first match of the day. In the first game, Alliance did what they do best - split push strategy, DK put up a good fight but succumbed in the end. However, DK did in game two what no team done so far at this event - win a game vs Alliance. They did using the classic BurNing Anti-Mage. Alliance pulled one of their usual strategies in game three (Phantom Lancer, KotL) and played solid patient Dota, winning the match and ensuring a top three finish.
In the next match, Natus Vincere managed to beat TongFu two to one. Both of their won games featured the ever so loved Dendi pudge! Especially the third game was quite interesting as Na`Vi were losing but came back and won solely because of several fountain hooks (Pudge Hooking while getting sent back by Chen's Test of Faith). TongFu had no answer for it and lost the game.
Lower bracket
The last round of the merciless best-of-ones was played today, both of them being West vs East match-ups. First match saw the last hope of SEA - Neolution.Orange going up against Fnatic. Orange were in control for most of the game and managed to deliver a convincing victory. Fnatic finishes seventh-eight.
The defending champions - Invictus Gaming - have been struggling throughout the tournament but are still alive and kicking. They showed so in the match versus Team Liquid, the last home team. iG were in the driver position but Liquid had a couple of good fights and managed to keep up with the farm, they kept close throughout the game. Sadly for the home crowd, the Americans lost in the end while iG moves on to the best-of-three part of the lower bracket.
Last games were the first halves (or thirds) of the round four matches, these being best of three (finally!). DK once again played their four-protect-one with all eggs in the BurNing basket. Orange had a good early start but great Reverse Polarities from Magnus and the massively stacked BurNing was too much for them. The last game was a close one between TongFu and iG, both teams very eager to start this series coming out with the upper hand.
Videos
​
Editor's pick (Tjernobyl):
Some good games were played today, that can not be argued. The first game of Alliance vs DK shows great drafting, game understanding and execution by Alliance. The third game of Na`Vi vs TongFu was won by multiple fountain hooks. iG vs Liquid and iG vs TongFu were both excited and stacked games.
>> Alliance vs DK (game 1)
>> Na`Vi vs TongFu (game 3)
>> iG vs Liquid
>> TongFu vs iG (game 1)
 
Schedule for tomorrow (10/08/13)
Day four starts off with the two started lower bracket matches finishing. After that comes the long awaited clash of the top two European teams - Alliance vs Natus Vincere. Last match is the lower bracket semi final, which should mean tomorrow is a shorter day but who knows, it depends on how long the games are and if the series gets maxed out.
21:30 - DK vs Orange (bo3 - game 2 to 3)
23:30 - TongFu vs iG (bo3 - game 2 to 3)
01:30 - Natus Vincere vs Alliance (bo3)
04:30 - Lower Bracket, round 4 (bo3)
 
It's the holy grail of The International 3 coverage!