TI10 Fnatic: Damage control exercise
Fnatic navigated a sea of troubles to make it this year at The International 10, and while they come as a reformed team in many aspects, the hard work is only starting for them.
Southeast Asia didn't have a good TI run for straight five years, or four editions. It was back in 2016 when Fnatic placed top 4 and TNC Predator finished in the top 8 at TI6 and since then none of these two managed to replicate the success. Nor other teams were able to rise over the years, Mineski being the only other organization able to clinch a TI ticket in both 2018 and 2019, but both years they returned home with just a 9-12th final result.
 
A heart felt goodbye
Unfortunately, the COVID-19 situation hindered the SEA region even more. Multiple organizations were forced to shut down their Dota 2 divisions due to financial uncertainty and even more underwent multiple roster changes through 2020. That led to an increase in instability in the region and directly impacted each team's performance.
For Fnatic, 2020 meant several roster changes that triggered the search for a new identity. First to let go was Nuengnara "23savage" Teeramahanon, who although during his stint carried the team to five championship titles, towards the end of the summer, he saw a brighter prospect in joining Vici Gaming.
His place was taken by Marc "Raven" Fausto, who returned to Fnatic after GeekFam dropped their Dota 2 team. The roster changes continued with Anucha "Jabz" Jirawong going once again on, off and on again, but the biggest blow came mid-September when Daryl Koh "iceiceice" Pei Xiang decided to not renew his contract with the organization. He was already after a period of inactivity when he felt the need of a big change, and while he moved to Evil Geniuses to play for the first time in his long career in a different region, Fnatic were left scrambling to find a fix.
Dealing with a rather small pool of high profile offlane players in SEA made the efforts to find someone to fill in some big shoes left behind by iceiceice a pretty daunting task.
 
A new era
iceiceice's departure triggered a new era for Fnatic in all aspects. One in which the early search for a replacement brought Natthaphon "Masaros" Ouanphakdee to the team. He was recruited from Motivate.Trust Gaming, a team that took two big series from Fnatic in 2020, at BTS Pro Series Season 3 and ESL One Thailand 2020. With him in the offlane, Jabbz switching to position 4 and Raven in the carry position, Fnatic were able to develop a strong team fight oriented playstyle and when the DPC came, they annihilated the opposition in the first season of SEA league with Io carry, Tidehunter, Enigma (played by Jabz), Elder Titan, Puck or Invoker hero combos. They went 6-1 in the league and secured a playoff seed at the first Major of 2021.
However, despite being held in their region, hence they needed no time zone adjustments for the Singapore Major, Fnatic had a terrible tournament run. They've been unlucky to have Evil Geniuses as their first adversaries, now fighting with icex3 on their side, thus getting a whole better idea about draft patterns and overall game idea of Fnatic. Besides that, Raven's 5-0 record with Io carry in the seasonal league play made such an impression that EG felt compelled to first ban it in both games. Despite Fnatic's open mindness and desire to deliver entertaining games at the highest stakes, EG were prepared for a Techies pick and did not tilt even when RTZ fell victim to the bombs on a six slotted Naga Siren.
Dropped to the lower bracket, Fnatic were pitted against OB.Neon, the other SEA representative at the Major and got eliminated in the 9-12th spot by a team forced to a last minute stand-in and a  few role adjustments to accommodate Yang "Deth" Wu Heng in their line-up.
Following the underwhelming performance in Singapore, Masaros was transferred back to his former team as Fnatic worked on more fixes. They welcomed Ng "ChYuan" Kee Chyuan in the offlane, but as their second seasonal league was pretty rough and they couldn't secure a spot at the AniMajor, more roster changes came into play. Kam "Moon" Boon Seng was let go, while ChYuan was moved to the mid lane position and Deth, the one who took the limelight in Singapore with OB.Neon, joined in the offlane.

Fnatic roster
Marc Polo Luis "Raven" Fausto
Kee Chyuan "ChYuan" Ng
Wu Heng "Deth" Yang
Anucha "Jabz" Jirawong
Djardel "DJ" Mampusti
coach: Jeong Jae "SunBhie" Lee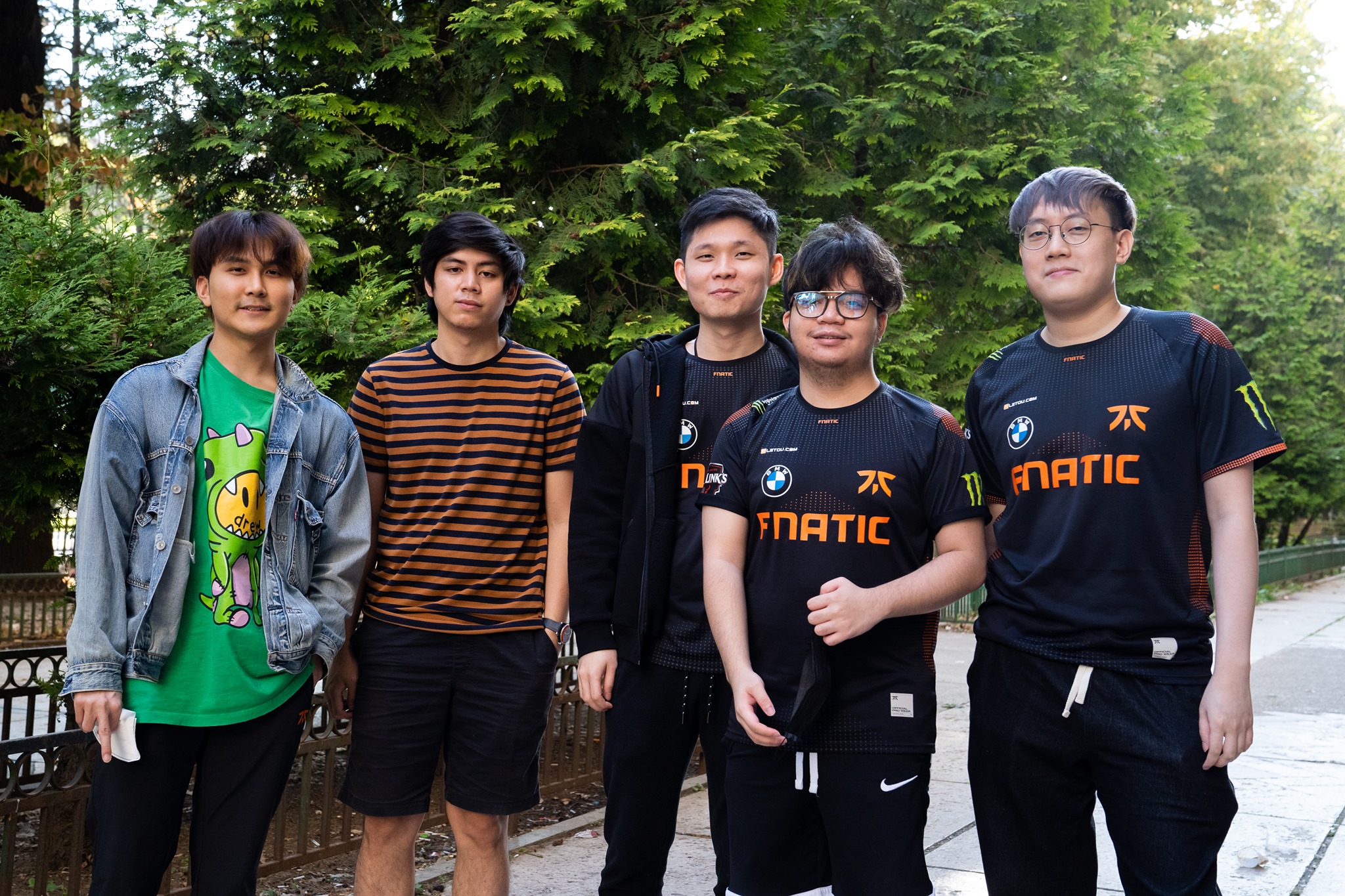 Despite both being past 25 years old and having played previously with high calibre teams, ChYuan and Deth are yet to prove themselves on the TI stage. They've done the first step towards that objective by claiming the SEA qualifier spot this year with Fnatic.
The TI10 SEA qualifier campaign was the first big test for the reinvented Fnatic, and up to the grand finals, they passed it with flying colours. They gave a scare to their fans in their final series against TNC Predator by starting with a 0-2, only to complete a full reverse sweep with Raven plowing through the last three games with 35/0/35 total K/D/A. It was his Terrorblade that evened out the series in game three and four and a somewhat surprise carry Axe pick in the final match on which he went 18/0/12.

Fnatic's claim at the Aegis
Fnatic didn't have too many chances to show what they are capable of with the new roster, which was completed just about three weeks before the TI10 qualifiers, but the games in the said event and the two online runs made at BTS Pro Series Season 7 and OGA Dota PIT Invitational, which is their only official competition on the 7.30 patch, showed that they are working to find the hero synergies that would fit each individual skills at maximum.
Building team chemistry usually takes time and the few official games they had since Deth's arrival can't be a true indicator of where they stand in that regard. They have no LANs under their belts with the new formula, but they did pass a true stress test in the regional qualifiers. They've been one of the few teams to arrive in Bucharest, Romania for the pre TI10 bootcamp about a month before the event, which points at the fact that they are committed to build something relatively stable and if they succeed they could deliver one of the biggest surprises at TI10.
Taken individually, each of the Fnatic members is rather an outstanding player. DJ is their pillar and one of the greatest support players in the entire scene, regardless of the position he plays. Jabz has the capacity to play either four or five, or be the captain and the drafter and the sacrificial teammate. Raven proved his worth not only with Fnatic now but also in the past and with TNC, Mineski and Geek Fam as well. This strong trio should elevate both Deth and ChYuan, who both have amazing potential and showed that they can deliver clutch plays under pressure.
The International 10 will be a whole new experience for Fnatic, who might find a blessing in disguise playing with two newcomers on the TI stage, eager to prove themselves at the biggest Dota 2 tournament.