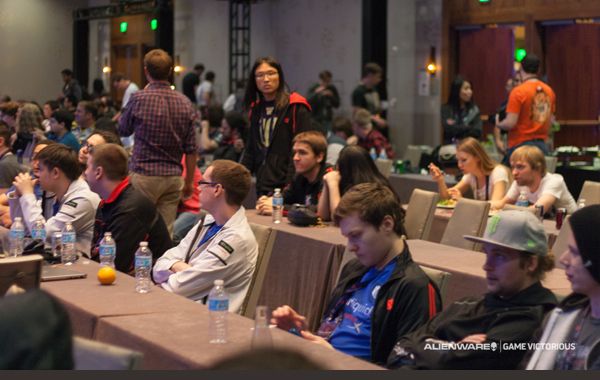 Day 2 Event Blog: Arrow wins two games!

Click here for our gallery of photos! 
---
Round 9: Arrow gains many fans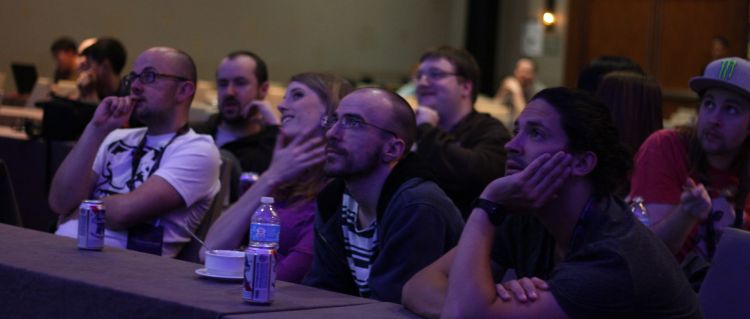 There are 3 games left - the ongoing Arrow vs Liquid match, EG vs Titan, and iG vs Empire. What is extremely notable right now is the amount of hype and cheering that Arrow are receiving in the main hall right now on the back of their first win and the immense performance they are putting on right now. This is the classic Cinderella story at work perhaps, the team that no one expected to get a win doing so well against the utterly dominant Liquid of Day 1. 
The front two rows is filled by an entire bunch of personalities of the scene, eating dinner, chilling and watching the extremely entertaining Arrow-Liquid match. Arrow Gaming have won two in a row, and boy, is the hall excited. There is a lot more cheering now compared to earlier, since almost everyone was watching the same match. Those two wins must have really cheered Arrow up, and also throw a spanner into Liquid's efforts thus far. As I come from SEA myself, I am pleasantly surprised at Arrow's performance, and they look elated as they walk to the hall for a late dinner. 
The final match has now ended and EG are now making a comeback, taking a match against Titan. More surprising to me was iG losing to Empire's wombo combo line up, but I guess at the end of the day anything can happen. More Dota to be played tomorrow, but I am extremely tired now. Goodbye, all! 
---
Round 8: Dinner and the fastest game so far
In what has been the fastest GG called so far, Vici have shown their mettle by taking a 17 minute gg against NewBee, much to the surprise of most of the hall. At the same time, Arrow, who have already been eliminated, might be taking thei first win of the tournament against Na`Vi.US, again to the surprise of most of the hall. 
The bigger stories going on right now surround the two teams IG and Liquid - IG has proven that they are contenders for the top spot this year, taking a win against Titan in a stunning reversal despite being at a disadvantage. Liquid, on the other hand, don't look as solid as they did yesterday - they have dropped two games in a row against LGD and C9, taking the steam out of their sails. It will be interesting to see the team reaction later when they walk back into the main hall. 
Dinner has been served, but EG, who are waiting for their game has not eaten. DK, who are finished for the day, have finished eating and seem to be staying around to finish watching the matches. In terms of the matches, Alliance and Fanatic still looks too close to call, but NewBee are finding some vengeance by completely dismantling Mouz after their fiasco against VG. 
I am looking at Na`Vi.US entering the main hall now and they look extremely dejected. It should be expected though, since I think by now most people were classifying Arrow as the MUFC of TI4. DDZ's Invoker is carrying the team extremely hard and I think teams have begun to underestimate Arrow too much - I had heard that they had actually been even in scrims against many teams like Empire and Titan. 
---
Round 7: Clash of the Titans
We are now watching iG play against Titan, with this match being a clash amongst the top 3 in the table. Na`Vi are not faring too well, and it showed when I asked Dendi how he was doing - his face flashed into a brief, sad smile, "Nope, not that good." Na`Vi are languishing around the center of the table right now, and maybe they will perform better soon.
The story of day 2 has surrounded the fall of Cloud9 and NewBee, and the resurgence of DK and LGD. It is apparent by now that Mouz and Arrow will most probably be the first two teams to be eliminated, while Fnatic has not been doing well since their excellent start to the group stage. However, anything can still happen, and with the playing field still so widely open, they can still make it into the top 10. We'll see.
The matches today have been longer as well - it's pretty obvious that although it's only 4.30pm here in Seattle, we're only just starting on Round 7 - the same time yesterday we were almost halfway done with round 8. I guess this is due to the teams being able to figure each other out after the first day of play. 

EG are chilling at the front of the hall right now, and they actually seem to be cheering for DK in their thriller against Empire. In the meantime iG are continuing their hot streak, and have shut down Titan's streak instead. For me, the most interesting thing I've been seeing today has been DK's coach 71 constantly taking notes and following their matches, as well as moving out of the hall to meet the team every single time their matches end. DK's victory now puts them at a consecutive 6 wins, and they are really looking good now, although perhaps not as convincing as iG looks. 
---
Round 5-6 : DK and Alliance Rising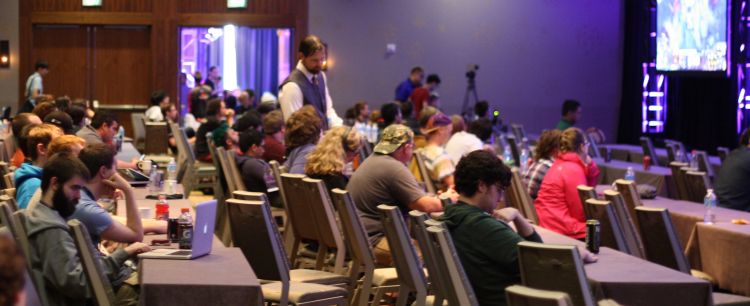 Alliance and DK are really on the rise today, they have each taken quite a few wins after both having a horrid day 1. DK dominated C9, while on the other hand Alliance completely neutered Empire's Naga. Meanwhile, LGD have actually started mounting a comeback, taking a game off the crowd pleasers Liquid, much to the aghast of the crowd. This group stage has been an excellent case of showmanship so far and I hope it continues this way. 
DK have now taken their match against Mouz, and are on a 5-game win streak. ON the other hand, the Na`Vi.US and IG Match is such an amazing match. Both teams are playing amazingly and the hype in the room is palatable. Players and viewers alike are staring hard at the screen, relishing this kill fest and huge plays by Invoker and Earthshaker alike.
The North American teams, Liquid and Cloud 9 are resting on the right side of the room now, while the Chinese teams are clustered up at the practice area watching replays. Walking past them, I noticed that Vici Gaming's rOtk was mentioning that a particular play was really nasty, but I was unable to catch the exact play he was talking about. Vici are definitely in good spirits, given their almost unblemished record, currently standing at 6-1. 
---
Round 3-4: NewBee looking shaky now
I don't think anyone expected this coming into the group stage - NewBee are now 3-4 on the back of some brilliant play by EG, and Alliance have clocked their second win as well, this time over Mouz. It really does look like Mouz and Arrow will be the first two teams to be eliminated, but Titan is playing so well right now that SEA hopes remain extremely high. The fans are a lot more animated today, while the players seem more subdued. 
I saw Dendi walk into the main hall earlier, and he seemed pretty upset after the loss to Titan, which is understandable. Na`Vi are still doing well though, and KuroKy has seemed pretty upbeat as he continues on his regular trips to the drinks section to hydrate himself. 
Titan are streamrolling really hard, and DK's unique draft against C9 has also drawn quite a few cheers on the back of iceiceice hitting some magnificent Chronospheres. The crowd in the hall has thinned as the players have left and are probably resting in their lounge or preparing for their next matches. 
---
Round 2: Game is hard.
The hall spent quite a bit of time watching the ending of DK - Arrow that seemed to take a lot longer than it should have. DK seem to be really shaky still, and all DK fans are probably worried. This is mirrored by NewBee, who have now lost two straight games, but IG still seems to be chugging on and ignoring everything, easily taking their match over EG. The other Chinese team that many casters and personalities always seem to forget, VG, is actually doing really well. They've taken 5 wins, and only lost to a resurgent Na`Vi. 
I had a chance to speak with Babyoling, Titan's manager, who did that mention that they were quite surprised but happy with Titan's victory over NewBee. Titan are indeed carrying the hopes of the SEA fans with their great play thus far. Arrow, on the other hand, is still struggling despite an amazing performance by DDZ's Invoker. We are now watching Titan reclaiming ground against Na`Vi, and I'd say that they are definitely in position to take this match, and put them at the top of the group. 
Indeed, Titan have taken the victory over Na`Vi. They played really well to get through the early game and mid game, and it is evidenced by the appreciation of the fans cheering their win and play to take the match over Na`Vi. Titan are looking extremely strong right now, and Alliance is also making a resurgence.
---
Round 1: Good Morning Seattle!
Good morning! The matches will be starting on time today, and right off we are treated to matches between Fnatic and Liquid, as well as NewBee going up against Titan. Some great matches to be caught today, and more stories to tell. In the meantime, there are a few teams in the hall right now, enjoying a slow breakfast and watching the matches as well. I see DK in front of me, as well as VG and Na`Vi in the hall. I see some tired faces in the hall after a long day of Dota yesterday, and I expect it will be the same today. 

Cheers are abound as we watch Liquid completely crush Fnatic, and we are now watching Na`Vi.US against Empire. It appears that SEA is doing well this year, now that Titan has taken a win over NewBee, who are not as invincible as they were said to be with two consecutive losses. 
Skim here, day two is awesome so far, the setting is great and the games are great. It's slightly cold in here though.
The hall has filled up, and we are seeing more and more people hyped up for the matches. I am looking forward to the EG-iG match, I believe that it will be an extremely close contest. Fnatic is chilling out in the hall right now, as they await their turn against Vici Gaming in the next round. The Na`Vi - C9 match is drawing many cheers from the crowd, especially during the Na`Vi reversal after the Naga sleep initiation in the Radiant jungle. 
We have watched ahnd cheered for the Na`Vi-C9 match, but it appears some of that exuberance was muted after Bruno announced that EG had called the GG against iG. Meanwhile, Titan, Empire are training at the practice area, and Na`Vi.US are deep in conversation at a tight corner of the practice area. 
Lunch is served early today, it's only 11 and everyone is beginning the feast. Today's lunch features a lot of Asian food, and at the same time everyone is still extremely focused on the Na`Vi-C9 match, which is really close. At the end of the day though, there is applause for Na`Vi as they take the victory, and we experience a slight pause here to just watch the last match of round 1. 
---