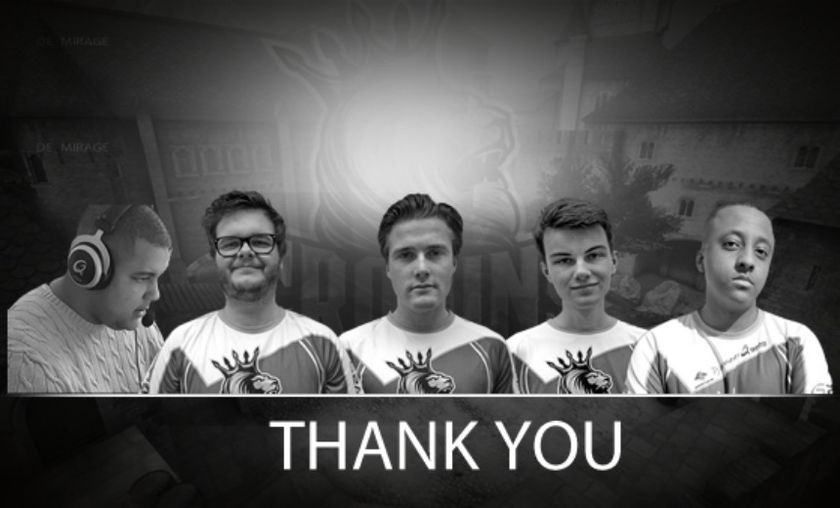 Crowns part ways with CS: GO roster
Crowns announced the release of its Counter-Strike: Global Offensive roster.
Crowns signed the Swedish roster featuring the likes of Mattias "bENNY" Rosback and David "Jayzwalkingz" Kempner back in August 2016. Just a couple of days after the official announcement, their first success came at ESEA Premier Season 22 Global Challenge where Jayzwalkingz and co. reached the Grand Final and finished second behind Mortal Kombat.
After their impressive performance at ESEA Premier Season 22 Global Challenge though, Crowns never showed up in a relevant tournament. To make the things worse, the team experienced a couple of roster changes including losing their star Jayzwalkingz to fnatic Academy. Later results continued to dissappoint the management as Crowns failed to win a single minor tournament or qualify for a more prestigious one.
After several months of under-performing, the Crowns management decided to cut their ties with the Swedish roster, dropping five players to the free agent pool. However, in the official announcement, team managers stated the roster has been "amongs the most easy going and patient people" they have worked with.
"
First and foremost, we would like to express our great admiration for the amount of time and energy these players have devoted to their careers, juggling both work, spare-time, social interactions with friends, family and girlfriends. During their time in Crowns Esports Club they have been among the most easy going and patient people we have known to this day.
We have been with the team in their ups and downs, joined in their joy and as well sadness. Today, we unfortunately had to release them from their contracts. With great courage, the players expressed their goal to become one of the leading teams in the world, even though it did not happen under Crowns, the story is not over yet. What we have to remember is that these are young players in the beginning of their career, with much left to show us. We wish them best of luck and hope to see them in new constellations in the future."
Crowns released the following players who are now free agents:
Mattias "bENNY" Rosback

Eddie "zape" Härdeman

Fredrik "Krewmer" Svensson

Yacine "yzn" Laghmari

Noel "noeldinho" Raki
Image courtesy of Crowns