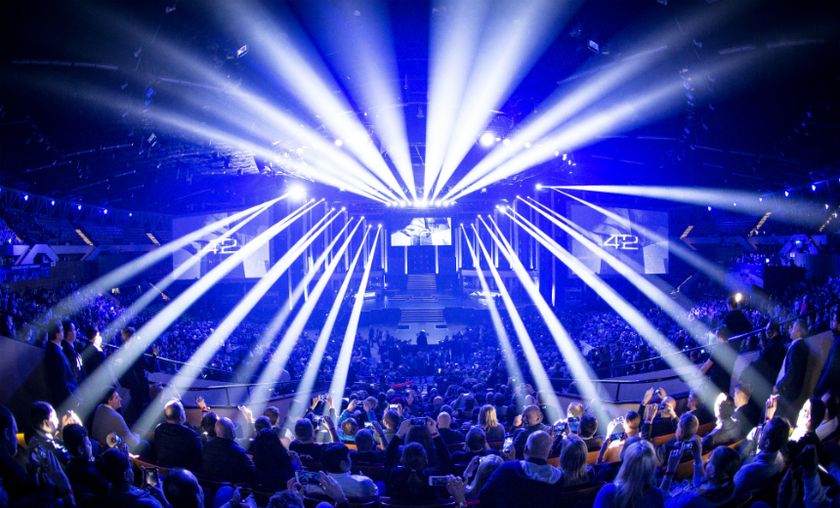 Intel Extreme Masters XI: Katowice 2017 - Preview
With the LAN finals of Intel Extreme Masters XI: Katowice 2017 kicking off this Wednesday, GosuGamers CS:GO presents you a comprehensive preview of what's to come.
In just two days IEM Katowice 2017 will start, featuring the finest teams the CS:GO scene currently offers. As per previous iterations of Intel Extreme Masters, the tournament will be hosted in the very familiar Spodek Arena in Katowice, Poland, a stadium capable of hosting up to 11,500 CS:GO fans at any given time. 
At the Spodek Arena twelve teams will butt heads in two groups of six, fighting for the lion's share of a whopping $250,000 prize pool. The group stage will feature a round-robin format, where each of the teams will face each-other once. In total there will be fifteen best-of-one match-ups per group during the group stage, with the top team from each group proceeding directly to the semi-finals. Second and third placed teams will meet in the playoffs to determine the two rosters advancing to the semi-finals. All matches past the group stage will be single-elimination, best-of-three excluding the grand final, which will see a best-of-five series.
Below we will analyse each of the groups, additionally presenting their composition and schedule: 
Group A
 

Group A promises to be an exciting group to watch, however there are a few things worth mentioning before going into any analysis regarding outcomes of match-ups and peformances:
First, and foremost, this will be the LAN debut of the freshly renewed FaZe Clan, sporting the Bosnian CS:GO super-star, Nikola "NiKo" Kovac. With a new, promising home he will be sure to show up during matches, adding even more firepower to an already stacked roster. Theoretically, the only reason NiKo would perform contrary to his time in mousesports would be the presence or lack thereof of Finn "karrigan" Andersen, a player than strongly complemented his play style.
The next team worth looking at are Fnatic - a once legendary roster that has gone back to its roots. Whilst recent performances haven't been representative of past glories, a strong feeling of resurgence lingers around the Swedish roster. It seems they are desperate to relive the glory days of 2015/2016 and will go above and beyond to do so. In addition to this hunger for success, the Swedes are armed with a new coach in Jimmy "Jumpy" Berndtsson, who has received praise on various occasions from team members. A refreshed roster and new coach should lead to performance changes, it remains to be seen whether they will be positive or negative.
OpTic Gaming are next on the list. There is no doubt this team has the potential to take on contenders that play on an international level and the team demonstrated this late last year, with first place finishes at Northern Arena - Montreal and ELEAGUE Season 2, shortly followed by a second place at the ECS Season 2 LAN Finals. More recently OpTic Gaming performed at the ELEAGUE Major and DreamHack Masters: Las Vegas 2017, where they weren't able to secure successful runs, with 9th and 14th place finishes respectively. The team's performance at Katowice will be indicative as to whether the team is the real deal, and are ready to fight for a top placement, or if they have simply run out of fuel to perform to quite the same level we saw from them in late 2016.
As for the remaining three teams, namely Astralis, Ninjas in Pyjamas and Immortals, there really isn't a lot to say. Regarding Astralis, the team have just come out of a major victory in January, with a decent 4th place finish at DreamHack Masters: Las Vegas 2017. Overall the team seems strong and the projection would be for the same top four finish at IEM Katowice, if not higher.
Ninjas in Pyjamas' most recent highlight was in November of last  year, where they took first place at Intel Extreme Masters XI: Oakland 2017. The Swedes are defending the Champions' title on this occasion, however scepticism surrounds the possibility of them defending that title as, objectively, the team is surrounded by opponents that demonstrated a stronger record in the recent past.
Finally we take a look at Immortals, a team that hasn't been on the map as of late. The Brazilians were unable to qualify for the ELEAGUE Major and DreamHack Masters: Las Vegas 2017. They enter Intel Extreme Masters XI: Katowice 2017 via a first place at the North American closed qualifier, where they were able to outperform Team Liquid in a two map sweep. Whilst the chances are slim for Immortals, it feels like they have the dark horse tag, in the sense that teams aren't entirely sure what  to expect from their opponent, especially when it comes to European teams. If the duo of HEN1 and fnx step up, along with the rest of the team pulling their weight, there's no reason the team won't be able to proceed to the playoffs.

Schedule, expressed in CET (all matches taking place on Wednesday, March 1st):

11:00 -
OpTic Gaming vs.
Astralis
11:00 -
Ninjas in Pyjamas vs.
Fnatic
12:15 -
Ninjas in Pyjamas vs.
Astralis
12:15 -
FaZe Clan vs.
Immortals
13:30 -
OpTic Gaming vs.
Immortals
13:30 -
FaZe Clan vs.
Fnatic
14:45 -
Astralis vs.
Immortals
14:45 -
OpTic Gaming vs.
Fnatic
16:00 -
Ninjas in Pyjamas vs.
FaZe Clan
16:00 -
Astralis vs.
Fnatic
17:15 -
Ninjas in Pyjamas vs.
Immortals
17:15 -
OpTic Gaming vs.
FaZe Clan
18:30 -
Immortals vs.
Fnatic
18:30 -
FaZe Clan vs.
Astralis
18:30 -
OpTic Gaming vs.
Ninjas in Pyjamas 
---
Group B
 

Group B is host to two of the strongest teams at the tournament. Both have a fair shot at taking the Champions title, however in best-of-one matches you never really know. Here's the deal:
Virtus.pro are coming in hot off of a victory at DreamHack Masters: Las Vegas 2017. The Poles demonstrated a strong performance, with a victory in the grand final against two time major title holders, SK Gaming. The plow was on fire the entirety of the tournament and assuming they stay in form, transferring the momentum from DreamHack Masters, they are a serious contender for the trophy at IEM Katowice.
SK Gaming have had a consistent performance ever since their victory at the ESL One: Cologne 2016 major in July. Throughout seven months they have been securing top four placements across the board, with an occasional second place popping up. Whilst these results are indeed very good, the situation is vaguely reminiscent of Fnatic, where the team needs to quench its thirst for first place. Over half a year has passed since the Brazilians have secured a first place at a LAN tournament and the break might just come during Intel Extreme Masters XI: Katowice 2017.
Natus Vincere is the third team to take a look at. The CIS mix has been experiencing difficulties ever since their run at ESL One: New York 2016 and EPICENTER 2016, where they managed to secure first and fourth places respectively. Many attribute this to the lack of an experienced in-game leader, as the departure of Daniil "Zeus" Teslenko coupled with coaching restrictions, preventing Sergey "starix" Ischuk from having as dear an impact as in the past, have placed the team in a predicament. It seems that Na'Vi's only hope is the development of Denis "seized" Kostin's in-game leading abilities, as the firepower is ample in the face of the other four members of the team. 
Finally a look at the remaining three contenders. It seems that Heroic are the dark horse going into group B, as they haven't been present at many events in 2017. Their playstyle and strategising isn't as prominent and well-known as the other teams, giving them an edge over the other five teams. This is important, as they have a strong chance to upset in a best-of-one scenario. In the long run it doesn't look like they'll be able to surpass the likes of Virtus.pro, SK Gaming or Astralis, however it wouldn't be a surprise if they make it into the playoffs over the teams present in group B.
Cloud9 are up for discussion next. The team hasn't seem very much international success ever since their victory are the ESL Pro League Season 4 finals, where they managed to surpass none other than SK Gaming. This was a feat and a half, however there was no follow-up to be seen. The team secured 2nd place at iBUYPOWER Masters, falling to Immortals, a match-up the Americans should have taken away on paper. The players saw a very busy end of 2016, which, no doubt, impacted their ability to perform. After two months of stability and little travel, hopes are high for the roster, however if we look at their recent performance it doesn't promise anything substancial.
Finally, the Danes of North are under the microscope. So far the team has performed well, securing the Legends title at the ELEAGUE Major, followed by a 3rd place finish at DreamHack Masters: Las Vegas 2017. It would be difficult to say whether or not the Danes would make it far in the tournament, however having said this the possibility of them passing the group stage is likely, given a strong performance from key players such as Magisk, k0nfig and their newcomer, aizy. 

Schedule, expressed in CET (all matches taking place on Thursday, March 2nd):
11:00 -
Natus Vincere vs.
Virtus.pro
11:00 -
Cloud9 vs.
SK Gaming
12:15 -
Natus Vincere vs.
SK Gaming
12:15 -
North vs.
Heroic
13:30 -
North vs.
Virtus.pro
13:30 -
Cloud9 vs.
Heroic
14:45 -
SK Gaming vs.
Heroic
14:45 -
Cloud9 vs.
Virtus.pro
16:00 -
Natus Vincere vs.
North
16:00 -
SK Gaming vs.
Virtus.pro
17:15 -
Cloud9 vs.
North
17:15 -
Natus Vincere vs.
Heroic
18:30 -
Heroic vs.
Virtus.pro
18:30 -
North vs.
SK Gaming
18:30 -
Cloud9 vs.
Natus Vincere
Images courtesy of ESL - Patrick Strack, DreamHack Flickr - Robert Paul, Astralis Twitter