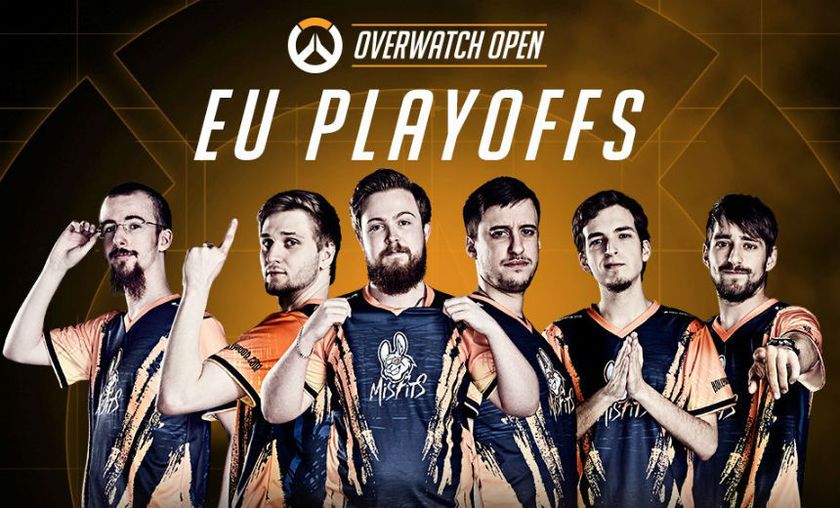 With the Overwatch Open playoffs finally wrapping up, Europe now has its grand finalist!

Photo courtesy of ELEAGUE and FACEIT.
With the European segment of the Overwatch Open now complete, we'll fill you in on anything you missed in the last two days of exciting competition, leading up to the grand finals.
Following Team EnVyUs's win against Fnatic in the North American finals, Europe held their own regional portion of the Overwatch Open. With plenty of strong teams, these last two days of matches have certainly been exciting. The immediate surprise of the tournament was REUNITED losing in two straight matches—first to Ninjas in Pyjamas, and next to FaZe—to fall out of the tournament. Additionally, while they both qualified in impressive fashions, both ANOX and Luminosity failed to perform well, and bowed out of the tournament quickly.
The top teams that emerged after the group stage were Ninjas in Pyjamas and Rogue, who both did not drop a match, and FaZe and Misfits, who both qualified through the lower bracket. Ninjas in Pyjamas in particular came in extremely hot, with wins over REUNITED and Dignitas, though every team that qualified looked relatively impressive.
After managing to reverse sweep FaZe when falling down 0-2, Rogue went on to face Misfits in the finals in one of the most exciting matches of Overwatch that I've ever seen. Every game in the best of 5 was incredibly close, with 2 being decided in overtime by some insane pushes. While the gamescom champions bowed out after the 3-2 loss, they certainly can take pride in their performance at this tournament. Meanwhile, Misfits continues to impress, despite their roster's relative newness.
You can catch Misfits and the NA winners—Team EnVyUs—facing off in the finals on TBS, though you can also tune in on twitch.tv/OverwatchOpen. The grand finals will occur at 19:00 PDT / 22:00 EDT / 4:00 CEST, and they will certainly bring quality matches if last weekend proved anything, so be sure to support your team (or region!) by tuning in to the broadcast!
For more competitive Overwatch news, follow @GosuOverwatch.