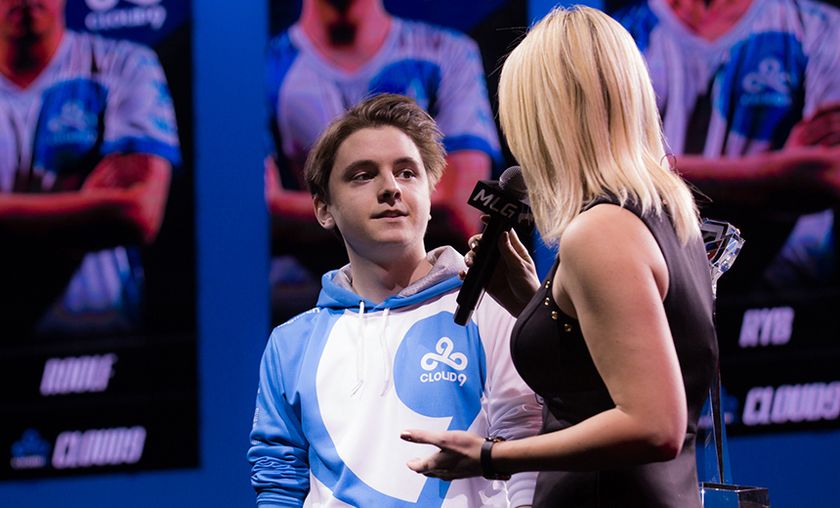 Behind the Name: Mendokusaii
The term "mendokusai" derives from a Japanese phrase meaning "stinking of trouble." For Lucas Håkansson, his chosen name may have been a self fulfilling prophecy.
Lucas first started playing competitive PC games at age four, when he took up Counter Strike. Immediately, he knew he had a gift, grinding the matchmaking ladder to reach Global Elite, but it never interested him as a competitive career. He had always thought that video games would only be an outlet for his competitive energy.
That is, until Overwatch came out.
Potential
Lucas' legacy in the Open Beta was one of unbridled growth and potential. His ability to flex on almost any character at high levels made him a valuable commodity during the early stages of the scene. Since forming Team Valfard in December 2015 with notable Swedish players Zave, Nevix and Klanton, Mendokusai has been a part of almost every top European team. After a short-lived stay with SK Gaming, Mendo was pulled temporarily onto REUNITED, helping the team to several good showings including wins over Quake Fortress in the GoodGame Overwatch Cup #1 Grand Finals and clinching the ESL Community Cup #3 with a 3-0 sweep over Arcane eSports. The lone scar was his record against the giants of beta, IDDQD, who gave him his only losses during his stay.
IDDQD recognized potential in the young player, picking him up to replace Taimou. The team's iconic win streak was headlined by the duel threat of TviQ and Mendokusaii, which ranks among the strongest DPS pairings ever, especially considering the flexibility of both players.
After a sudden exit from IDDQD with his co-star, Mendo briefly joined up with Rogue predecessor, MyDong, for a period before differences with the team led to his removal from the roster. For a period of time, Lucas struggled to find his way onto a top team, lurking on the original FaZe Gaming roster before finally being rediscovered by a struggling Cloud9.
Mendo's signing was a no-brainer, as it finally gave Surefour a strong, versatile partner with a history of success. C9's investment seemed to pay off instantly, as the team both qualified for the Masters Gaming Arena Americas Regional and emerged victorious the Alien Monthly Melee October over CompLexity Gaming. An uncharacteristic downturn in performance kept C9 from participating in either DreamHack Winter or the MGA LAN in London, but the addition of two rising stars, Ryb and Roolf, kept expectations high. Their performance online hit a fever pitch, as they captured three consecutive tournaments and propelled themselves into the discussion for the best team in North America.
However, Mendo's time in the sun would soon come to an end. With the return of EnVyUs from Korea, Mendo would once again face his old nemeses. MLG Vegas would be the first opportunity for the "new" C9, and their biggest challenge would reside with the recently-minted APEX Season 1 Champions. For Cloud9, it would be an opportunity to prove their roster changes and work in the absence of EnVy were worth it. For Mendo, it was an opportunity to finally silence his demons and escape the looming shadow of his former team.
Unfortunately, not all stories have happy endings.
EnVyUs destroyed the LAN, dropping only a single game across the entire event, including a 3-0 sweep of C9 in the semifinals. The loss came as a shock to the team, who had all but run the roost in the absence of the conquerors of Korea. Prior to the team's participation in APEX Season 2, changes were made, swapping KyKy for World Cup Standout and NRG star Gods. The retooled team would rely on the flexibility of their front three - Surefour, Mendo and Gods - to outgun their opposition. However, an extremely difficult group stage left them a tiebreaker away from the playoffs, sending the team home with a disappointing 1-2 record.
Mendo would step down from the active roster of C9 to take a mental break amidst rumors of an inner-team coup. Pundits chimed in to try to explain the young star's departure from such a promising roster, but it never seemed like anyone's story had all the details.
Mendo's legacy would once again be thrown to the wayside, as just a story of another flame burning too bright and too quickly.
Personality
Dissecting the legacies of top players will almost always be futile. At the highest level, the greatest players are separated only by a strong mental fortitude and a healthy mindset. Crawling into the mind of a player takes a deep investment from the person behind the keyboard and requires a borderline obsessive desire to learn who the player is at heart.
Mendokusaii is one of the hardest players to get a read on. While most people tend to be more conservative on stream, he plays up his vulnerability to his fans, embracing the role of the passive and innocent teenager with little to no understand of the outside world. It was this dichotomy between an almost omniscient player in-game and a clueless person out of game, which drew me to him.
My first conversations with Mendo shocked me. I had gone in expecting naive rapport with a player, who only knew how to click heads, but instead I was blown away by his maturity and sense for the game. His ability to breakdown microlevel decisions, like using body blocking to intentionally deny ultimate damage, in addition to understanding how to activate his teammates were beyond my initial predictions. While our talks initially concentrated on improving teamplay in a general sense, we expanded into more specific examples, discussing improvements North America could make to catch up with Korea. We pondered how practicing set plays could open up avenues for more variety in mid-round adjustments, while lamenting over the under usage of map callouts in the West. As I continued my own journey through the Overwatch scene, Lucas became a close friend and an invaluable resource.
Our paths would cross again when I was invited to take part in the reformation of Team Valfard as part of the educational stream team. Observing Mendo in a purely-shotcalling role opened my eyes to the possibility of a true in-game leader in the scene. While most players sacrifice mechanical skill for the ability to direct and manage their teammates, Mendo rarely seemed to let it phase him. He continued to play at high levels, while at the same time, enabling his team to play with more purpose and space. His on-the-fly decision making was catered to by the skillsets of each player on his team, seeking to create a culture of trust by building confidence as a shotcaller. It quickly became obvious why players seemed drawn to him: he was a rare combination of a general and a soldier in a world where everyone else would rather be only onem or the other.
Even beyond the game, he would utilize his own platform to help out his friends and teammates, often times sacrificing sleep to set things in motion. Even as just a player, he was an adamant critic of cheating in esports and pushed for better player treatment in a fast growing industry destined to forget about those in the trenches.
Against all odds, what Mendo has been able to create is nothing short of extraordinary.
Prophecy
For all the strengths Mendo shows, his reputation in the scene will always follow him. Confirmations by former teammates about his supposed work ethic only deepen the negative aura surrounding him as a young player. For many organizations and owners, wary of their own reputations, this could be the last straw for such a polarizing player.
Yet, despite all evidence to the contrary, I believe Mendokusaii is the future of Overwatch.
The Overwatch League is a frightening frontier for esports. This behemoth of an endeavour seeks to not only test the mechanical abilities of the players, but also looks to challenge the prototype of the traditional player. Esports is no longer just about dominating through raw skill, but has evolved to rely on critical thinking and innovative strategies to stay ahead of the competition. Lucas embodies the very ideal of pushing the limits and boundaries of the North American scene. He seeks to not only improve his own knowledge and understanding of the game, but also shape the thought processes of young players everywhere. If given the resources and time, he will undoubtedly change how Overwatch is played from a fundamental level.
Beyond the screen, Lucas shines as the spokesperson for the healthy development of the competitive ecosystem, dedicated to improving contract discussions for players, while also extending a hand to educate rising stars on the lessons he has learned through his tenure. It is no surprise many professional athletes look up to Mendo as not only a role model, but a well of wisdom. With his guidance, there are no doubts in my mind the next generation of player will be better suited for the responsibility and obligations of the professional lifestyle.
When I finally met Mendo at E3, he was taller and more tired than I imagined. The long hours of travel carved themselves in the lines of his face. For a brief moment, I saw the young boy he had come from. The boy who only wanted to have fun and didn't care about money and fame. Yet, in the same brief moment of weakness, I recognized the man he had become. The fire in his eyes burned ever brighter, and I was reassured again of his purpose and dedication to his future in Overwatch.
Lucas Håkansson may one day decide to escape the shadow of his chosen name, selecting a different identity more suitable for his legacy. But for those who oppose him on the fields of combat, Mendokusaii should work just fine.
This article reflects the views of Wilson 'Scr1be' Xu and not Gosugamers.
For more competitive Overwatch news, follow us @GosuOverwatch.