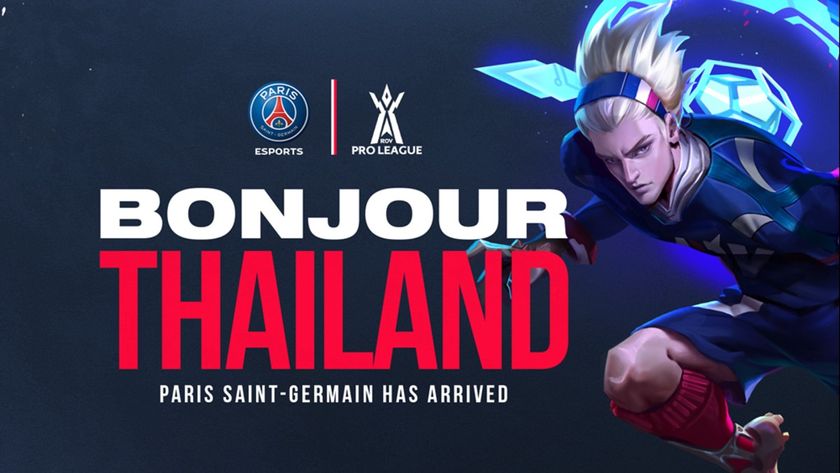 Arena of Valor in Thailand welcomes PSG Esports
Having been one of the first football clubs to collaborate with esports, PSG are continuing to do so, as they enter Arena of Valor in Thailand.
Paris Saint-Germain, one of the most well-know football associations around the globe, have been joining forces with esports teams globally since 2016. The PSG Esports name is heavily featured in multiple games such as, Dota 2 (PSG.LGD), League of Legends (PSG.Talon), Brawl Stars, and FIFA Online. Previously, we had also seen PSG Esports team up with the well-known Mobile Legends: Bang Bang roster, Rex Regum Qeon, but with that partnership over, they now look to expand into the Southeast Asia mobile esports scene once again with Arena of Valor in Thailand.
Fabien Allègre, Director of Merchandising and Brand Diversification at Paris Saint-Germain, had the following to say on their new venture,
The creation of the Paris Saint-Germain's Arena of Valor team ties in with our esport strategy. It marks an important new phase in developing Paris Saint-Germain Esports' mobile games in one of the regions of the world where it has grown fast in the last few years."
Mobile esports has quickly grown to some amazing heights in recent times, especially as technology has excelled. From the likes of PUBG Mobile, Call of Duty Mobile, Brawl Stars, Arena of Valor, Wild Rift, and MLBB, we have seen tremendous growth in tournaments, viewership and players on a global level. PSG Esports has seen this opportunity to get themselves back into the SEA community, where mobile esports is at its brightest and move forward from there.
Sebastien Wasels, General Director of Asia-Pacific at PSG added the following,
We are delighted to enter the Thai esports scene. It is a concrete step forward that reinforces the club's presence in Thailand and throughout Southeast Asia. Paris Saint-Germain has already developed a strong relationship with millions of fans in Thailand and we are looking forward to strengthen the community, offering them exciting experiences."
PSG also added that they would be looking into creating a mixed-gender team in the near future as part of their commitment to inclusion, diversity and the fight against discrimination of all forms.
The team, although currently in the recruitment process, will be looking to compete in the RoV Pro League, which kicks off with its eighth season later this year.