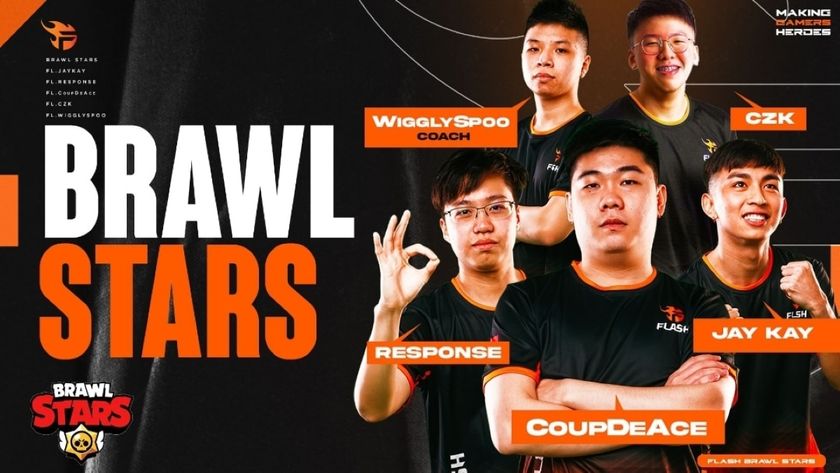 Team Flash will be competing in both the Brawl Stars and E1 Championship
Team Flash has signed up four professional esports athletes alongside its coach for the Brawl Stars Championship as well as two sim-racing drivers for the E1 Championship.
Already a household name in the industry, Team Flash is currently participating in many esports titles, mainly FIFA Online, Arena of Valor, League of Legends, Free Fire, PUBG Mobile, and Wild Rift. This is split across three SEA nations: Singapore, Vietnam, and Thailand.
With its latest introductions into the world of Brawl Stars and E1, Team Flash is further expanding its reach in the mobile gaming segment as well as sim-racing. Team Flash will also come under new management with its new Chief Executive Officer, Mark Chew. He will be looking to not only bring Team Flash to new heights but also enhance the team's capabilities while providing financial stability as well as creating career pathways for esports athletes.
Brawl Stars
The Brawl Stars team will feature the likes of Nicholas "CoupDeAce" Ng, Jerome "Response" Kuek,
Jordon "JayKay" Koh, and Chui Zi Kang "CZY". They will be led by their head coach, Christopher "Wigglyspoo" Seah. They will be competing in the World Finals against other teams from the Southeast Asia, Australia, and New Zealand (SEA & Oceania) region with a prize pool of over US$1 million.
Three of the four members (CoupDeAce, Response, and JayKay) also competed in the 2020 Brawl Stars World Championship under the PSG Esports banner where they took home the gold and US$200,000. The team began their 2021 season by clinching the February Monthly Final and are looking to continue their dominating streak in the March Monthly Final, which is scheduled to take place on 3rd April from 11.00 am onwards.
E1
As for its E1 division, both Ar Muhammad Aleef "Hamilton" and Jason Tay will be racing under the Team Flash tag in the upcoming E1 Championship from 7th April until 2nd June 2021. It features eight rounds of real-world circuits with a total of 14 teams and 28 drivers competing for a total prize pool of US$15,000.
Taking inspiration from the seven-time F1 World Champion Sir Lewis Hamilton, Aleef will be utilising all of his experience to take home the gold again, having already won 10 championships in the past two years. This includes three World Finals while also representing Singapore in the E Race of Champions World Finals, the Logitech G Challenge World Finals, and the GR Supra GT World Tour.
Be sure to follow Team Flash on all their social media channels (Facebook, Twitter, Instagram) for more info and updates.