Storm lose Xenics sponsorship, renamed to Team OP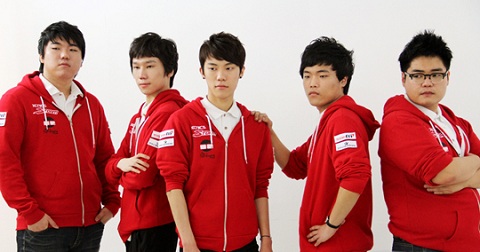 Photo by: Fomos.kr
Because of unprofessional progamer behavior, team Storm will no longer bear the Xenics tag as their sponsorship got cut today.
Source states that Xenics thought of rebuilding the team but felt that the gap between management and players was too big, hence the drop of sponsorship altogether.
Despite the conflict, the name Xenics Storm will be kept and given to Xenics' B-team Tempest. As a result, Storm will have to find a brand new name under which they can continue competing in the ongoing
The Champions Winter
.
Coached by BroodWar legend Yellow, Tempest (now Xenics Storm) will test their new name in the Nicegametv LOL Battle, which recently underwent format changes to have it connected with The Champions similarly to how
Code S and Code A work
for GomTV's StarCraft 2 tournament. For those who missed the news, this is how the pyramid of Korean competition now operates (those of our readers that know Korean are welcome to check out
this image
):
The Champions / NLB Structure

1. Qualifiers - Open for registrations. Top 16 advance to Gold League
2. Gold League - 16 teams (Ro16 group stage into Ro8 bracket). Top 4 advance to Platinum League
3. Platinum League - 8 teams (4 from Gold League and 4 that finish last in The Champions group stage). Top 4 advance to Diamond League
4. Diamond League - 8 teams (4 from Platinum League, 5-8th from The Champions playoffs). Winner gets seed into the next The Champions tournament. 2-4th get seeds for The Champions offline qualifiers.
5. The Champions - 12 teams (3 seeded from previous The Champions season, 1 seeded from Diamond League, 8 seeded from offline qualifiers)
Former Xenics Storm (now Team OP) roster
May (Top)
Nolja (Jungle)
Cornslada (AP)
SBS (AD)
ManyReason (Support)
Tempest (now Xenics Storm) roster
LOAD (Top)
H0R0 (Jungle)
Angel (AP)
Legend (AD)
Impact (Support)
UPDATE:
Team OP has been confirmed as the temporary new name for the ex-Storm team.
Source
Source:
Fomos.kr
Translation by:
Passenger