Pubwatch Episode 3 - DK.BurNIng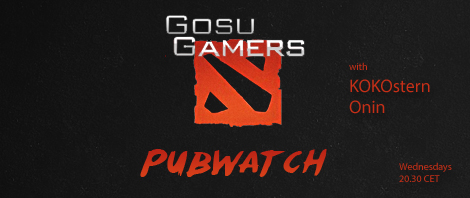 This time Pubwatch takes you to some pub games of the world's greatest farmer. DK.BurNIng has earn a name for himself as a terrific carry player and an insane farmer, it's time to see how he fares in the pub scene.
Xu "BurNIng" Zhilei started his professional career back in 2009. Noted for his outstanding performance, he is most recognized for his stay with EHOME during the majority of 2010 and placing very high at multiple Dota tournaments. Joining DK in 2011, he's been racking up Dota and Dota 2 titles ever since.
Join us to take a look at a couple of select pub matches from BurNIngs portfolio:
You can catch the two previous episodes right here:
Pubwatch Episode 1 - Na'Vi and Dendi's Girlfriend
Pubwatch Episode 2 - The newly formed LGD.int
Pubwatch goes live every Wednesday at 20:30 CET.