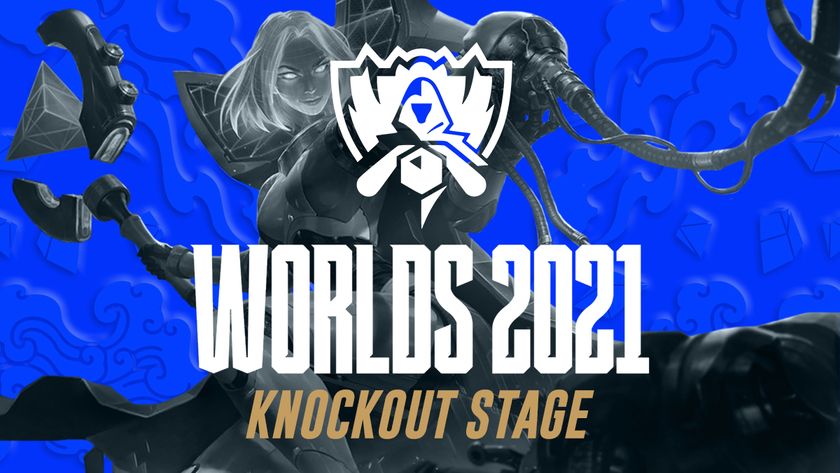 Worlds 2021 Knockout Stage: All you need to know about the bracket, matches, and more
We have got our eight final competitors at Worlds 2021, all of whom will be vying for a spot in the grand finals and lifting the coveted Summoner's Cup.
And just like that, we're now in the final three weeks of Worlds 2021 where we address the business end of the tournament: the knockout stage. Now, the final eight teams will battle it out in a single-elimination, best-of-five bracket to determine who will take home the coveted Summoner's Cup. With DWG.KIA and T1 being the only team to have lifted the trophy still in contention, there's a high chance the LCK will walk home with another Worlds trophy.
What makes for an interesting story is that there is the possibility of an all-LCK grand final with Gen.G Esports being the only other team from the region on the other side of the bracket. Of course, they will have their work cut out for them even if they make it to the semifinals. 
Worlds 2021 Knockout Stage: Bracket & Schedule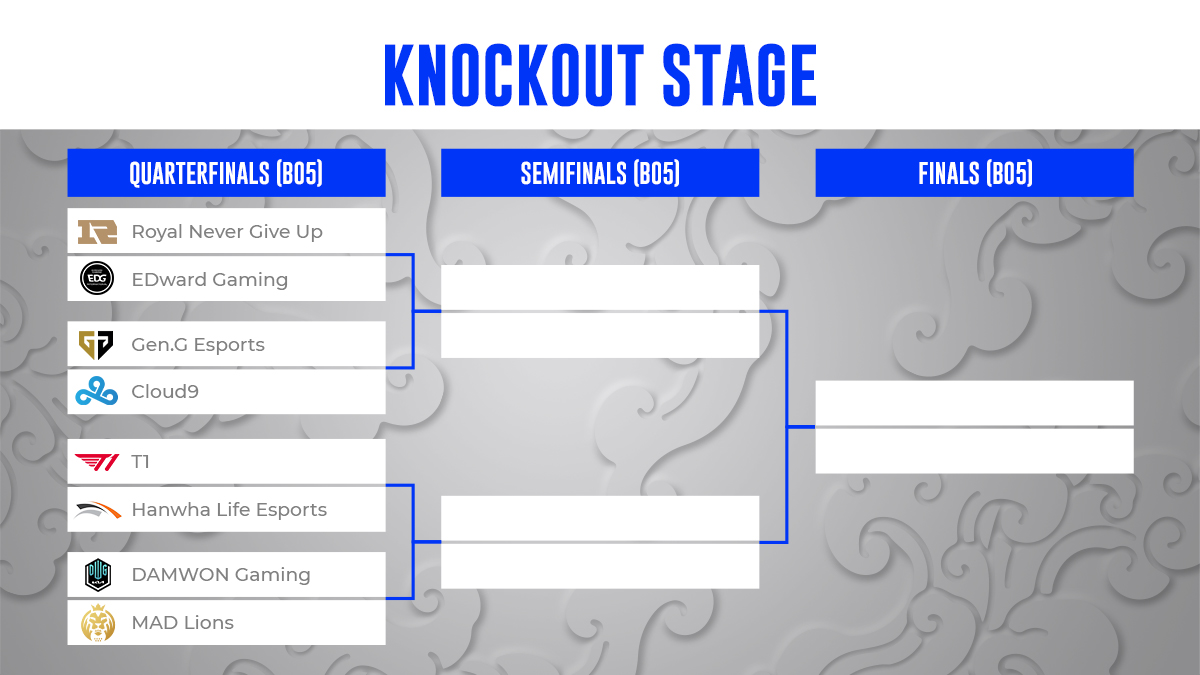 Friday, October 22
Saturday, October 23
Sunday, October 24
Monday, October 25
Once the quarterfinals are over, we will move on to the semifinals, which will take place next weekend, October 30 and 31. From there, we will which two teams will make it to the grand finals the following weekend, November 6.
As you can see, there will be two inter-region quarterfinal matches for the LCK and the LPL. This is unfortunate for the latter as both Royal Never Give Up and EDward Gaming are two of the LPL's only representatives left. As for the all-LCK showdown, it could very well set up an all-LCK semifinal as well. That is of course if DWG can take out MAD Lions. Given their previous track records after meeting at the Mid-Season Invitational earlier this year, DWG shouldn't have too much trouble with the LEC number one seed.
Cloud9 will be thanking their lucky stars that they managed to avoid some of the tournament favourites, facing off against the LCK's second seed who have not looked at their best so far. The LCS third seed has come up against all odds so far, surviving what many considered the group of death. Of course, if C9 does make it through, they will face one of RNG or EDG, both of which are the LPL's strongest teams.
Looking at today's match, Hanwha Life Esports will be out for blood as it was T1 who sent them to the Play-In Stage after losing out on the final Group Stage spot in the LCK Regional Finals. HLE has not had a good record against the former Worlds winners, having lost the majority of their games during the regular season. They will be looking to turn things around this time as a best-of-five at Worlds 2021 carries a different kind of pressure.
But don't let that fool you. T1 have been on a hot streak as of late, dominating their group with ease. In terms of numbers, T1 is also the second-best team in the tournament having lost only one game so far. DWG.KIA, on the other hand, are still undefeated.
Worlds 2021 Semifinal Predictions
Taking into account how the teams have performed so far at Worlds 2021, here is our educated guess on which teams will be moving on. We're predicting the first semifinal to be between RNG and C9 whilst the other side of the bracket will be T1 versus DWG.KIA. Of course, we could very well be wrong and that's okay because it just makes for a more compelling story moving forward.
With the quarterfinals beginning later today, these eight teams will create history once more on the biggest stage of them all. And as an added incentive, Riot Games is introducing customised championship rings for the winners alongside Mercedes-Benz.