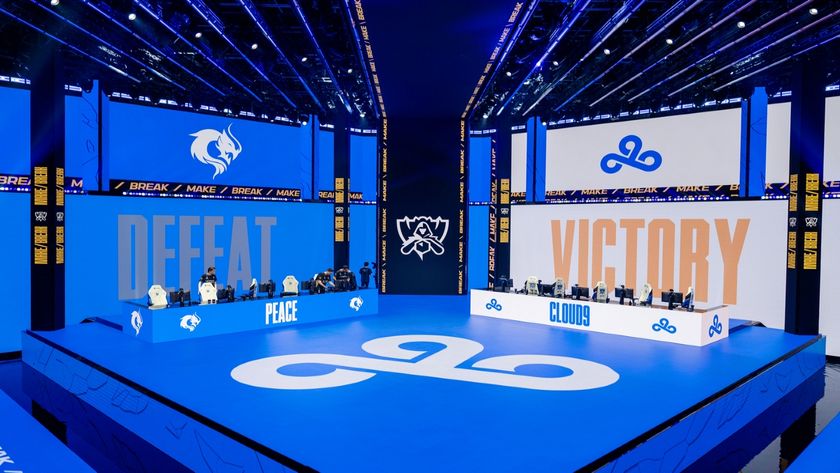 Play-In Day 5: Cloud9 cruise past PEACE to get themselves into the Group Stage
Cloud9 are heading to the Group Stage of Worlds 2021 after defeating PEACE in just three games.
The boys in blue have done it; they make it to the group stages after thumping PEACE in three straight games. With that, they will join the likes of Detonation FocusMe, LNG Esports, and Hanwha Life Esports. Unfortunately for PEACE, their time at Worlds has come to an end. For all the LCO fans, fear not as the team performed exceedingly well, finishing third in the group stage and making it to the finals - all the while playing with a stand-in.
As for Cloud9, they will be happy with that win but it does put them in one of the harder groups. They'll join the likes of DWG.KIA and FunPlus Phoenix in Group A alongside Rogue.
Game One
The first game of the final series of the day was essentially a modern-day David versus Goliath match-up, featuring the LCO winners and the 2nd runner-up in the LCS. The match started at a fast pace with PCE getting the first blood on Jesper "Zven" Svenningsen's Lucian just two minutes in thanks to Vincent "Violet" Wong's Miss Fortune, who has been one of the top picks of the tournament by far. They soon doubled their lead just a minute later with a two-man rotation to the middle lane. Leo "Babip" Romer's rotation paid off as this gave him an easy kill onto Luka "Perkz" Perkovic's Syndra with ease.
C9 wasn't going to take it lying down as they soon replied in kind with a kill on Violet via Philippe "Vulcan" Laflamme's Nami. It wasn't before long until James "Tally" Shute and his Ryze got in on the action as well, getting a kill on Vulcan just a few minutes later. They soon start trading kills all around the map, ensuring that everyone is getting involved in the action. For the most part, PCE's early game start was perfect; attack and pressure C9 into making mistakes in the early game to get a good start when taking objectives.
However, that didn't quite work to their favour as even after slaying two Drakes, C9 were still slightly ahead on gold and experience come to the 15-minute mark. It was mostly an evenly matched contest in the heart of the mid-game with both teams waltzing around one another. Both teams also traded two kills each a couple of minutes later with the likes of Perkz, Zven, Tally, and Violet getting the drop. With PCE now having the lead come to the late game portion, it looked like it was theirs to lose.
Sadly, that's where it started to go downhill in the 22nd minute when Babip gets caught out of position and quickly taken down by Ibrahim "Fudge" Allami. As PCE was trying to reinitiate, this gave C9 the opening to jump them instead, turning the tides of the fight in their favour. It wasn't all bad though as only Kiss "Vizicsacs" Tamás' Gnar lost his life. This gave C9 to level the playing field a little, keeping the Drake and gold count level. With the momentum hanging in the balance, PCE went for a five-man raid into C9's territory. After getting caught out, their retreat ended in dismay as all five got wiped out in the process while only losing Blaber.
PCE tried to contest C9 once more when taking the Baron but was thwarted once more. But try as they might, PCE just kept going back for more. They have been neck-to-neck with C9 for most of the game while still being able to take more objectives. It all came down to a Mexican stand-off with both teams on the opposing sides of the river at the middle lane. It was Blaber who pulled the trigger first after catching Babip isolated from his team. This forced PCE to fight into C9 and it ended in disaster with the LCO squad losing four. This gave C9 the opening they needed to march straight into PCE's base and take the Nexus.
Game Two
The second match of the series started similarly with Zven giving away first blood once more. This time, it was Babip who got the kill. A three-versus-three soon broke out in the middle lane with Blaber getting himself a double kill while Perkz and Tally traded their lives. However, PCE wasn't looking like themselves the whole time. Instead, it was C9 who have had the better rotations this time, foiling PCE's gank attempts. Come to the 10-minute mark and C9 had a sizeable gold, experience, and kill lead against PCE, which shows just how well they've managed to adapt their gameplay to counter PCE's playstyle.
As the game wore on into the mid-game, one thing was for certain: this was C9's game. They were way too far ahead of PCE at this point having taken multiple objectives and kills to go with a healthy gold lead. Fudge also managed to style on both Tally and Vizicsacsi, turning the tables on a two-versus-one scenario and slaying both around the 15-minute mark. Five minutes later, C9 turned yet another five-man gank attempt on them and swiftly deleted four of PCE off the map. From then on, C9 headed straight for PCE's base, wasting no time in ending the game.
Game Three
In the last and final game of the day, it looked like PCE were out of ideas and options on how to approach C9. They stuck to their guns, going with Miss Fortune for a third straight game but alas, it was not meant to be. C9 came into the final match in full confidence, knowing that the momentum is well and truly on their side. Zven also finally got his retribution against Violet for game one's first blood, paying him back in kind in game three.
This was not PCE's game from the get-go as they started to slowly crumble under the pressure. C9 were all over the map, taking four kills and getting a good gold lead going before PCE notched their first and only kill of the game after seven minutes, courtesy of Babip. For the next 12 minutes, C9 went to town on PCE, constantly finding pick-offs around the map and keeping them in their back pocket the entire time. After gaining 21 kills to one with close to a 20K gold lead, C9 finally closed out the last game in spectacular fashion.
With only one kill to their name in game three, PCE holds the current record for having the lowest kill count in any game, followed by Galatasary Esports, who scored two in their loss against Detonation FocusMe. And with that loss, PCE is officially out of Worlds and C9 make it through to the group stage.
Worlds 2021 Group Stage
The main stage is now set for the best 12 teams in the world to battle head-to-head in a three-week affair to see who will go home with the Summoner's Cup this time. Be sure to check out our Worlds 2021 guide on what the group stage will look like and what you can expect from the rest of the tournament.