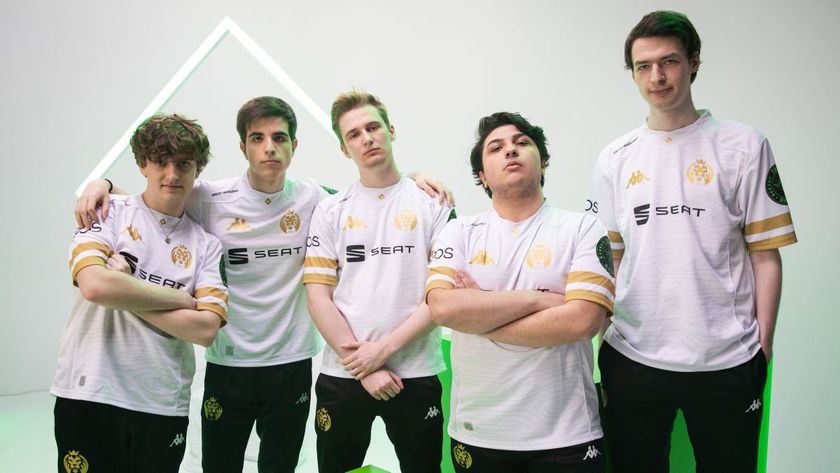 Mid-Season Invitational 2021: Day 3 of the Group Stages
Day three brings exhilirating LoL action with three teams making great progress in the group stages.
Saturday night wraps up in great fashion as

Royal Never Give Up,

DWG KIA, and

MAD Lions sit comfortably atop their groups. We're midway through the group stages with three days for the rest to catch up.
Today did feature some unexpected victories, particularly
Cloud9 and

Pentanet.GG for securing their first wins of the tournament.
Royal Never Give Up vs Unicorns of Love
RNG asserts dominance from the get-go, showing why they're the best in China. They started the game with a four-man gank on the bottom lane to take the first blood and leaving no man behind.
Yan "Wei" Yang-Wei joined in on the action with a quick double kill no more than a minute later. Quick movements and action all over the Rift was the name of the game.
Throughout the match, RNG consistently built up their gold lead, almost leading by 10K before 15 minutes. It was a slow and methodical approach by the Chinese squad as they kept picking off the members of UOL before eventually pushing into the base.
Unicorns of Love vs Pentanet.GG
With UOL looking to reset with their second game of the day, Pentanet were looking for their first win of the tournament. It was a testy first few minutes as UOL drew first blood but Pentanet replied with a kill of their own. The Oceania squad kept it clean and precise, knowing when to pick fights and when to farm.
Mark "Praedyth" Lewis also gets a worthy clip with his triple kill.
While Pentanet did get a good kill lead, UOL managed to keep the gold lead disadvantage to a minimum. Sadly, it wasn't enough as Pentanet were able to take both the Baron and the Dragon simltaneously, giving them what they need to push. A costly fight at the mid-lane saw UOL lose three, which was too much to bare.
DWG.KIA vs Detonation FocusMe
The Korean team seemed unstoppable coming into the game, having already beaten the other two teams in their group. DFM, however, had other plans and managed to sneak a quick first blood. DK replied in kind, overturning a three-man gank and taking two off the board for
tama "tamaryo" ryo. But DFM came to play, managing to take out DK time and time again by 20 minutes.
DFM also managed to play DK into a perfect bait, giving them the Dragon while
Shunsuke "Evi" Murase takes out the top-side base. But their fight for the Baron didn't go as planned with DK able to outlast them in the teamfight, swapping three kills to two. Rushing down the mid-lane, DFM attempted to end the game and, while they did manage to do considerable damage to the structures, it wasn't enough to break down DK.
After securing the Baron yet again, DFM attempted a push down the bot lane. But after taking out the tier two DFM overextended, and DK wiped out all five in no time at all, turning it to take the game. A comeback to remember, this further solidifies DK's standing in MSI.
Cloud9 vs Infinity Esports
The Americans finally got their first win of the tournament, further sending Infinity down the table. It didn't look that way in the first 20 minutes though as they were behind in both gold and kills. Thankfully,
Luka "Perkz" Perkovic was having the time of his life, bringing C9 back into the game.
By the half-hour mark, C9 managed to climb back and take out Infinity's top lane structures. They then rotated down bottom and took out the tower before deciding to move mid and end it right then and there.
MAD Lions vs paiN Gaming
The EU first-timers faced off against long-standing South American org,

paiN Gaming. From the early game on, MAD displayed tenacity on another level, catching paiN off guard multiple times. As the game went on, paiN managed to fight back and keep the gold graph at bay.
MAD were smart in picking their pushes, timing them to perfection.
Norman "Kaiser" Kaiser made one of the plays of the game, blind flashing into four from paiN and, while he did give his life for it, it allowed his team to wipe up the leftovers. It then became a split-push fight with both teams avoiding one another.
While MAD were busy across the map, paiN were able to breach the base and headed straight for the Nexus. While losing one tower, MAD held their lines and warded off paiN.
Matyáš "Carzzy" Orság showed why he's to be feared as he took out three from paiN right outside the Baron.
In a desperate attempt, paiN went for the hail mary play, sneaking into MAD's base from the top-side. They almost had the win too, but MAD once again stood tall and kept them at bay. They then marched on down mid and ended the game once and for all.
PSG Talon vs Istanbul Wildcats
PSG builds on their first win, taking on the Turkish side with full confidence. The Wildcats' first blood attempt ended badly for them as PSG overpowered them and took two kills. It went from bad to worse when PSG wiped out the entirety of the Wildcats at the 12-minute mark.
The Southeast Asian squad played out the game well while being able to catch the Wildcats out in multiple occasions.
Yi-Tang "Maple" Huang was running riot the entire time, helping himself to eight kills out of the 18 for the team. PSG soon came knocking and broke through the base to end the game in under 30 minutes.
Still to come...
Day four will be focused on Group A exclusively as RNG, UOL, and Pentanet.GG play out their remaining three games against one another. Day five is reserved for Group B and day six for Group C.