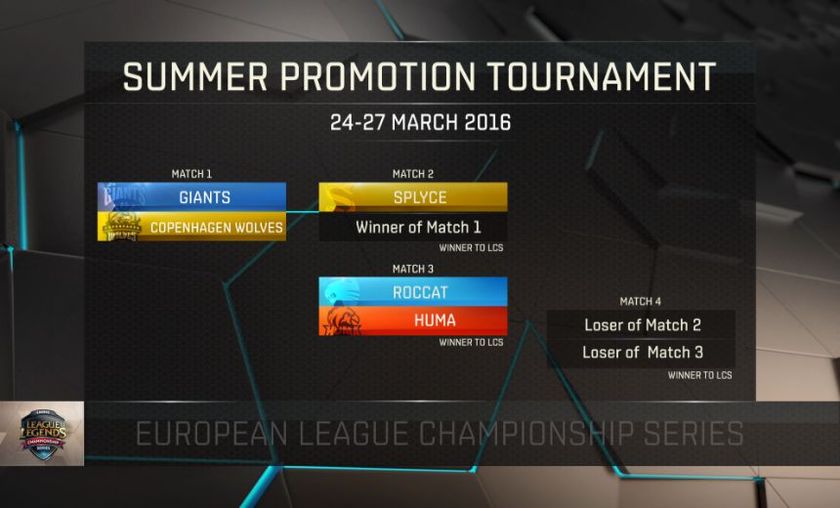 Preview: EU Summer promotion tournament
(courtesy of lolesports)
This year there has been a major change to the promotion tournament. Auto-promotion and auto-relegation are now a thing of the past. The format now includes 3 EU League of Legends Championship Series teams and 2 EU Challenger Series teams in a double elimination. The new format is aimed to make sure the best teams are in the EU LCS and that potential early season issues don't put the teams out of commission without a fight.
Let's take a look at the teams battling it out for a spot in the EU LCS and their chances.
Defending their spot
Giants (3W-15L)
Giants Gaming have had a rough split to say the least. Roster changes brought in Taewon "Wisdom" Kim, Seungik "SONSTAR" Son, Lennart "SmittyJ" Warkus and then Morgan "Hustlin" Granberg, but it failed to make any real change in the team's overall performance. The changes made in the roster brought cohesion and teamwork problems and they might have been better off leaving the roster alone. Issac "xPePii" Flores Alvarado has been underperforming and the team appears to depend heavily on him to carry them.
Out of the last four of Giants' games, they have only won one, which was against ROCCAT. There is a lot of pressure on this team to perform well and nothing seems to be in their favor. Their first game in the promotion tournament is against Copenhagen Wolves and CW still have momentum in their favor.
It is highly likely that Giants will be relegated within the first match of the promotion tournament.
ROCCAT (4W-14L)
ROCCAT has had their own roster struggles, starting with Edward "Edward" Abgaryan's departure earlier in the split. They now are playing with support player Lewis "NoXiAK" Felix, previously from Fnatic. ROCCAT has pulled off several upsets over the course of the season, including a recent win over Team Vitality, but then they lost to Giants. Their record in their last four games is 3 losses to 1 win. The team is struggling to find consistency even with a rather solid roster. The ability to play the map well is missing and their opponents are going to be able to capitalize on this weakness.
ROCCAT will be facing off against Huma in the promotion tournament. Huma pulled off a convincing win in their last series against Copenhagen Wolves and the team is motivated to put their best foot forward. Huma is heavily favored in this match but ROCCAT would still have a second chance to save their spot.
Splyce (5W-13L)
Splyce is the top seed in the tournament and they will be playing against either Giants Gaming or Copenhagen Wolves. Splyce is again 1-3 in their last 4 games. The most common thread within the EU LCS teams in this tournament is that they are very inconsistent in their performances and do not look to have the advantage coming into the relegation tournament.
Can Splyce pull it together in a double elimination situation and keep themselves from being relegated? Will they put it all on Chres "Sencux" Laursen to carry while giving all their resources to Martin "Wunderwear" Hansen — a strategy that often caused losses when Wunderwear wasn't able to make an impact on the game?
Up for promotion
Copenhagen Wolves (2W-2T-1L)
After being auto-relegated in the Summer Split of 2015, Copenhagen Wolves struggled throughout Spring Split 2016 in the EU CS. In a surprise upset against the EU CS favorites, they took down Millenium in a clean sweep. The Wolves did run into some difficulties when facing Huma and ultimately fell to them in the finals, but overall, the team appears strong and know how to play the map and adjust their drafts smartly.
They weren't able to take down Huma in the finals. However, the superior skill cap and macro play seen from them in the Challenger playoffs leads us to believe that they will be stiff competition for the EU LCS teams, who struggle in those same areas. The potential for Copenhagen Wolves snatching one of those EU LCS spots is bright.
Huma (3W-1T-1L)
Huma has faced a lot of adversity this split. There has been a lot of outside turmoil and negativity directed toward the team. In addition to that, they lost one of their star players, Lucas "Santorin" Larsen. Despite all these things that have caused teams before them to crumble, Huma came out of Challenger playoffs looking stronger than ever. The team seems to be synergizing well with Rudy "Rudy" Beltran and despite outside criticism, they appear confident and ready to take on the tournament.
More than any of the EU LCS teams and Copenhagen Wolves, Huma look like a team that deserves to be in the EU LCS and are carrying the right momentum to launch themselves forward.
Our Predictions
The likely outcome of this bracket:
Copenhagen Wolves > Giants
Copenhagen Wolves > Splyce
Huma > ROCCAT
Splyce > ROCCAT
This would mean that Copenhagen Wolves, Huma and Splyce will all be in the EU LCS for Summer Split and ROCCAT and Giants will be relegated to the EU CS. What do you think will happen?