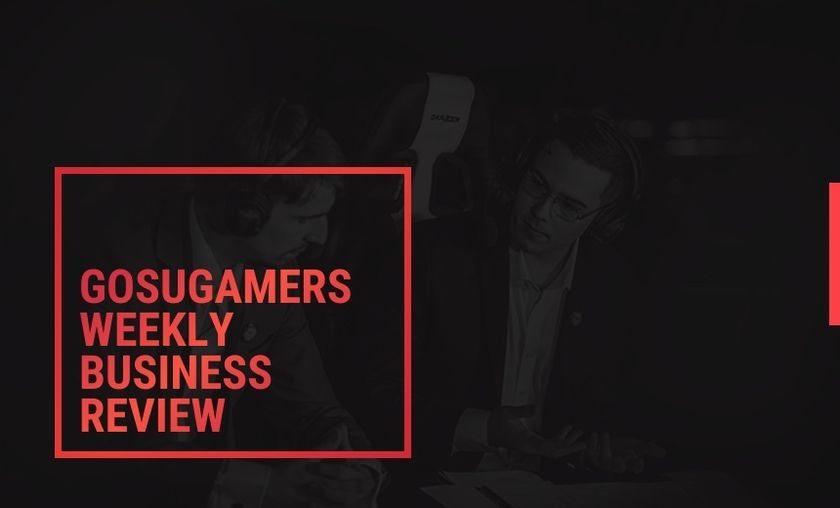 GosuGamers Weekly Business Review, 17/2 - 24/2
It's been a hot minute since we talked about the Professional ESports Association and the various stories related to that group, but we got a somewhat expected update this week with the news that Jason Katz, their combative leader. Katz described his role rather grandly as 'Commissioner and Chief Executive Officer at The Professional eSports Association' on his linkedin.com profile, but may look back on the whole affair with a tinge of regret when he takes an overview of how it went.
Initially formed to try and protect the interests of certain high end eSports teams and brands against a growing push toward exclusivity from other parties, the PEA developed a huge number of negative headlines in a very short space of time. Seen as bullying players into deals they were never consulted about, the group eventually climbed down from their position and admitted defeat in their first attempt to create an exclusive league of their own, and this 'restructuring' may just be the beginning of the end.
Katz, who has not had what you'd call the cleanest track record in eSports, with stints at Azubu and CGS both on his resume, may only be on departure, but it was taken by many as the group's disbandment. We await an official announcement on that topic, but it's fair to say that the big names invested in the scheme from day one have not benefitted from their involvement overall, quite the reverse.
That is not to say we won't see this same thing attempted again in future, maybe even by the same people, but they will most likely do a lot more groundwork rather than making the same mistake twice. The PEA plan had a number of flaws, but the moment the group went up against the players, and their fanbases, the writing was on the wall for them, and if rumours that they never had the contractual right to act as they did are true then it's probably for the best, as the fallout would have been way worse.
Fighting games to the front
It's nice to have some good news, and for this writer the week has provided some very welcome news indeed. Turner-WME/IMG, the group behind the enormously successful CSGO major in January that saw Astralis ascend to the top of the pile in that game, have announced a $250k Street Fighter 5 invitational running from March 27th to May of this year.
The news brought varying reactions from different communities, with the Fighting Game Community (FGC) themselves still not convinced by SFV's overall quality but excited at least to see the mainstream pay attention to them. Turner and co are certainly at the forefront of production values right now, and if they bring that famous attention to detail to the FGC it will only be a good thing.
Craig Barry, Executive Vice President & Chief Content Officer, Turner Sports, had the following to say on the official ELEAGUE site announement. "We look forward to bringing a new experience to ELEAGUE and collaborating with Capcom to capture the authenticity of the live event competition while telling a rich narrative surrounding the game, its characters and the players."
What remains to be seen is whether this is a promotional punt run in conjunction with the SFV community and Capcom as a test, or whether Turner-WME/IMG are looking to expand further into this scene. The most profitable games consistently at recent Evo's have been Smash titles, for the most part, but working with Nintendo is notoriously difficult and may put them off such a move.
Facts and figures
One of the ways eSports is occasionally demeaned by those that don't like or understand it is to talk about most of the fans as 'basement dwelling nerds' who still live at home with their parents, but a new study seems to blow that out of the water. The ESports Observer reported this week on a report by Interpret, LLC, a market research company, into the demographics that consume eSports content, and the results may come as a surprise to the sceptics.
The first, and perhaps slightly less shocking figure is the average age of people who watch eSports, with Interpret putting 39% of the audience in the traditionally challenging 25-34 age bracket. Furthermore, these are not basement dwellers, still calling for their mom to get more Mountain Dew, but independent adults, with 61% of the 18+ audience earning more than $50k a year.
There are still issues that the industry must find a way to resolve before eSports can be considered truly a competitor for mainstream entertainment, chief among them the amount of revenue each individual fan generates. While the NBA is estimated to make around $15 per fan, eSports currently sees the average enthusiast spend $3.64, according to a Newzoo report, which shows the gap between the two worlds in terms of monetisation.
Some of that comes down to things like time, location and aggressive marketing of course, and with the eSports revenue figure predicted to rise to $5.20 per head by 2020 it is easy to see why the investment firms are sniffing around more and more. With engagement figures that seem to exceed those found in traditional sports, the future certainly looks bright and the negative stereotype of the average fan seems more and more outdated with every passing week.
Press X to Zlatan
It wouldn't be a week in eSports business without some sports stars getting involved in the electronic world, and this week we've got some of the biggest going. Zlatan Ibrahimovic is first up, with the giant Swede part of an investment group that has poured a bucket of cash into Challengermode, a tech startup and online competitive gaming platform born in his native land.
According to esportsinsider, Challengermode recently closed a new round of funding round of $1.3m (£1.03m) with Zlatan Ibrahimović amongst the investors. Such an amount is unlikely to bother a man who is a crucial player at one of the richest clubs in the richest sport on earth, but it will draw attention to the area with nothing Zlatan does going under the radar in the land of his origin.
The other sports star is being rather less certain, but very eSports about his plan. FC Barcelona defender Gerard Pique, who also happens to be married to Colombian pop star Shakira, has announced his intentions to get into eSports in a big way. Unlike others from his field, Pique intends to start his own brand from the ground up and not simply buy into an existing one, and it will be interesting to see both how he understands the scene, and fares down the line.
Roundup
New developments in the WSVG saga from investigative sage Nydra
StarLadder invites are announced
Baseball pro Trevor May joins Luminosity as a streamer
Kiev Major Open Qualifiers for Dota 2 will be region locked
Matches of the Weekend
Tempo Storm vs G2 @ Trinity series is big for Hearthstone
We have TNC Dota2 vs IG in a Starladder elimination match
SK Gaming take on Na'Vi at IEM Katowice
Events to catch
The Overwatch Premier Series should be very interesting
ESL Pro League qualifiers are in full effect
StarSeries Season 3 playoffs are on this weekend
ESports Careers
Kinguin need a creative director to work in Warsaw
The G2 CEO needs a personal assistant
Rotowire need a full-time editor to work across a number of games
Giggles
Not sure the OG players were that impressed by the crowds present after their 2-0 win over Secret...