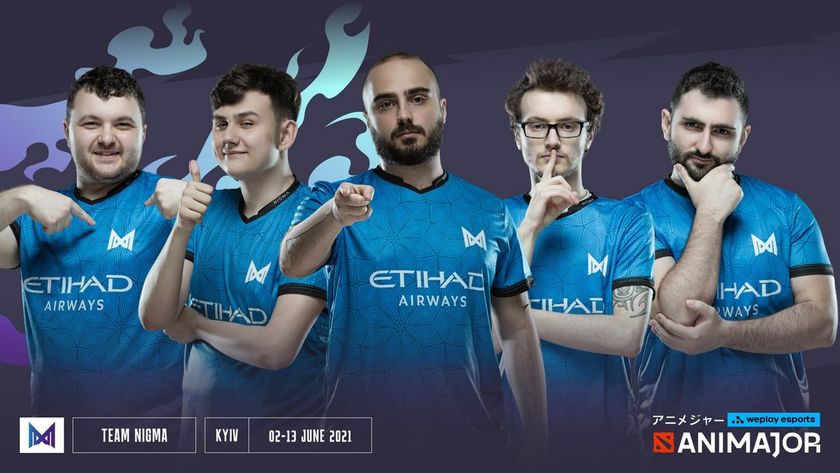 Team Nigma and ViCi Gaming survive tense wild card stage to stay alive at WePlay AniMajor
WePlay AniMajor wild card has come to an end with a best-of-one tiebreaker match after two days in a row of non-stop action in which the teams seeded in this stage traded punches in the round-robin format.
First team to secure a spot into the group stage was ViCi Gaming, one of the very few participants able to actually secure two clear victories in the wild card.
VG finished day one with draw scores across the board, but they came determined to keep the Chinese region at the top of the standings on the second day and had a strong showing over AS Monaco Gambit in the opening match-up of the day. They took down the CIS underdogs with a Templar Assassin first game and a Leshrac-Abaddon tower objective oriented draft in game two. Unfortunately, that spelled elimination for ASM.Gambit.
For VG, however, that was the beginning of their resurgence as they marched forward with yet another 2-0 win, this time over their country fellows, Invictus Gaming. The standings got rather hard to predict as we moved further into the schedule, especially after Gambit, although already eliminated, made a final push and took a game off of iG as well, thus closing their tournament run with 3 draws and two losses, but opening the door for Team Nigma and Team Secret to challenge iG for the second spot in the group.
Without a doubt, the most tense series of the wild card stage was the one between the two European squads, Nigma and Team Secret. Their direct confrontation had the potential to save one over the other from elimination. Team Nigma needed a 2-0 victory to join VG in the next stage of the competition and they were on the right path of doing just that when the Dota 2 servers crashed and after an one hour break it was ruled by Valve that they need to go into a remake and ended up with another tied result.
Team Secret and iG were pitted against each other in the final series of the wild card, both aiming for a 2-0 score in order to force a tiebreaker match with Team Nigma for the second place in the wild card stage. Team Secret were allowed in the first game to lock in strong combos such as Doom-Grimstroke on top of Templar Assassin, but even so, they couldn't deal with the team fight coordination coming from iG, who fought with Zhou "Emo" Yi on Leshrac and with Hu "kaka" Liangzhi on Lion. With iG claiming the first game victory, Secret were eliminated from the AniMajor and the second game had a stake only for Nigma, who were hoping that Secret would channel their inner champions and actually take the second game to eliminate iG from the race. However, the outcome was different from what any Secret or Nigma fan hoped for. Secret opened the draft with Broodmother and secured two more hard carries hoping to outmaneuver and outlast iG's beefy draft, but ended up giving iG the opportunity to play around their spells with a Morphling mid lane and a carry Phantom Lancer last pick.   
iG's 2-0 score pushed the wild card to a tiebreaker round held at 01:00 AM local time.
Bans
* This player was a stand-in for this match
With their tournament life on the line, both iG and Team Nigma approached the best-of-one decider with comfort picks in mind. The Chinese representatives brought Death Prophet and Shadow Shaman, two of the heroes they utilized to perfection at the previous Major, where they claimed the trophy, while Nigma summoned Amer "Miracle-" Al-Barkawi's Invoker and a Maroun "GH" Merhej Elder Titan with rushed Solar Crest wanting to overpower iG in the team fights.
However, they didn't have a late game scenario plan, thus their early game execution had to be nailed to perfection and the entire Nigma line-up showed their true colors when it mattered the most and stormed the high ground after a successful teamfight, sending iG packing.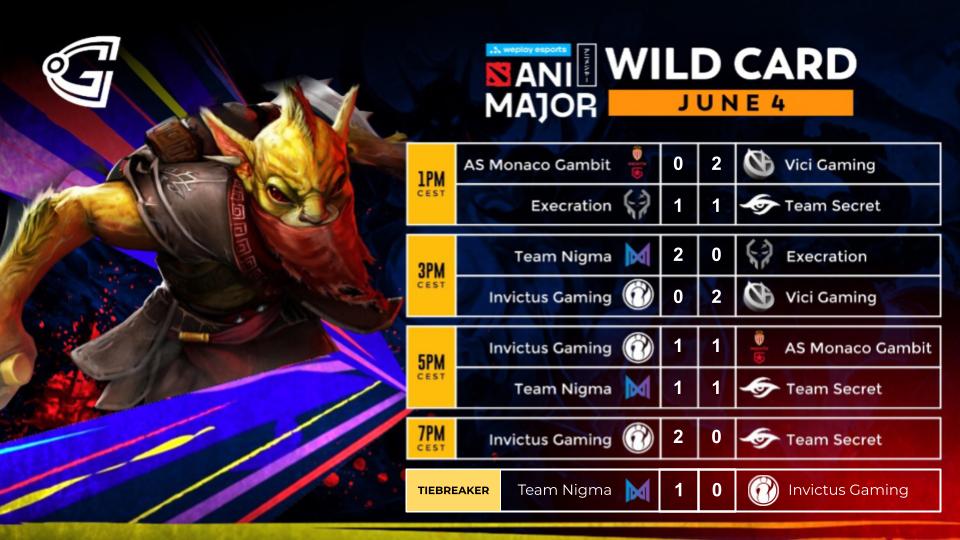 WePlay AniMajor will carry on for ViCi Gaming and Team Nigma with group stage matches set to kick off at 13:00 CEST, while for ASM.Gambit, Execration, Team Secret and Invictus Gaming, the Major journey came to an early end.