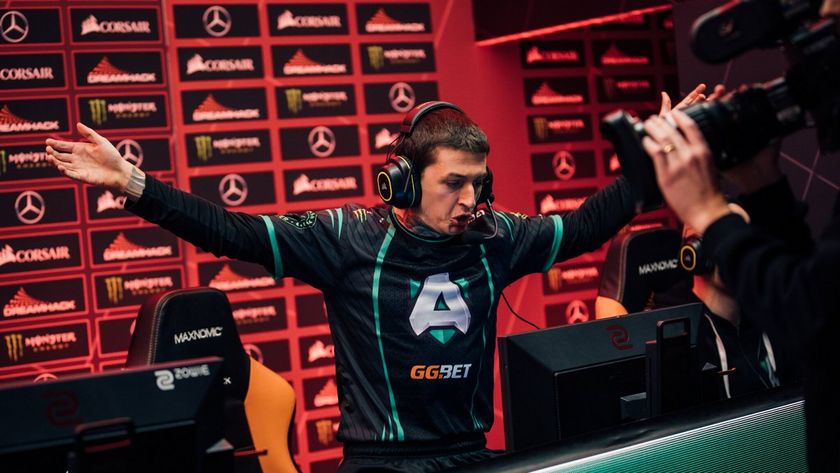 Secret land their first victory in Europe DPC league, Alliance humble OG
headline image courtesy of DreamHack
Week two in the upper division of Dota Pro Circuit Season 2 started in an explosive way.
Team Secret, who lost their opening series last week to a hungry Team Nigma, landed their first win by taking down 2-1 Hellbear Smashers. The season one absolute dominators crushed Hellbear Smashers in game one with a mid lane Beastmaster. Michał "Nisha" Jankowski had the Aghanim's Scepter completed by the 12-minute mark and closed the game 18/0/9 with an absurd amount of 32.9K damage dealt, which was nearly double of his entire teams' contribution.
Hellbear Smashers retaliated hard in the second game by playing fast and with beefy front liners into Secret's Tinker-Bounty Hunter simple and ultimately ineffective combo. In game three they were able to pick the Beastmaster for themselves, but couldn't replicate the success their adversaries had in game one, as they were playing it into a Sven, Legion Commander and a Tusk coming from Secret. The combined tankiness, healing power and amount of saves coming from Tusk were enough for Secret to dodge the Wild Axes madness and overwhelm Smashers to take the victory.
The day closed with a breathtaking battle between Alliance and OG.
With Anathan "ana" Pham back, OG also brought back to the game the Faceless Void carry in their first match versus Alliance. They built the draft around Ana's hero, making sure they have numerous tools to empower him in order to become a beast in the late game scenario. Alacrity, Bloodrage, Ink Swell and armor boost from Solar Crest were the key ingredients that made the Faceless Void become simply immortal past the 30-minute mark and able to turn the game around after Alliance had dominated OG in the early stages.
However, with Nikolay "Nikobaby" Nikolov being a Faceless Void expert as well, Alliance were quick in delivering to OG the same treatment. Although Alliance's overall strategy  in the second game was a bit different, having Niko's Faceless Void paired with Snapfire, for both the minus armor debuff with Lil' Shredder and the strong AoE ultimate she can land in the Chronosphere, the result was the same. Alliance pushed the series to a game three and Nikobaby simply stole the show with a spotless 22/0/9 Morphling performance. Alliance had the game in the bag from early laning stage to the end, humbling OG in just 30 minutes.
Courtesy of their victory from last night, Alliance are now leading the charts in the Europe upper division with 2-0 while OG sit at the middle of the pack with 1-1. Alliance have a shot at taking even a bigger lead later this week. They will play against Team Nigma on April 24 at 21:00 CEST, while OG will return to the action on week three when they will be pitted against Hellbear Smashers.