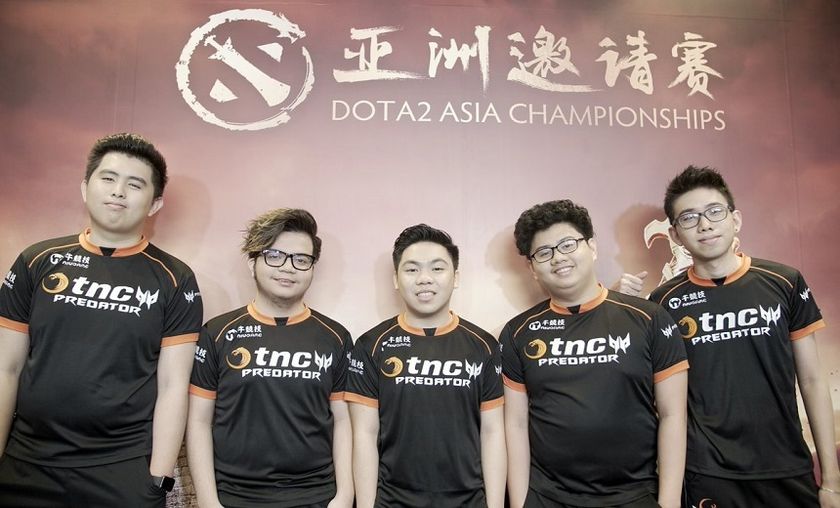 DAC playoff teams decided; Virtus.pro and TNC Predator top each of their groups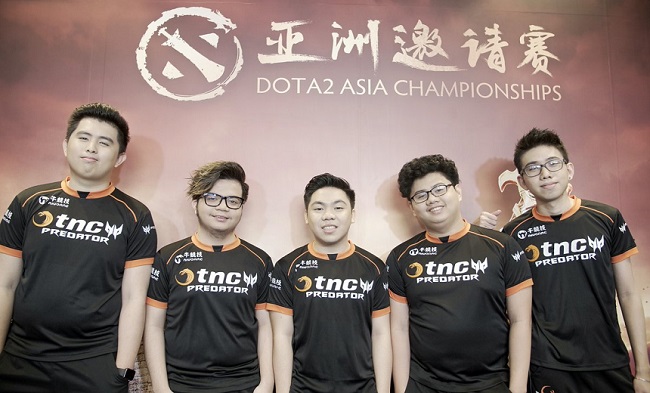 The twelve DAC playoff teams have been determined as the group stage concludes. TNC Predator and Mineski came to play in the last day of the group stage.
After four days of group stage matches and grueling tiebreakers for Group A towards the playoffs, the top 12 teams now have been set for DAC 2018. OG, Keen Gaming, paiN Gaming, and Effect Gaming have bid farewell to the event early. The seven of the teams from Group A had a hard battle to survive Day 4 of the group stage as they fought through the tiebreakers to seal their playoff placements or determine elimination. On the other hand,  Group B was fighting for seeding placements as most of their fate had already been decided by Day 3 — even before the group stages had concluded.
Group A
The group concluded with a 5-way tie paving way for the teams to compete for playoff spots.  For these teams, the road was a longer and tougher one than they had expected.
The matches kicked off with TNC Predator going up against Vici Gaming. TNC ran over VG with timely rotations of their support duos which created space for the cores of TNC especially the Sniper of Armel Paul "Armel" Tabios (20-2-9 KDA). Sam "SamH" Hidalgo with his Batrider had a massive early game, and on-point Flaming Lasso initiations which made space for the TNC cores to catch up and secured a convincing win for the Filipinos.
OG was on the brink of elimination and fought for their tournament lives against LGD Gaming. LGD almost had the game on their sleeves were it not for OG's great wrap around during the mid-game and their massive team fights. LGD tried to sustain their lead by having the Aegis and Cheese in their hands. However, the Chinese team was caught off guard with OG's initiations despite the Aegis and Cheese advantage. LGD lost teamfight after teamfight enabling OG to sustain their momentum and win the game.
Optic Gaming's defeat from Keen Gaming paved way for the beginning of rough tie-breakers after the Group Stage. Keen Gaming, though out of contention, managed to turn the game around and was able to defeat the tri-core of Gyrocopter, Tiny and Lone Druid of Optic. Zhiyong "oldchicken" Wang's sub-par performance during the first 3 days was overshadowed by his stellar Outworld Devourer plays to propel his team for a win on their last day of the Group stages.
The highly anticipated rematch of Liquid and Newbee was surely entertaining. Amer "Miracle" Barqawi's Rubick and Kuro "Kuroky" Takhasomi's support Pangolier were the highlights of the match. Lasse "Matumbaman" Urpalainen's Lone Druid split pushing paved way for Megacreeps in favor of Liquid. However, Newbee seemed to have found their resolve as they manage to close out the win even with the Megacreeps disadvantage.
Tiebreakers
A tiebreaker for the last playoff spot in the breakout games was forced by OG as they triumphed over LGD Gaming. OG were tied with Vici Gaming with a 3-4 score. Meanwhile, Newbee defeated Team Liquid and forced a 5-way tie to compete for two spots in the group. This seemed to be another group stage as 10 more BO1 games were scheduled between TnC, LGD Gaming, Optic Gaming, Team Liquid and Newbee.
To start off the tiebreakers, it was a do-or-die game both for OG and Vici Gaming. VG convincingly stomped OG for the coveted playoff spot. VG picked faster heroes with lesser cooldowns and stormed all over OG across the map without giving them any breathing room. VG finished the game with an 11-39 score and eliminated 4-time Major Champions OG.
Before the tiebreakers, TNC was on the verge of elimination, but to the surprise of many, they have gone 5-0 in day 4 and claimed the No. 1 spot for Group A.  TNC took very fast and fight-oriented drafts which unleashed their aggression in leaps and bounds, constantly applying pressure and not much room to breathe for their opponents as they even managed to defeat both TI finalists Team Liquid and Newbee.  Armel showed talent and potential of what could be his breakout games for the all Filipino squad.
LGD Gaming, on the other hand, have proven to be a force to be reckoned with as they were able to notch important victories to secure a top 2 spot. LGD is playing superbly as of late with the iconic duo of Yao "Somnus'M" Lu and Wang "Ame" Chunyu.
Optic Gaming, Team Liquid and Newbee will need to retool their strategy and find their niche as they face off against Group B in the breakout stage.
Group B
Evil Geniuses and Mineski faced off with a spot for the Main event on the line. It was a passive early game for both teams but EG had a headstart to kick off things. However, Mineski's constant pick-offs of Artour "Arteezy" Babaev's Morphling throughout the game seemed to have lost the grip of the squad. Mineski's great synergy and map control took away the vision of EG and overwhelmed the latter. Mineski is slowly finding their pieces before DAC and it was a quick turn-around of fate by defeating EG and securing top 2 for the main event.
On the other hand Effect Gaming and paiN Gaming fell to the bottom of the group and had a mediocre performance throughout the event. Meanwhile, VGJ.Thunder and Invictus Gaming held their ground to earn their spot in the Breakout Stage.
Virtus.pro had already claimed the No. 1 spot in Group B, but the CIS team still wreaked havoc on their opponents. On to their last match, it was another day of Omniknight Carry for Roman "Ramzes666" Kushnarev against Team Secret. The nail-biting game belonged to either and both teams. Team Secret lost their footing as they were defeated by VP in a back-and-forth game. The CIS powerhouse maintained their composure and managed to be undefeated in their groups.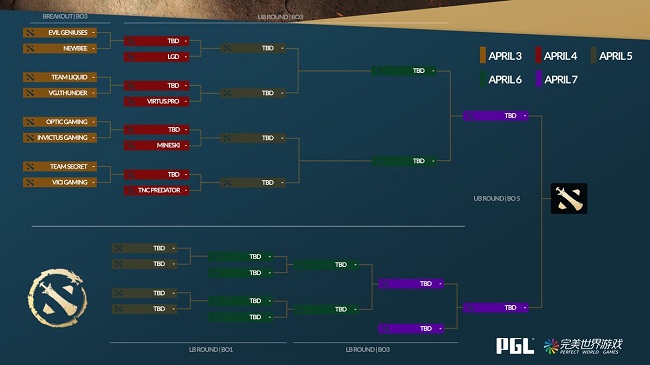 The breakout stage will take place on April 3rd, followed immediately by the Main Event taking place from the 4th through the 7th.
Breakout Stage:
8 teams: 3rd-6th  place teams from each group one-round Bo3 single-elimination bracket
4 winners advance, losers are eliminated.

The teams will have the day off tomorrow, April 2nd. The action will resume again on Tuesday, April 3rd at 12:00 local time/7:00 CEST for all best-of-three Breakout series.