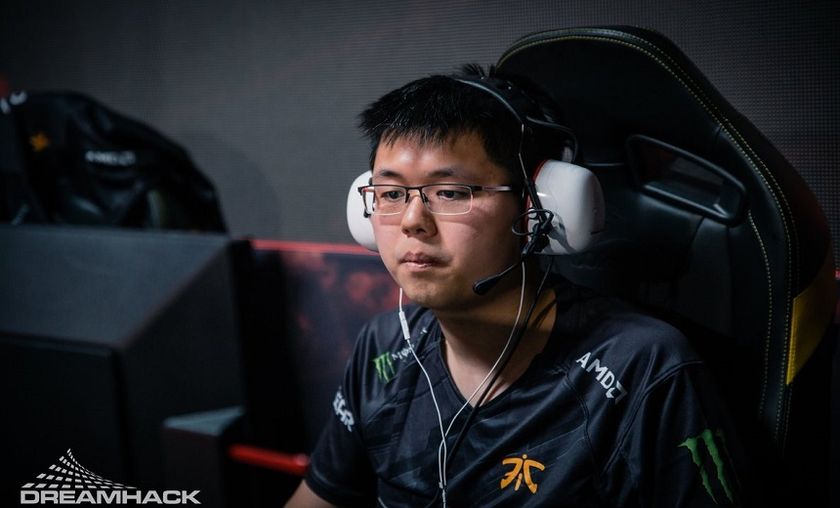 Fnatic are Grand Finals bound at DreamLeague Season 9 Minor

Photo courtesy of DreamHack
Fnatic's stunning performances paid off after upsetting both Newbee and then Team Liquid to land a place in the Grand Finals of DreamLeague Season 9 Minor. 
The SEA team showed up to DreamLeague Season 9 Minor in top form and aiming for their first 2017-2018 Pro Circuit Championship Title.
It was a long day — doubleheader elimination series on the table for Fnatic. The pressure was high and the emotions were intense. Their gritty approach to claiming wins was impressive and turned many heads during their journey so far. Fnatic will have one more hurdle to overcome as they will face against Team Secret as they try to seize the most DPC points possible to climb a step in the rankings and inch closer to that highly coveted TI8 direct invite. 
Lower Bracket Round 3 - Newbee 1:2 Fnatic
It took a full three-game series for Fnatic to overwhelm Newbee and knock them out of contention. With fantastic control and coordination throughout the series, Fnatic has been showing that their revamped lineup is starting to synergize and find their groove. Newbee did not show up to Sweden in their top form and most of their downfall seemed to be due to miscommunications or fragmented coordination. 
The first game started out passively, with a quiet start as both teams focused on their lanes. The SEA team was doing a perfect job at forcing rotations and movements from Newbee to keep them from being able to take their objectives and stall out the game in their favor. The second game was much more of a contrast —a very scrappy game which seemed to get a bit awkward at times. Newbee had a concise game plan and were able to implement it through a fast-paced early game. Their aggression overall seemed to catch Fnatic off guard as the SEA team seemed to struggle to hold on. Newbee's victory forced the deciding third game which was a very close game with Fnatic's signature steep swings and roller coaster thrills. Nothing less than entertaining, the teams were both playing their hearts out against a ticking clock and elimination. In the end, it was Fnatic that would prevail to take the game and series. 
Newbee end their run in fourth place with $30,000 and 15 DPC points. 
Lower Bracket finals - Team Liquid 0:2 Fnatic
No rest for the wicked or weary, as Fnatic had only moments to prepare for the next stage. Facing off against Team Liquid, the SEA team was the underdog but cruised in with unwavering confidence. In their last matchup during the semi-finals, Team Liquid had bested Fnatic 2:1 with two back to back 17-minute games in the reverse sweep. Fnatic were looking to exact their revenge.
Patience was the key for Fnatic to overtake the Europeans in the first game. It took almost one hour to close out the match, starting out relatively even for the first 30 minutes. When Team Liquid started to pull ahead, it was not much of a surprise to many fans. A bad team fight, followed by a team wipe moments later swung the game into Fnatic's favor and it didn't take long for them to then seize control and the advantage for the win. In the second game Team Liquid were quick to try and squash any hopes Fnatic had of an easy 2:0 sweep. Coming out of the gates swinging, Team Liquid exerted their dominance and set the pace immediately. While it looked like they had the lead, 23 minutes in, Fnatic came from behind, committing their hearts and souls into turning things and it paid off in the amount of a spot in the Grand Finals.
Team Liquid will go home with a third-place finish, $30,000 and 45 DPC points padding their pockets. 
Upper Bracket
Round 2 - Best of 3
Round 3 - Best of 3
Lower Bracket
Final
The action resumes tomorrow, March 25th at 16:30 CET with the best-of-five Grand Finals series between Team Secret and Fnatic.