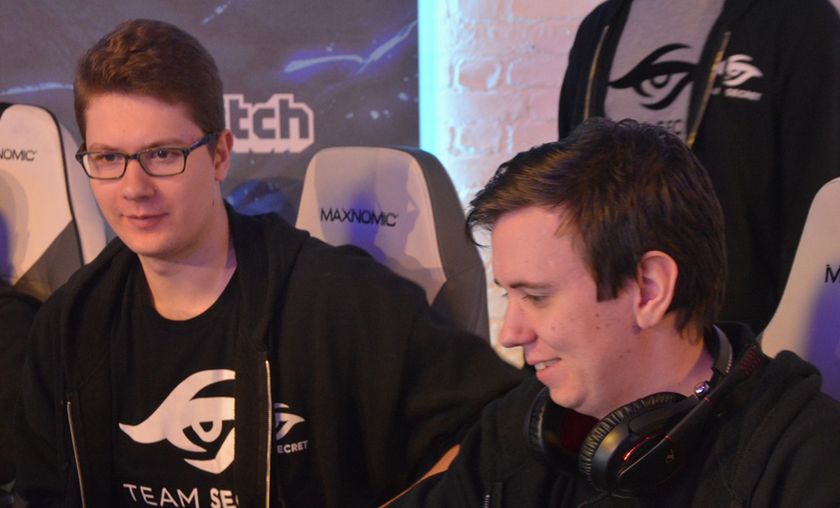 Team Secret and IG march on into ESL One Semi Finals

First day of ESL One Frankfurt concluded with Virtus.Pro, Invictus Gaming, Evil Geniuses and Team Secret in the final four and Cloud9, Vici Gaming, Alliance and Fnatic have been eliminated.
Round 2 - Best of 3
Round 3 - Best of 5
As expected, the Cloud 9 – Invictus Gaming confrontation brought very intense games with big plays coming from both teams. The game was dominated by Burning's performance on Gyrocopter who proved to be a tall order for EternalEnvy's underwhelming Queen of Pain. Despite great plays from Bone7 on his Phoenix, who managed to postpone IG's victory, after 57 minutes the Chinese took game one convincingly. 
Not letting their fans down, Cloud 9 came for the second game with a totally new strategy that confused not only their opponents but also the analysts desk who could not decipher their draft choices. Opting for an unexpected line-up and unconventional item builds like Octarine Core on a Tidehunter, this time around, Cloud 9 managed to annihilate IG's Gyrocopter which was the key factor in securing the victory and dragged IG into a decisive game 3.
The last game of the series was pretty one sided for IG who shut down Envy's farm although their middle lane was completely lost to Fata's Leshrac.  Even so, Cloud 9 had Bone7 on Nature's Prophet who kept the hope alive due to his split push. With EnternalEnvy hitting some key items on his Razor, Cloud 9 managed to come back into the game but not for a long time as they forced the issue trying to make an important play on Burning's Lina which ended up in a complete wipe. Once IG realized that they can't afford to let the game slip through their fingers, they marched for the ancient and they secured for themselves a top 4 spot at ESL One Frankfurt 2015 after 64 minutes of intense fighting.
The last matchup from the playoffs stage was the most anticipated one by the live audience, Team Secret versus Fnatic.  Coming to contradict the proverbial "2ez4rtz", Fnatic had an amazing first game in which they dominated Secret from the beginning to the end, Mushi (Puck) having a huge role in that. All five Fnatic players have shown great composure and mentality keeping Secret in a defensive stance for most of the game. However, Team Secret's Drow-Visage combo was doubled by amazing Clock plays from Zai who managed to thwart Enigma's ultimate resulted in a couple of team fights going into Secret's favor and they quickly turned that advantage into a victory.
The story of the second game can be summed up in one word : Techies! Secret paired them with Tusk and combo Snowball – Suicide Squad proved to be an amazing early game aggression tool, this combined with the fear factor of fighting on a literally mined battlefield put Team Secret into a dominating position on the map. They manipulated the team fights into Kuroky's masterful mine placement and crushed Fnatic's spirit, who were forced to call out the GG after only 30 minutes.
ESL One Frankfurt continues tomorrow with the Semi Finals, the schedule for the last day in Commerzbank Arena being as follows:
10:15 CET Virtus.Pro vs Evil Geniuses
13:30 CET Invictus Gaming vs Team Secret
16:45 CET Grand Final TBD vs TBD 
For more information on ESL One Frankfurt head on over to the coverage hub.
Pictures from the seeding bracket : 
---
More content on GosuGamers