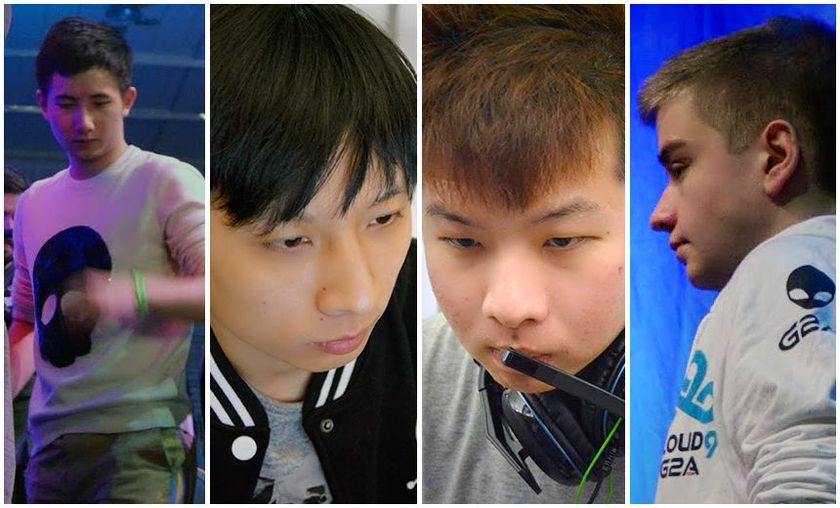 Five memorable performances from StarLadder XII

There were some big performances and some even bigger upsets throughout the weekend at Dreamhack Bucharest, but let's focus on the players. We have compiled a Team of the Tournament; a five man list of some of the more memorable individual performances and the heroes they dominated on. Let's take a look.
ViCi Gaming have won StarLadder XII after only dropping two games through the entire tournament, both to fellow Chinese roster Invictus Gaming. The team were in sync with each other, proving that bringing in a new carry player was the sensible decision after all. But what were the most memorable solo performances throughout the tournament? We have picked five players, the hero they dominated on and created a five man Team of the Tournament. Let's take a look at some of the best performances on each role beginning with a surprising hard carry performance on the opening day of the tournament.
This is an opinion-based article based on some of the big impact players in their roles. While the majority of the list includes great performances that broke into some of the top 25 all-time records on DatDota, there were many big performances through the weekend and several options for each of the choices. Feel free to suggest your personal favourites in the comment section below.
Team of the Tournament
StarLadder XII - Dreamhack Bucharest
Hard Carry

 Team Secret vs. Team MY
All-Time Records: 7th highest Tower Damage, 13th highest XPM, 15th highest GPM, 21st Hero Damage (DatDota) 
11 Kills 2 Deaths 19 Assists, 20.4k hero damage, 6.8k tower damage (Dotabuff) 
Honourable Mentions: Hao's Phantom Lancer, qojqva's Windranger, BurNIng's Juggernaut
Going into their opening match against Team Secret, not many people knew how the new Malaysian roster would cope against the highest ranked European team in the world. Many people expected them to force a challenge, but Team MY went on to force an upset and push Team Secret into the lower bracket. In the opening game the Malaysians brought in an aggressive draft featuring a carry Leshrac, midlane Viper and an offlane Axe. The decision to field Lee 'kyxY' Kong Yang as a hard carry worked wonders as the Malaysian dominated Team Secret and finished the game with 11 kills, 19 assists and only 2 deaths. His performance registered as some of the highest Tower Damage, Experience and Gold on DatDota and allegedly had 30 Bloodstone charges by the time Team Secret were forced to accept defeat. The Malaysians struggled to perform in their following two matches against Invictus Gaming and Team Tinker and exited the tournament earlier than expected. But the South East Asian region will remember this weekend as the time that Malaysia comprehensively defeated some of the biggest European stars.
Solo Mid
 Invictus Gaming vs. ViCi Gaming
All-Time Records: 6th highest +/-, 17th highest Hero Healing, 19th highest Kills (DatDota) 
19 Kills 0 Deaths 11 Assists, 19.8k hero damage, 3.2k tower damage (Dotabuff) 
Honourable Mentions: FATA-'s Zeus, Super's Phantom Assassin, Pajkatt's Sniper
Little has to be said about Luo 'Ferrari 430' Fei Chi's performance in the upper bracket final against eventual tournament victors ViCi Gaming except for his stats - his Shadow Fiend ended the sub-30 minute game with 19 kills, 11 assists and zero deaths. Armed with arguably one of his best heroes, Ferrari had a fairly quiet game until 6 minutes when he was able to secure a triple kill and the player dominated the rest of the game. Any chance of ViCi Gaming surviving until the late game were destroyed by his multi-kills. Invictus Gaming secured an easy victory over ViCi Gaming, something no other team had done at the time and something they would struggle to replicate in the grand final. Invictus were unable to win either series against their Chinese opponents, but this was definitely a performance to remember from their famed mid player. 
Offlane
Invictus Gaming vs. Alliance
All-Time Records: 4th highest KDA, 21st highest Efficiency 24th highest Hero Damage  (DatDota) 
6 Kills 1 Death 17 Assists, 12.8k hero damage (Dotabuff) 
Honourable Mentions: iceiceice's Tidehunter, Bulba's Clockwerk, Bone7's Batrider
Invictus Gaming claimed a dominant but hard fought victory in the opening game against Alliance with their offlane player Luo 'Luo' Yingqi consistently landing some impressive hooks with Clockwerk as they went a game up against their Swedish opposition. But Luo took his performance to the next level with an offlane Spirit Breaker that brought Alliance to their knees. Screams of "Give this man a medal" from commentator Dave 'LD' Gorman summed up his performance, securing solo kills against an offlane Slark and building on his advantage from there. A reasonably late pick, Alliance had no answers to his constant charges and immensely lucky bashes. Luo ended the game with 6 kills, 17 assists and a single death and was repeatedly chasing the enemy team past their tier four towers to secure kills before the game concluded in 28 minutes. Alliance may have been slightly embarrassed by Invictus Gaming's dominance, as LD said "This is like a cat playing with a mouse that's had its tail and a couple of its legs cut off." Spirit Breaker understandably became a regular pick following the outcome of this game and Luo continued a string of good performances with the hero.
Support
ViCi Gaming vs. Invictus Gaming
5 Kills 7 Deaths 16 Assists, 7.8k hero damage, 401 XPM (Dotabuff) 
Rated by some as the best support player in the world, Xu 'Fy' Linsen had a great tournament with a series of great performances all weekend. Arguably his best performance was with his trademark Earthshaker in the opening game of the upper bracket final against Invictus Gaming. His team wilting under the pressure of Xu 'BurNIng' Zhilei's farmed Juggernaut Fy became a big factor in turning the game around, with the ability to repeatedly find the right fissure and landed some big echo slams to turn the game around for his team. If his team had lost this match it could have been a completely different ending to the outcome of the tournament. But with the power of multi-hero stuns and even a solo kill on BurNIng trying to escape a failed defense of his bottom barracks, ViCi Gaming secured an important opening victory in the upper bracket final. Not a record breaking statistic performance from Fy but the player had a remarkable ability to be in the right place for some of the biggest stuns to allow his team comeback to secure the victory.
Support
Cloud 9 vs. Invictus Gaming
All-Time Records: 7th highest KDA, 17th highest +/- (DatDota) 
7 Kills 1 Death 11 Assists, 7.7k hero damage (Dotabuff) 
Phoenix was a massive part of Cloud 9's siege through the tournament with the hero drafted 8 times through their run of 11 games to a large degree of success in both offlane and support roles. Both Armand 'Bone7' Pittner and Johan 'n0tail' Sundstein had list worthy performances on the hero, but a great performance by n0tail in their opening game of the lower bracket final against Invictus Gaming allowed them to take a much needed opening game. Cloud 9 were able to dominate throughout the opening game and despite an early death from a poorly placed Supernova, n0tail became a big part of the victory. Repeatedly casting his ultimate milliseconds away from death and always nearby to slow his opponents, the Dane was ensured that Invictus Gaming received a fiery death.  Throughout the weekend n0tail was one of the most consistent support players in the tournament, from a 36 assist Earthshaker in their opening game and a decent Io performance against ViCi Gaming. But with one of the highest KDA records on Phoenix in a category dominated by players playing the hero as a core - n0tail dominated the impressive Chinese roster.
 
Headline image by SLTV
---
More content on GosuGamers