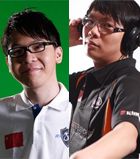 Star Ladder X SEA - XctN and JoHnNy's Revenge lead the race
Almost half the matches have been played for the StarSeries X SEA qualifeirs, and the leaderboards can provide a good projection of the upcoming final standings. So far, IAP.XctN and Johnny's Revenge occupy the two first places, followed by Invasion, Arrow and MiTH.

We are halfway through StarLadder Season X SEA qualifiers, and we have encountered several surprises and upsets so far. The two leaders of the board are from Singapore and Philippines respectively : Johnny's Revenge and IAP.XctN. Both teams have had a remarkable run until now, and while Johnny's Revenge sits atop the rankings with six wins, IAP.XctN is not far behind with five victories to their name. Both the teams have only dropped one match each, and stand a very good chance for qualifying for the finals. Johnny's Revenge is led by Johnny JoHnNy Lee, who departed from Arrow after the TI4 shuffle, and has four other notable names from the SEA scene joining him in this newly formed team. On the other hand IAP.XctN is also a relatively new team which has recently been strengthened by acquiring former Mineski captain Ryan Jay 'Bimbo' Qui.
The middle of the table is tightly packed, with four teams (Arrow, MiTH.Trust, Invasion and MSI TRIC) sitting at four wins each while following them closely is Titan with three wins. While the Malaysian Arrow has been facing issues since the departure of Johnny, they stand a good chance of qualifiying. This also counts for MiTH.Trust, as their run has been solid. Invasion, an emerging team from the SEA scene, stands a little better than Arrow, MiTH or MSI TRIC having dropped only two matches while the others have lost three. The favorites, Titan, have had a rough run in SL-X. They started off badly, losing their first two matches but are currently on a three match win streak. Notably, Mushi has stood in for NWP-Yamateh for their last two SL matches thus re-creating the old Orange roster that got third place at TI3. The relatively unknown team, MSI TRIC has surprised us all by beating some of the strongest SEA competitors and they now find themselves with a realistic chance of going to Ukraine.
Things are looking grim for the other teams as they complete the table, taking up the bottom slots. Mineski, Insidious Idol and Immunity have managed to secure two wins and protect their theoretical chances of making it to the finals. However, the situation is worse for First Departure and Awake who have both lost six matches, winning just the one. It is very difficult for the two teams to make it to the finals.
Since there are no following playoffs for the SEA qualifier, the team that secures the top slot will be travelling to Kiev, Ukraine to compete against six other teams (4 from Europe, 1 from China and 1 from America) at CyberArena from October 23rd to 26th. SL-X has a starting prize pool of $80,000 and fans can contribute to the fund by purchasing the in-game tickets released on the Dota Store. Meanwhile, the action shifts to China, as the Chinese qualifiers being on 9th September.
Team
M
W
D
L
P

11
9
0
2
9

11
9
0
2
9

11
9
0
2
9

11
7
0
4
7

11
6
0
5
6

11
4
0
7
4

11
4
0
7
4

11
4
0
7
4

11
4
0
7
4

11
4
0
7
4

11
3
0
8
3

11
3
0
8
3
Matches and results