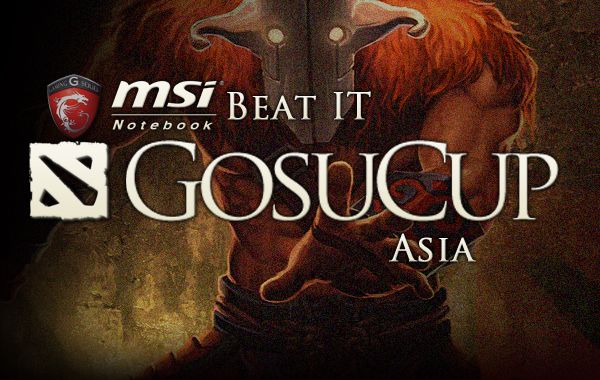 $2,000 MSI Beat IT GosuCup Asia - June 6 to 8
Registrations for the June edition for MSI Beat IT GosuCup Asia is now officially open. The cup will start on June 6th and will run until June 8th, with the winner walking away with $1,200.
MSI Beat IT GosuCup Asia returns for its June edition, scheduled to begin on June 6th with registrations open for upto 384 teams. The tournament will run its course on June 8th, with the winner walking away with the bigger chunk from the prize purse of $2,000.
GosuCup June will follow a similar structure to that of May edition with the competition being split into three stages.
Stage I: The open bracket
On Day 1, registered teams will have to undergo a single elimination open bracket stage where only 24 teams will proceed to stage II of the tournament.
Stage II: 32 team single elimination
8 teams have been invited directly to the second stage on Day 2, wherein they will be joined by 24 teams that have qualified through the open bracket. The list of invited teams are:
Arrow Gaming

Titan

Invasion

Scythe Gaming

Mineski

Zero Latitude

Mith.Trust

MVP.Phoenix
Stage III: 4 team double elimination finals
The top four teams from stage II will proceed to the final stage where they will battle each other in a double elimination format. The winner bracket final, loser bracket final as well as the grand final are best-of-three series. Teams making into top three are guranteed to walk away with a fair share of the prize money, whilst the team placing fourth will walk home empty handed.
*Note: Games will be played in a best-of-one single elimination format up and until the final stage which will be held in a double elimination format, where the final matches are best-of-three.
Prize distribution:
1st place: $1,200
2nd place: $500
3rd place: $300
There will be no explicit country restriction, but all matches have to be played on Singaporean server, unless agreed otherwise by both teams. To sign in and compete in MSI Beat It GosuCup Asia, everyone needs to register their team on the website.
 
Register your team here
A few important bullet points to remember:
 
Registrations open: May 31st, 12pm SGT
Check-in starts: June 6th, 6am SGT (teams need to be checked in to play)
Tournament (stage one, open bracket) starts: June 6th, 6pm SGT
Stage two starts: June 7th, 3pm SGT
Stage three starts: June 7th, 6pm SGT
Tournament ends: June 8th 11.30pm SGT (estimated)
​Teams are required to result the matches themselves​
It's preferred that the losing team reports its defeat
Screenshots must be provided when resulting!
Casters:
The English broadcasting will be brought to you by Heflatv.
Communication: The match page comments will be the primary way of communicating with the other teams. If there are any problems, you can contact Angel or if someone is unable to receive their email confirmation while registering at GosuGamers, kindly send a mail to [email protected]
You can also show us your support by purchasing in-game DotaTV tickets at the steam store for $0.99 only. In the meantime, head over to our registration page and register to play amongst renowned teams! For more information, visit our coverage hub.