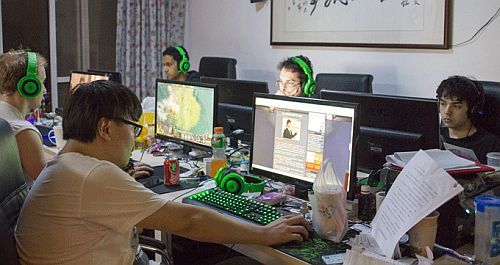 Zenith and LGD.Int stumbles out of Alienware Cup

Zenith and LGD.International has been eliminated from the Alienware Cup after losing their loser bracket game versus Neolution.Orange and TongFu respectively.
Two more teams namely Zenith and LGD.International were eliminated from the Alienware Cup earlier today after losing their match against Neolution.Orange and TongFu respectively.
NeoES.Orange did not have too much trouble annihilating the Singaporeans and some of their previous team members in both games. While Zenith is known for drafting and banning creatively, they were not in their zone today getting heavily outpicked and then outplayed on the lanes they were suppose to win. Daryl 'iceiceice' Koh, Zenith's captain, underperformed heavily today on the Lifestealer going 0-5 15 minutes into game one.
While NeoES.Orange had an easy path to the enter the third round of the loser bracket, TongFu's experience today was anything but easy. After losing their first game against the Western boy band, TongFu came back to take second game rather convincingly and subsequently the slow-paced deciding game. In the third game, TongFu had the early lead but LGD.Int repetitively defended their base with success. 43 minutes in, TongFu having the map advantage went for Roshan and LGD.Int took a reckless fight and that sealed the game for the Chinese squad.
Upper Bracket
Lower Bracket
Final
We reached out to DPM Interactive today and founder Sing' DPM' Chi told us that the brackets are made in accordance to allow teams play as many different opponents as possible, which explains the loser bracket draw after LGD.Int versus Tongfu earlier.
The Alienware Cup will continue tomorrow with the third round of the loser bracket before going on an one day break in place for Dota 2 Super League grand final. Tomorrow will start with NeoES.Orange versus iG at 12:00 CEST followed by TongFu versus DK at 15:00 CEST.
                                                   Check link for results, news, format and VODs