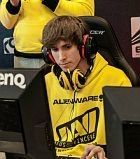 LGD and Na`Vi reaches Alienware Cup WB final

Alienware Cup round 3 of the Upper Bracket witnessed 2 rematches from last year TI2. The winners were, coincidentally, the same as LGD.cn and Natus Vincere came out on top looking strong. iG and DK will now have to fight their way through the Lower Bracket to get to the Finals.
LGD.cn faced-off against DK in what many people were expecting to be an exciting series with Burning playing exceptionally well lately. Instead, it was xiao8 and co. who took the series in straight games using the tri-core of Lone Druid, Gyrocopter and Naga Siren. They managed to get ahead early on in both games and effectively capitalized on the advantages to overcome DK. Despite his best effort on Luna and Anti-Mage, Burning was unable to carry his team against the cores of LGD.cn and DK will have to continue their journey through the Lower Bracket
Meanwhile, Na`Vi and iG ran into each other again after the group stage where iG completely rolled over the Ukrainian-European mix led by Puppey. Game 1 saw Na`Vi pulled a Goblak, picking up both Treant Protector as well as Outworld Devourer and never looked back. iG had a better start in game 2, claiming 2 kills straight off the bat and did not let Na`Vi's core heroes get too much farm. However, Dendi on Storm Spirit and Puppey on Chen made all the difference as the game transitioned into mid-game. XBOCT on Lifestealer kept find kills and refused to die and iG admitted defeat after loosing a teamfight around the Rosh pit. The TI2 champions were looking like they have somewhat regained their form with the top position of group B, but this series proved they still have a lot to work on.
Upper Bracket
Lower Bracket
Final
Tomorrow Alienware Cup will have two more teams being eliminated from the competition as Zenith facing off against Orange at 12:00 CET and LGD.int going up against TongFu at 15:00 CET.
                                                   Check link for results, news, format and VODs