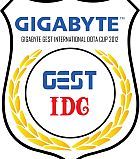 GEST IDC May begins

Eight teams spanning four countries have assembled for GEST IDC May as the tournament kicks-off at 07:00 CEST. The livestream of the tournament will be provided by two channels of CyberGames Network TV.
GEST IDC May will be going live today as eight teams from four countries battle it out to secure the title of the monthly and long-standing DotA tournament. The quarter-finals of the winner bracket is set to go live at 07:00 CEST today.
Upper Bracket
Round 2 - Best of 1
Round 3 - Best of 1
Lower Bracket
Final
All the games will be played out in its entirety today. Similar to the previous GEST, the tournament is only running in four SEA countries and these include Laos, Cambodia, Thailand and Philippines. The organizers are still currently looking for people to help them host their offline tournaments in other SEA countries.
The livestream of selected games will be provided by CyberGames Network TV and TCG.Mikagami.
Check link for results, news, format and VODs