Mouz signs FoV: 'will give the team new impulses'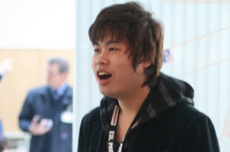 FoV: Finally I found a promising team
Dae Hui "FoV" Cho has joined the ranks of Mousesports and ends his two-month clanless period by teaming up with his long-time favorite players.
- Finally I found a promising team and I'm happy to play with Fly, HasuObs & TH000, says FoV to the Mousesports website who for about two months have remained a clanless player.
- They are my favorite players for ages now and also very very good friends of mine. So I'm definitely looking forward to play in Mousesports, says FoV.
FoV has shown good results as of late, winning two sets of ZOTAC cups and currently holding an eighth place in the NGL-ONE.
Team manager of Mousesports, Cengiz "django" Tüylu, says that FoV matches perfectly to their concept and WarCraft 3 strategy. And with the signing, he hopes that they have set up high goals within their section - to others' disbelief.
- FoV will give the team new impulses with his experience and he will disburden our solo players - you cannot reinforce yourself much better, says django.
Mouz.wc3
HasuObs (Undead, Germany)
FoV (Undead, Korea)
TH000 (Human, China)
Fly100% (Orc, China)
Links
Mousesports.com
- Source