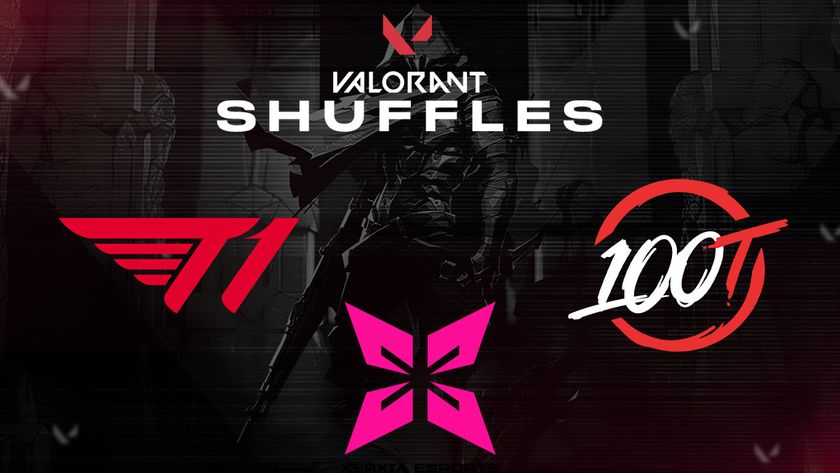 VALORANT shuffles: 100 Thieves completes the roster for 2023
Xerxia part ways with four players while Sayaplayer rejoins T1.
Shuffles, reshuffles and new signings are rife within the VALORANT community as 2023 approaches. Teams are firming up their plans for next year to ensure they will be ready for the new VCT format and season looming over the VALORANT scene.
The team has completed their roster for 2023, with the announcement of the full lineup in a social media post. Joining Matthew "Cryocells" Panganiban are four of the original core players from 2022. Peter "Asuna" Mazuryk, Derrek "Derrek" Ha, Brenden "stellar" McGrath, and Sean "bang" Bezerra complete the team's roster for VCT 2023.
General manager Daniel "ddk" Kapadia commented in the video:
"We're very excited regarding Cryo's skillset. He's a player that can instantly react and has a very high mechanical skill ceiling. We're looking for that increased pace in that position, and I think that will allow us to do a lot more with the team."
The team commented that they are excited about bringing new approaches to the VALORANT team – both structural and analytical approaches that they are already using successfully in their League of Legends division.
The new 100 Thieves roster consists of:
While they are one of the successful teams in the Pacific League in 2022, Xerxia has announced that they will be parting ways with three out of their five players to make way for new signings as 2023 approaches.
They are:
Nutchaphon "sScary" Matarat recently joined up with Bleed eSports. Also leaving the team is head coach Jirawat "HeadHawk" Kalumpanun.
All three of the players were the original core team when the roster of Xerxia was playing with X10. As a team, the Xexia boys played well in 2022, managing to qualify themselves to Champions Istanbul, where they placed 13th – 16th.
As for now, only Thanachart "Surf" Rungapajaratkul is left on the roster, and no new signings have been announced by the organisation to fill up the space.
As one of the partnered teams in the Pacific region, T1 has a lot to live up to as they will begin 2023 in the elite lineup of franchised teams. To bolster their roster, the team has just announced that they will be rehiring Duellist Ha "Sayaplayer" Jung-woo from The Guard.
This is not Sayaplayer's first rodeo with the team – he previously played with T1 under the name of Spyder back in 2021, before moving to The Guard. He helped the team to qualify for the 2022 Reykjavik Masters where they placed 7th-8th.
T1 is hoping that he can bring his magic sauce with him to the Pacific League, and bring the team up in the league ranking and eventually, a place in the international tournaments.