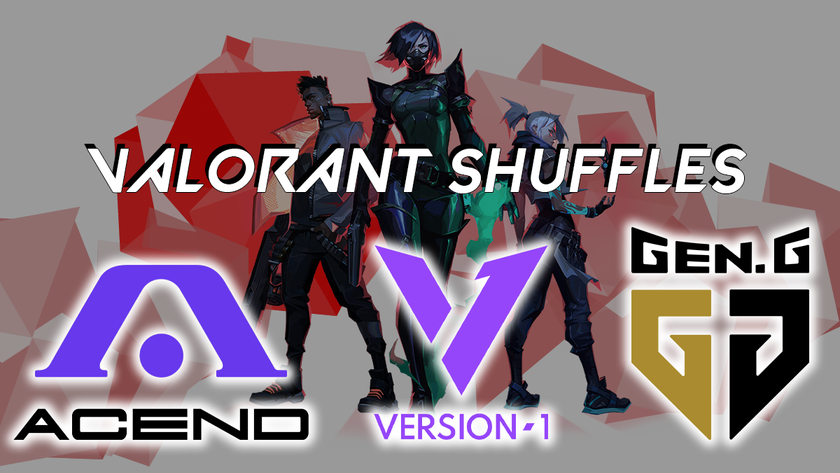 VALORANT Shuffle: Gen.G Acend and Version1 expand for 2022
The three teams will be receiving new players to boot up their rosters for the upcoming season.
VALORANT teams are continuing their roster movements as we see the end of 2021 around the corner. Several teams will be receiving new members to shore up their lineups as the 2022 VCT season starts, to see if their plans pan out for them to book a berth at the 2022 Champions tournament.
According to reports online, Alexander "zander" Dituri is set to sign with the North American team Version1 to complete their roster. Zander will be replacing Chad "Oderus" Miller as well as becoming the team's new IGL.
The Canadian team along with his pickup team On the Way was victorious at the recent  Frag VALORANT Major where they beat Booster Seat Gaming in the grand final with a score of 2-0.
On the other hand, Version1's last win was against TSM Academy at the Nerd Street Gamers: Winter Championship - Open 4. Unfortunately, their standing in the ranking is not currently the best thanks to their loss to XSET during the VCT NA Last Chance Qualifier.
The new roster for Verion1 is set to look like this come 2022:
According to a report from Dextero, Mehmet Yağız "cNed" İpek is set to re-sign with his team – Acend. He previously chose to not immediately extend his contract after the team won Champions Berlin, unlike his teammates. After looking around the market, he decided to stay with Acend in the end.
As part of the team that won Champions Berlin, it was the pinnacle of his 2021 season as he set himself as a star duelist. The team meanwhile is set to make 2022 their season after winning the Champions. The question of whether cNed's signing will ensure Acend stay at the top of the league is unknown until the 2022 season starts.
Gen.G Esports have announced that they will be adding  Emir "rhyme" Muminovic to their roster come 2022. The ex-NiP player was left without a team when his original team released their roster earlier in the month. The team then decided to move to Brazil after dropping their EU team, which was a surprise to many fans.
The new signing is the first signing of an EU player by an NA team. This may be the first of many cross-Atlantic signings to happen in the next few months, as teams from both sides of the pond shore up their team for the 2022 season.
Rhyme is set to fit nicely with Gen.G – with his duelist role and experience playing multiple agents across the board, the team will surely find the right placement for him in the team for next year's roster.
Gen.G's roster for 2022 is set to be: