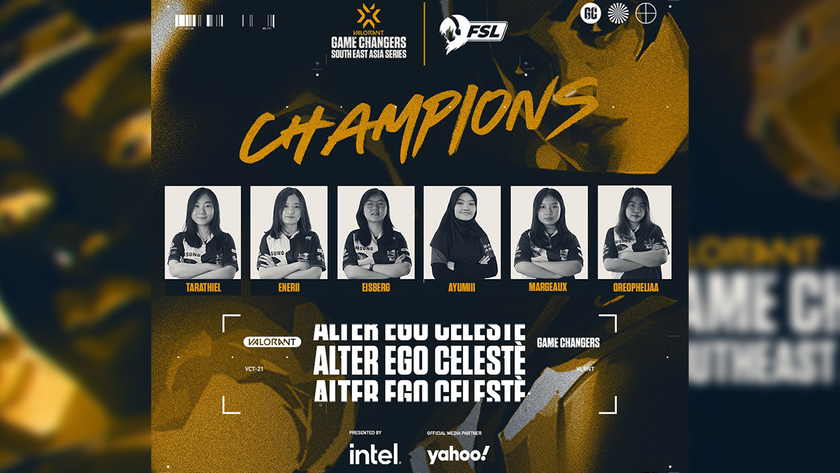 Alter Ego Celestè defeats Oasis Gaming Aqua to win the VCT Game Changers: FSL Open IV
This is their fourth straight FSL VALORANT Open championship win.

Alter Ego Celestè went through a bit of heaven and hell to reach the grand final of the FSL Open IV, and defeat

Oasis Gaming Aqua for the title of champions for Open IV. Their run, while not the smoothest, was an exemplary one for the team.
The girls went head-to-head with Oasis Gaming Aqua in a best-of-five match, where the two teams trade blows as the match played to the full 5 maps. AEC started with a win in the first round, winning 13-2 in Ascent, but OG Aqua clawed back with a win in the second map, Icebox, 13-6. The pattern then went to AEC and then OG Aqua, until, in the end, AEC won Split with a 13-5 score, giving them the win of 3 - 2 and the grand final title.
The team walk away with $1,500 prize money, and 10 points for the qualification of FSL Elite. Oasis Gaming Aqua meanwhile gets $1,200 and 9 points towards the leader board.
The VCT Game Changers: FSL Open IV is an initiative between Riot Games and FSL, part of the global Game Changers series designed for women and the marginalised genders, aimed at creating new opportunities and exposure for them.
The next stage is the FSL Open Overtime in September, where teams that finished 4th to 19th on the leader board will compete for three qualifying spots to FSL Elite. There, the teams will be fighting for the grand prize of US$10,000 and the title of VCT Game Changers Southeast Asia champions.