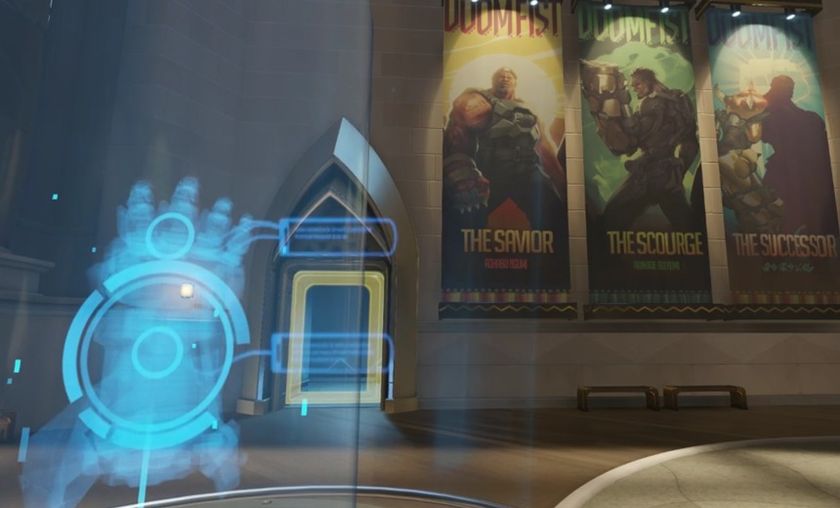 What We Know About Efi Oladele, Doomfist and Numbani's Recent PTR Changes
Here's what we know about the most recent additions to Overwatch's lore.
This week had quite the lore update for Overwatch, as the official Twitter of the game revealed some important clues for upcoming heroes. We've got the rundown on what we know thus far and what fans are speculating could happen next.
What We Know
The first addition to Overwatch's story happened early in the week, with an interview with 12 year-old Efi Oladele. The child was interviewed due to her outstanding achievments in AI and Robotics. She is receiving the "Adawe Foundation's genius grant" for her accomplishments.
In that interview, Oladele mentions the OR15s - the mech that was destroyed by whatever attacked the airport a few days later. Beyond that, she also hints at doing something a little bit different with her grant earnings, something that goes beyond college tuition or a new computer. She doesn't mention what it is, saying that it's a "secret," but for now she'll be focusing on a trip with her parents to an unknown location to celebrate. She mentions that she'll be flying, so it's assumed that she would be flying out of Numbani airport.
A few days later, that assumption would be proven correct.
@PlayOverwatch tweeted out the Breaking News photo of an attack in Numbani airport, where we see at least three OR15 mechs in various states of crushed, including one embedded into a wall that's severly damaged. 
The photo is credited to Efi Oladele, so we know that she was at the airport when the attack occurred and survived. According to the tweet, no civilains were hurt.
The Public Test Region (PTR) was updated to show the carnage from the event, which also included the Doomfist missing from the payload, the glass it was encased in having been shattered.
Fans have speculated that the Doomfist was stolen first, then used to cause the damage in Numbani airport, but no "official" causes have been announced.
It's been confirmed that the next hero will not be Doomfist.
Theories, Theories, Theories...
We do have a few hints as to where the story is headed and who the new hero will be. A very popular fan theory comes from a leak in January that includes accurate information about the Lunar New Year and the correct assertion that Doomfist isn't the next hero unveil, but rather will be someone (or possibly something...) hailing from Numbani.
According to that post, the next hero will be a female omnic codenamed "Anchora," who is supposed to serve as an alternative to Reinhardt in team compositions. Many fans believe that the omnic will be spider-like.
Another theory is that we're seeing the lore of two heroes here, and not just one: the first being related to whatever Oladele is making, and the second being tied to whoever stole the Doomfist.
There are other theories out and about, so feel free to talk about them in the comments section below. Who do you want to see as the next hero?
For more Overwatch content, follow us @GosuOverwatch.