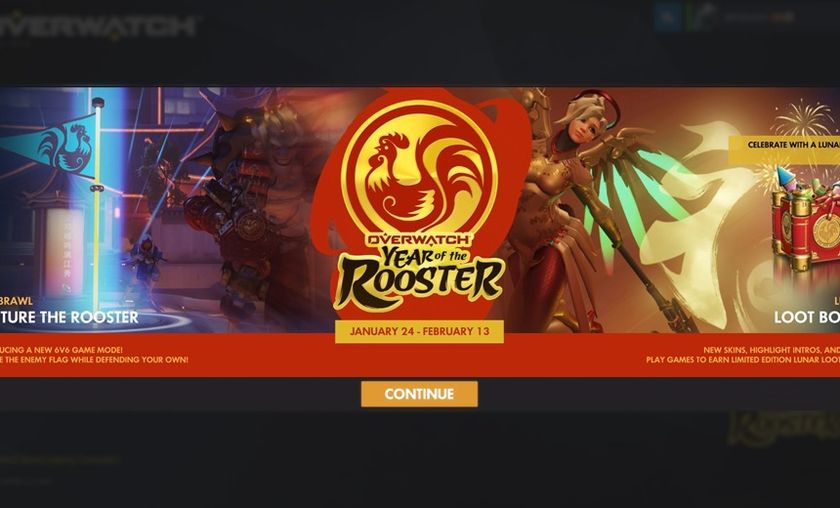 Year of the Rooster is now live! - New collectibles, new 6v6 Arcade mode
As promised, Blizzard released their latest Seasonal Event today. Log in from today until the 13th of February to celebrate Chinese New Year with all of us.
The first seasonal Overwatch event of 2017 is now live, and it is one about celebrating a new year in a different calendar. As the Lunar calender moves over to the Year of the Rooster, so does the Overwatch universe.
As always, this temporary expansion adds a collection of permanent rewards. Plenty of new skins, highlight intros, emotes and sprays have been added for your favorite heroes. As always, tune in during the event to get a free Loot Box, as well as an easy one from playing the new Arcade mode. Besides that, you will have about three weeks (until February 13th) to get these new loot boxes from leveling, or buying them with real money.
Thie new Arcade mode added this time around is another 6v6 format, and should be familiar to most gamers: Capture the Rooster.
On a slightly expanded Lijiang Garden/Lijiang Control Center/Lijiang Night Market, with all heroes available, you will get the chance at finding out what CTF would look like in Overwatch. One flag for every team is positioned close to their spawn, and it is your job to either defend your own or capture your opponent's. Blizzard has decided to not limit any parts of their heroes, so you are free to fly in and out with a Pharah, or use Winston's jump.
Let us know what you think about the new mode in the comments!
For more competitive Overwatch news, follow us @GosuOverwatch.