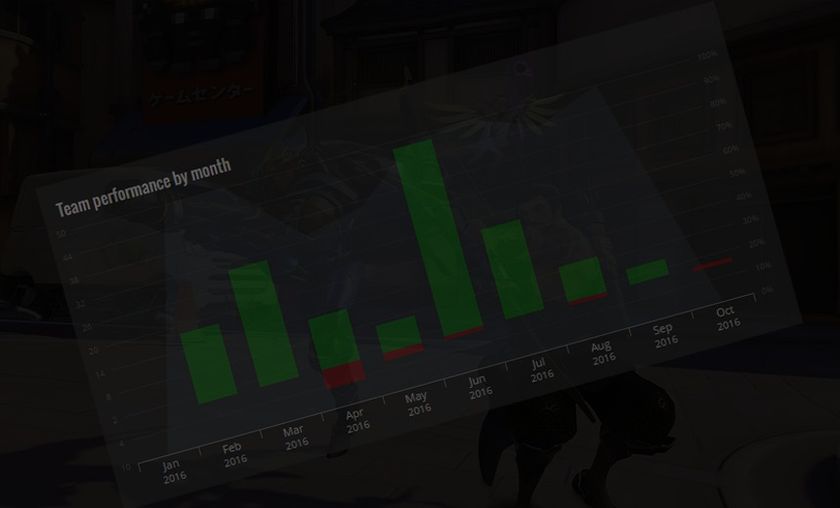 Monthly GosuRanking Review: North American Edition (September)
September is over and with it goes the biggest Overwatch tournament to date. Today we're looking at the final ranking for the North American teams in September, featuring Tempo Storm for the first time. 
Ranking Review: August
September was not an overly busy month for the top North American Overwatch teams. We saw our weeklies return but many in the top 8 preferred to practice privately and save their secrets for the Overwatch Open. Considered by some to be the unofficial Overwatch world championship this year, ELEAGUE's first tournament featured a $300,000 prize pool. This month saw the race for the top spot tighten a bit, as EnVyUs was still reeling from their loss at the Atlantic Showdown last month and Fnatic was nipping at their heels. Let's take a look at where the teams ended up after this intense month of Overwatch competition.
1st EnVyUs (-)
Overwatch Open - 2nd Place Finish
The number 1 ranked team in the world had a quiet September. For the most part they privately prepared for the Overwatch Open, with their minds set on redemption after a disappointing performance at the Atlantic Showdown. When they finally reappeared they looked as dominant as ever, smashing their group in the Overwatch Open without dropping a game. They won the North America playoff bracket with ease as well, dispatching Cloud9 and Fnatic 3-1 each. It was once they reached the final, however, that it all fell apart. EnVyUs was once again upset by a European team on LAN, this time Misfits and lost the final 3-1. They remain the number 1 NA team, expect them to bounce back in October.
2nd Cloud9 (-)
ESL King of the Hill #6 - 1st Place
ESL King of the Hill #7 - 1st Place
The resurgent Cloud9 has had an impressive run of form recently. They had a strong September after a surge in late August. After winning the Alienware Monthly Melee, they went on to win ESL's King of the Hill #6 and #7. They also made it out of a tough group at the Overwatch Open which featured fellow top 8 team Fnatic and the upstart Immortals. They matched eventual runner up EnVyUs in the first round and were defeated 3-1. This team holds on to 2nd for now, but they look as if they'll start threatening for first any day now.
3rd Fnatic (-)
Overwatch Open - 3rd/4th Place Finish
Quickly becoming Overwatch darlings, this team has been around for only three months and they have yet to disappoint. Like the other top teams they mostly kept their heads down until the Overwatch Open and it paid off. They dominated their difficult group, dropping only one game to method. Once in the playoff bracket they swept NRG to make the final where they eventually lost to EnVyUs. A few more runs like that may see these upstarts take 2nd place in North America.
4th FaZe (-)
Holding on to their spot from last month is FaZe. Unlike the other top teams they had a very busy September, dominating ESL's King of the Hill series by winning #5 and nearly taking a 4th win in a row before they were finally dethroned by Cloud9. They also managed a top 4 at our North American weekly #19. FaZe competed in the European half of the Overwatch Open, making it out of what was arguably the group of death. They managed to beat Dignitas and Reunited to make it to the bracket stage, where they lost to rogue in a close 5 game series.
5th NRG (-)
NRG goes as Seagull goes. As was the case when they were Luminosity, when they play well around him they seem like world beaters. More often than not, however, something seems to get lost in translation. NRG barely made it out of their group at Eleague's first Overwatch major by virtue of a close 2-1 win against Team Liquid. Once in the bracket stage they were quickly bounced out by Fnatic. This team will have to show it deserves the 5th spot in the future.
6th compLexity  (+1)
GosuGamers Overwatch Weekly NA #20 - 1st Place Finish
ESL King of the Hill #8 - 1st Place
One of the biggest threats to the teams above it is the resurgent compLexity. While they were not at the Overwatch Open, they by no means had a quiet September. They came back with a vengeance, winning our North America weekly #20 and taking ESL's King of the Hill #8 with ease. Their impressive performances saw them jump from 7th last month to 6th now. Hopefully coL can keep this run of form going into October and perhaps take an even higher placing for next month.
7th Liquid (-1)
Dropping to 7th after a rocky August is Team Liquid.  Like many other teams they practiced quietly for the Overwatch Open. They disappointed at the event, however, after being eliminated in the group stage after a close series with NRG. TL have shown some promise, finally keeping a stable roster for the entire month.  Look for this team to bounce back next month.
8th Tempo Storm (New)
Formerly Northern Gaming Red, this team makes their appearance in the top 8 for the first time. Like compLexity they missed out on the Overwatch Open and responded with a dominant September. They gave Fnatic a run for their money in ESL's King of the Hill #5, losing in a tight series. They also showed off very impressive performances at our North American weeklies #18 and #19, placing top 3 and winning the latter. We also expect this team to try and make the most of October.
So there you have it, the North American rankings for September. We have a new face in the top 8 as well as a few spot shuffled around. Hopefully October brings more exciting Overwatch action and more changes to the top 8.
For more competitive Overwatch news, follow @GosuOverwatch.