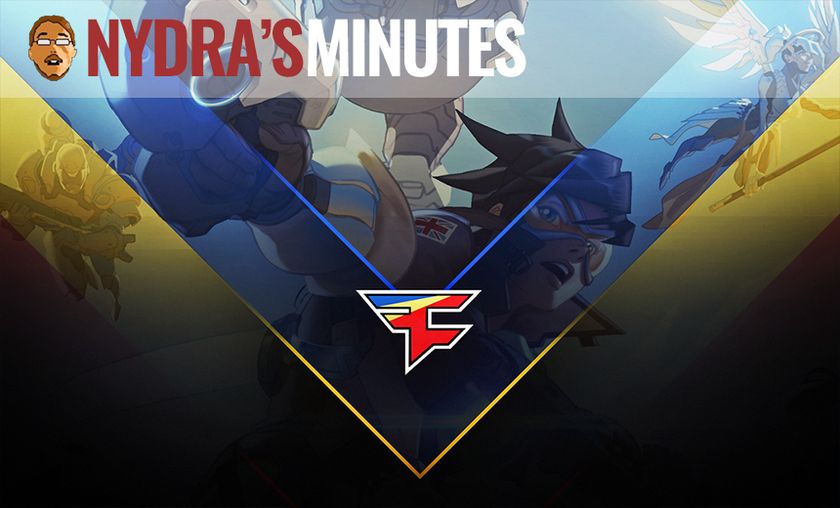 Nydra's Minutes: The FaZe question in the face of impending NGE ousting
FaZe Clan came into the group stage of NGE's Winter Premiere as one of the teams fancied for a playoffs spot. The tournament notably lacked the two North American leaders in EnVyUs and Cloud9, who dropped out to participate in OGN APEX, which on paper removed the glass ceiling over FaZe's heads when it came to the region's top team in the tournament. Boasting star players such as Genji prodigy Shadowburn, Reinhardt expert FCTFCTN and top tier DPS and Roadhog player TwoEasy, and having recently beaten the likes of Cloud9 and Fnatic at MLG Vegas, FaZe were looking unstoppable within the Winter Premiere confines.
At the time of this article, FaZe are instead on the bottom of the table, staring impending relegation in the face alongside, Citizen7, who are yet to win a series at 0-5.
This sounds like an odd position for FaZe to be in, but performance inconsistency has almost become the team's defining characteristic. Even with the MLG Vegas results in mind, FaZe's track record is nothing to shout about and they wouldn't have even secured a Winter Premiere berth had it not been for Cloud9's forfeiture, with FaZe finishing a good 60 points behind qualifier ranking's #4 Liquid. In all the qualifier games they played, the highest they got was third place as they kept losing to teams they were expected to beat, including Citizen7.
With tournament elimination around the corner, even if not yet mathematically guaranteed, one has to ask: What's holding FaZe back in a race they should very much be winning?
Live and die as the shadow burns
Even without careful examination of FaZe Clan's games, the driving force behind team's successes and failures is apparent. The team is centered around the mighty Shadowburn in what's a very all eggs, one basket set-up.
Consequently, whether or not FaZe come out ahead is determined by how much free reign Shadowburn is given. During the Winter Premiere games especially, the outcome of FaZe's games could be predicted almost 100% of the time by looking at whether or not Shadowburn is shut down in the opening couple of minutes. Even though TwoEasy and FCTFCTN play an aggressive style capable of securing kills, the team's fate is almost exclusively in the Russian's hands. If given space, Shadowburn and FaZe are nigh unbeatable. If not, the squad crumbles.
Performance inconsistency has become FaZe's defining characteristic.

This polarized behavior was most recently observed against NV in MLG Vegas finals and against Renegades in Winter Premiere's opening match. Having already bested another Genji-centric team in Arhan's Afreeca Blue, NV knew how to control Shadowburn and FaZe were swept clean without putting up much resistance. Renegades were just as dominant in their own encounter with FaZe, where ManofSnow's D.va directed one deadly engagement after another and FaZe were shut down before even passing the first checkpoint on Route 66.
Shadowburn's impact on FaZe is further felt in his somewhat limited hero pool. In spite of playing perfect Genji and a top tier Pharah, Shadowburn has struggled on his alts. His D.Va has been consistently outplayed by top operators on the hero (such as the aforementioned ManofSnow) and his Soldier has been underwhelming to say the least, most glaringly in his ineffectiveness in shutting down Ube's Pharah vs. Luminosity Gaming. Stuck with playing projectile DPS heroes on high ping, Shadowburn is prone to subjugation.
This by no means is to say that FaZe's star player is the weak link that needs to be removed or to question his abilities as a player, as they are distinctly top tier. To blame instead is FaZe's over-reliance on Shadowburn to begin with: No player, regardless of his form, can singlehandedly win a tournament.
And yet, there's more
Ironically, for all its dependence on Shadowburn, what success FaZe has had in NGE thus far is largely owed to TwoEasy's impeccable play on Roadhog. The Dutchman has played a critical role for FaZe this whole tournament, using the still-broken Hog to routinely secure a man advantage for his team, as well as filling the hitscan DPS shoes when needed, a role which Shadowburn isn't known for but is fundamental in the current meta.
Stuck with playing projectile DPS on high ping, Shadowburn is prone to subjugation.

As of earlier this week, however, TwoEasy has gone inactive and with him has gone the go-to cover for whatever mishaps Shadowburn might experience. TwoEasy's loss also means transferring captainship from him over to FCTFCTN, which might be too much roster upheaval at such a critical time of the tournament.
A couple of things going on for FaZe include the subbing in of MikeyA for TwoEasy and the team's next opponents in NGE. Although nowhere near the background of FaZe's former captain, MikeyA's showcased vs. Luminosity Gaming that he's comfortable in the same hero pool TwoEasy was favoring: Roadhog for triple and quad tank compositions, Tracer for dive line-ups and McCree whenever persistent hitscan is needed, and he's mechanically gifted enough to be a reliable carry to rise in the wake of potential Shadowburn hardships.
The second thing is arguably of even bigger importance: FaZe is scheduled to play the worst team in the league in Citizen7. Down 1-3 itself, FaZe is in dire need of closing the score gap and there's no better target than a team that's yet to get on the board.
A win against Citizen7 two rounds before the end of the first group stage is absolutely integral to FaZe's future in NGE . It will not only stabilize FaZe's record but also boost their morale and give them an advantage against CompLexity: another 1-3 team in danger of elimination. With FaZe and CompLexity at theoretical 2-3 and 1-4, respectively, the former will be in a good position to potentially edge CompLexity out of NGE.
Immortals possess everything they need to blast FaZe away.

Saying a win vs. Citizen7 is vital is by no means an overstatement (not to mention C7 has already beaten FaZe in their previous encounter), because it's more or less their last chance at taking a match for the rest of the tournament, because the way they are playing now…
FaZe are not going to defeat Immortals
…and this will spell elimination for Shadowburn and co. Currently at the top of the NGE rankings and improving with considerable speed, Immortals possess everything they need to blast FaZe away. Hyped plays a godly D.Va which is close to if not on Mickie's level already and has been a playmaker for his team in all of the matches. If one is to once again refer to the EnVy vs. Afreeca example from the APEX final and how the foreigners held Arhan in full arrest, the very same scenario could happen to FaZe in their last NGE match, as Hyped should be trusted to hunt down the Genji, outplay the other D.Va or eat Zombs' Gravitons with regularity.
It's also likely that the outcome between FaZe and Immortals will come down to the direct Roadhog / hitscan battle between Agilities and MikeyA, and who lands the entry hook / snipe. In these situations, Immortals commands the better position, with Agilities having the much-needed tournament experience and cohesion with the rest of the team compared to the subbed-in MikeyA. With this in mind, FaZe's impeccable record against Immortals thus far (11-2 in games and 5-0 in series) is almost negligible.
Thus, the answer to the FaZe question in NGE is going to come in a few hours. The MLG Vegas silver medalists have a lot to contemplate and reflect on and they need to move with urgency, because by the end of tonight, they could be out of a tournament where gold is what they should've realistically been contesting.