CONTEST: Bet on the world champions of IEM to win GIGABYTE gaming gear!
We at GosuGamers in cooperation with GIGABYTE are giving you the chance to win top notch hardware by betting on IEM World Championship matches proving to be the best GosuBetter around.
If you only have 60 FPS and it's really bogging down your last hitting ability, this is your chance for a grand revamp. GIGABYTE will be giving out one Radeon graphics card, one Osmium keyboard and one Krypton gaming mouse for our IEM World Championship GosuBet contest. The top three who has most bet wins (amount of bets won) will get awarded for their scene insights. All you have to do is head over to our
GosuBet page
and place your runes on the group stage and playoff matches of IEM World Championship. A simple and easy step yet one that can yield you amazing prizes.
Contest prizes
1. GV-R795WF3-3GD
Product page
Powered by AMD Radeon HD 7950 GPU, the GV-R795UD-3GD is integrated with the first 3072MB GDDR5 memory and 384-bit memory interface as well as Dual-link DVI-I, HDMI and two Mini DisplayPort ports. It's raw power gets cooled down with the help of GIGABYTEs exclusive "Triangle Cool" technology..
---
2. Aivia Osmium
Product page
A mechanical gaming keyboard from the rare metal Osmium, equipped with full-range anti-ghosting capability, built-in GHOST™ Macro engine and adjustable keyboard illumination.
---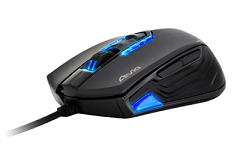 3. Aivia Krypton
Product page
This 8200 DPI gaming mouse comes in with hot-swappable mouse chassis, customizable center of gravity and weight and, of course, the built-in GHOST™ Macro Engine.
Contest rules and regulations
The competitor with the most amount of bets won will take home the first prize. This is a not a tournament where the winner that has the
most
runes, but the most
number of matches
correctly predicted. In the event of a tie in when it comes to the number of correct matches bet, we will look at the amount of runes won. Should it still be a tie GosuGamers will randomly choose the winners out of the tied contest participants. Also check out the
StarCraft 2 GosuBet competition.
About GIGABYTE GIGABYTE, headquartered in Taipei, Taiwan, is known as a global leading brand in the IT industry, with employees and business channels in almost every country. Founded in 1986, GIGABYTE started as a research and development team and has since taken the lead in the world's motherboard and graphics card markets. On top of Motherboards and Graphics cards, GIGABYTE further expanded its product portfolio to include PC Components, PC Peripherals, Laptops, Desktop PCs, Network Communications, Servers and Mobile Phones to serve each facet of the digital life in the home and office. Everyday GIGABYTE aims to "Upgrade Your Life" withinnovative technology, exceptional quality, and unmatched customer service. Visit www.gigabyte.com for more information.
Check out GIGABYTE on Facebook.