SteelSeries HoN World Cup Playoffs - Round of 16 Schedule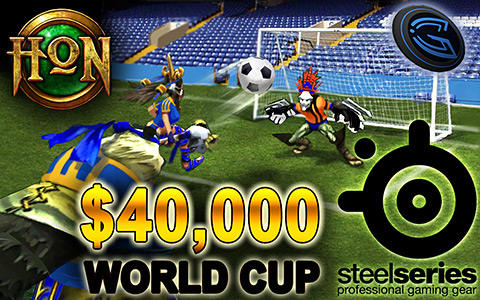 GosuGamers can announce the next round of the SteelSeries Heroes of Newerth World Cup.
After a first successful round of the SteelSeries HoN World Cup, we are now approaching the second playday. The second round of the winner brackets is now featuring the 16 winning teams from the last round, while the losing teams are down in the loser brackets.
GosuGamers are still investigating the match series between xFin and PokerStars, as mentioned in the
SteelSeries HoN World Cup: Day 1 - Report newspost
, hence the two "TBD" matchups in the schedule below.
For more information on scheduling and more details, check out our
playoff rules
.
The full tournament bracket tree can be found in our
SteelSeries HoN World Cup Hub
.
SteelSeries HoN World Cup Playoffs Winner Bracket
Round 1 - October 18 - 24

Round 2 - October 25 - 31

October 31, 04:00
eG
vs.
IPL

October 31, 14:00
unZ
vs.
DskB

October 31, 19:00
SLAM
vs.
DRD

October 31, 19:00
SK
vs.
TSoG

October 31, 14:00
MSi
vs.
iMp

TBD
TBD
vs.
Cats

October 31, 19:00
KD
vs.
ICE

October 31, 19:00
Empr
vs.
DM

Times listed in CET. To convert to your own timezone, use Timezoneconverter.

Round 3 - November 1 - 7

Round 4 - November 8 - 14

Round 5 - November 15 - 21


SteelSeries HoN World Cup Playoffs Loser Bracket

Round 1 - October 25 - 31

October 31, 19:00
GT
vs.
Go

October 31, 04:00
ddt
vs.
PLOW

October 31, 19:00
544
vs.
DWi

October 31, 19:00
utbg
vs.
ToY

October 31, 19:00
CNB
vs.
Wahl

TBD
TEAM
vs.
TBD

-
PSi
vs.
Ace1

October 31, 14:00
RAK
vs.
F4P

Times listed in CET. To convert to your own timezone, use Timezoneconverter.

Round 2 - November 1 - 4

Round 3 - November 5 - 7

Round 4 - November 8 - 11

Round 5 - November 12 - 14

Round 6 - November 15 - 18

Round 7 - November 19 - 21

Round 8 - November 22 - 25