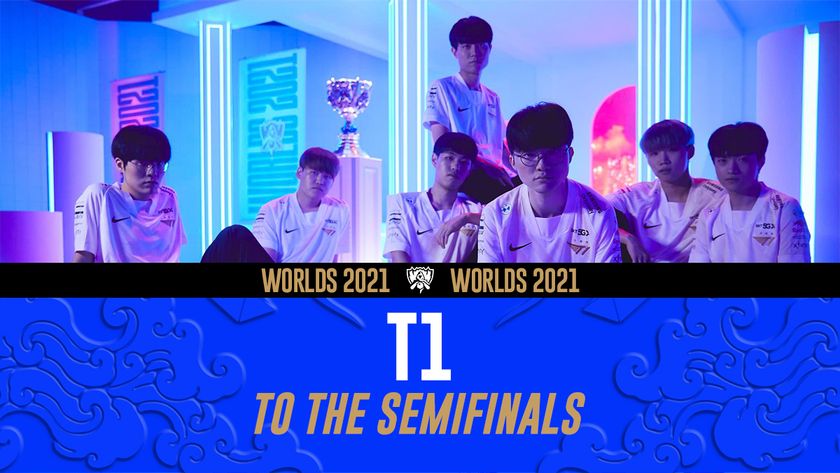 T1 make it into the semifinals of Worlds 2021 after sweeping Hanwha Life Esports 3-0
T1 and Hanwha Life Esports kickstart the Worlds 2021 knockout stage spectacularly with the former three-time winners taking the series with ease.
The knockout stage of the League of Legends World Championship is finally here and we have an incredible first series between two top LCK teams, T1 and Hanwha Life Esports. Both teams go head-to-head in a best-of-five series to see who will make it through to the semifinals. But in a spectacular series of events, T1 take all three games with ease.
Both teams have had plenty of history with one another, having faced off numerous times over the years. Their rivalry dates back to 2016 when T1 was formerly known as SK Telekom T1 while HLE was known as ROX Tigers. HLE has never had a good record against the former three-time Worlds winners, having lost most, if not all of their matches against T1.
HLE were out for blood though as it's because of T1 they had to slog through their way in the Play-In Stage after losing the grand finals series in the LCK Regional Finals. They do have their work cut out for them though as T1 are in hot form at the moment; they are on a four-game unbeaten run and can only go up from here.
Game One
Heading into the first game of the series, many knew that this game would be won in the mid lane. It all depends on who gets a better start and we were treated to a great game one. T1 had started the game well but HLE was following close behind, able to keep the gold and experience deficit to a minimum. Unfortunately, as we headed into the mid-game, it looked like T1 was slowly pulling away from their LCK counterpart, being able to find key pickoffs from HLE and converting those situations into pushing opportunities.
T1 were calculative in their movements, being able to push HLE back into their half of the map for most of the game. It was a straightforward march down the bot lane around the 30-minute mark with T1 having already hit their timings and were ready to end the game. Sadly, it was a game to forget for Jeong-hyeon "Willer" Kim as the jungler couldn't impose himself onto the game and had little to no impact.
Game Two
After a hard-fought game one that went in T1's favour, they decided to kick things up a notch and put HLE in further misery. Game two took a little bit longer to get going with both teams not shedding blood until the 10-minute mark when they clashed for the rift herald. From there, it was the Sang-hyeok "Faker" Lee show as the legendary mid-laner showed just how timeless he is by securing the first blood and a plus one. Kim "Canna" Chang-dong soon got on the board as well with his double kill just a couple of minutes later.
T1's top-laner then followed it up with three additional kills onto Willer, HyeokGyu "Deft" Kim, and Oh "Vsta" Hyo-seong. However, his dive for the third kill did cost his life but at the expense of HLE as this gave T1 the perfect opportunity to take the Baron. For most of the game, HLE never really got off to a good start and were never able to get themselves on the board. After trying to contest another Baron attempt by T1, HLE got caught with their pants down, which gave Lee "Gumayusi" Min-hyeong his triple kill. They soon stormed down the mid-lane to make it two-nil.
Game Three
For the third game in a row, we got treated to Gumayusi on his Aphelios, who is currently the top farmer of the tournament. We also got to see Faker on Lissandra once more while Keria got his hands on Thresh again alongside Moon "Oner" Hyeon-joon on Talon. HLE, on the other hand, stuck with the same three-core champion lineup of LeBlanc on Jeong "Chovy" Ji-hoon, Renekton on Park "Morgan" Gi-tae, and Varus on Deft. And much like game one, the game started at a very slow pace once more with both teams content with farming.
It wasn't until the 11th minute when T1 finally got first blood with Gumayusi claiming it. Transitioning into the mid-game, T1 held a decent lead over HLE in terms of gold and experience. Oner was having the game of his life, stealing the rift herald from under HLE's noses and giving his team the opening to take out four. Gumayusi and Oner were in their element this game with both players claiming a double kill each soon after. With their backs against the ropes, HLE had to make a desperate play and it came too late after trying to stop T1's second Baron of the game. They soon got caught out in retreat and dropped one by one. Eventually, the 'GG' call had to come out as HLE had nothing left in the tank.
And with that, we say goodbye to Hanwha Life Esports. Being one of two Play-In teams left in the tournament, it has been a dream run for the young LCK squad. They have already created a great standard for themselves to surpass, having made it to the quarterfinals of the knockout stage from the very first round.
Royal Never Give Up vs EDward Gaming tomorrow
After being treated to a thrilling series between two LCK teams, we now get to check out another inter-region match-up, this time between two of the LPL's top teams. Both Royal Never Give Up and EDward Gaming have faced each other numerous times over the years ever since 2017 with RNG coming out on top on multiple occasions. While EDG has managed to pull off an upset now and then, history is against them with RNG holding a superior advantage.