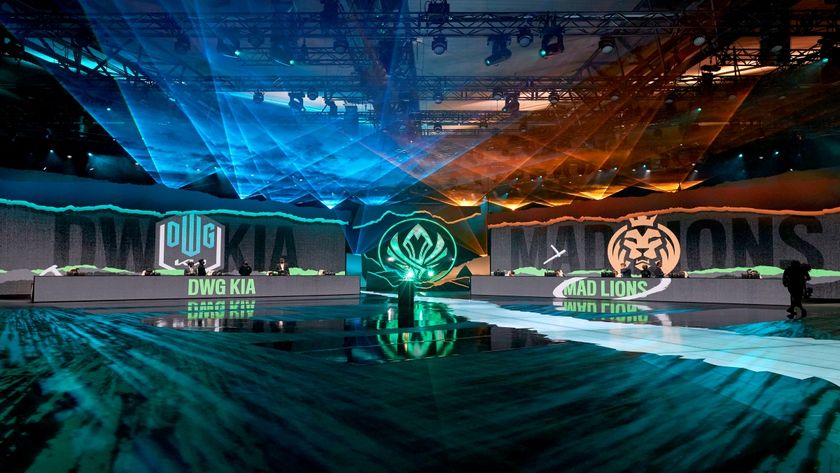 Mid-Season Invitational 2021: DWG.KIA to face off against RNG in the grand finals
DWG.KIA is in cruise control.
The second day of the playoffs saw
DWG KIA go toe-to-toe with
MAD Lions in all five games. They now have less than 24-hours to prepare for their grand finals match-up against

Royal Never Give Up .
DWG showed their experience on the big stage, ensuring that even though they went down 2-1, they were able to mount a comeback of their own. It's also worth noting that in all three of their wins, they were able to end the game way before the half-hour mark.
DWG.KIA vs MAD Lions - Game 1
Both teams opted for a slower and more methodical approach to the game, trading three kills apiece during the early stages. It was DK who came out on top in the first team fight, taking out three from MAD without any casualties. Another team fight a few minutes later saw MAD lose four this time, allowing DK to build their lead substantially.
With nothing much else to do, MAD was forced into making desperate plays, which eventually caught them out. This gave DK the opening they needed, wiping out MAD in their own base before taking down the Nexus.
DWG.KIA vs MAD Lions - Game 2
The second looked similar to the first early on with DK taking a quick lead. However, MAD had other plans and was able to respond in kind. The Spanish squad managed to come out ahead in the many skirmishes while taking down towers as well. They were leading eight kills to DK's four with a 3K gold lead by the 20-minute mark, a very different story from the first game.
But DK refused to take the beating laying down as they managed to take a key team fight against MAD, wiping out three in return for one death. Sadly, it wasn't enough as they were soon caught out of position at the front door of their base. DK lost four after that fight, which was all MAD needed to know that it was GG from then on.
DWG.KIA vs MAD Lions - Game 3
With the game now considered to be a best-of-three, two wins was all that was needed for either team to head to the grand finals. MAD came out swinging in game three, picking off DK all over the map early on. MAD's first key fight happened in the bottom lane, taking out three with zero response from the Koreans.
While DK was able to respond with towers, the same couldn't be said with kills as they just couldn't catch out MAD. But come to the 20-minute mark and DK showed just how deadly and clinical they can be, forcing a fight with MAD and wiping them out in the process. Unfortunately, another team fight a couple of minutes later did not go their way and it was DK's turn to get teamwiped.
MAD began to pressure DK back into their own base as they could only watch their structures crumble before them. As they tried their best to stand their ground, it wasn't enough with MAD being too strong to handle.
DWG.KIA vs MAD Lions - Game 4
DK's backs were against the wall heading into game four with their tournament lives on the line. MAD was going to make it difficult, taking five kills in the first 10 minutes. But what was supposed to be a simple three-man gank in the bottom lane turned into a disaster as DK managed to respond by taking out all three members of MAD. From then on, DK built on their lead, catching out MAD all around the map while farming whenever they can.
It was different DK this time around as they looked composed and professional throughout the game, not giving MAD any time to respond or retaliate. Their smart split-pushing on all three lanes spread MAD out thin and soon had their base overrun and destroyed.
DWG.KIA vs MAD Lions - Game 5
In the last match of the series, DK came to play and established a dominant lead by the 15-minute mark. They were leading by 4K gold while also having seven kills over MAD's one. It was a masterclass of a performance from the Koreans, outmaneuvering MAD and breaching their base even before 20 minutes.
With their mid-lane structures gone, it was only a matter of time before DK came knocking on their side lanes. A top lane engagement at the foot of MAD's base resulted in their tower defense falling apart, losing four in the process. It wasn't before long that DK was knocking on the doors once more, this time forcing their way in for good.
Post-match Thoughts
As things stand, DK will now need to cram all they need to know about RNG before their grand finals match tomorrow. DK used Rumble to great effect today, picking it in four games. They also picked Nautilus, Tristana, and Varus two times apiece. As for MAD, they stuck with Kai'Sa almost exclusively with four games under her belt. Udyr was another hero that played in the same games as Kai'Sa. Leona was their other popular pick with three games.