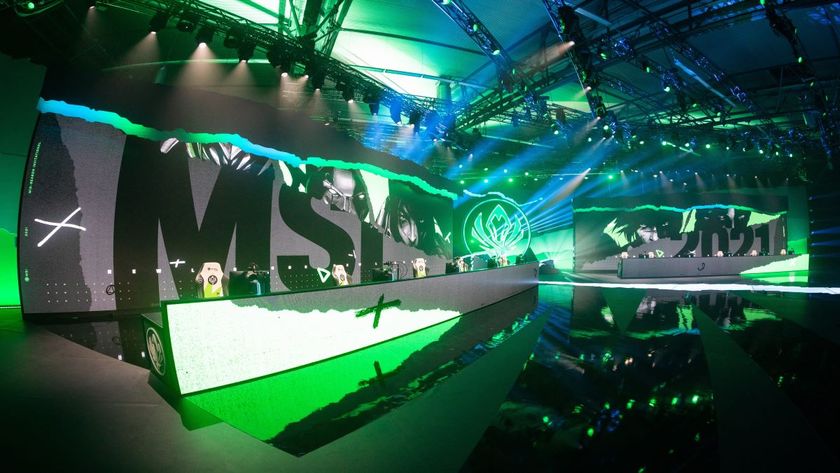 Mid-Season Invitational 2021: Day 5 decides the semifinal playoffs for four teams
Day 5 of the Rumble Stage came down to the wire.
And with that, we end the final day of the Rumble Stage with
DWG KIA ,

Royal Never Give Up ,

PSG Talon , and
MAD Lions making it through. Sadly, we bid farewell to both

Cloud9 and

Pentanet.GG as they are knocked out.
Royal Never Give Up vs DWG.KIA
Having the top two teams face-off felt nothing more than a formality, given how both are already qualified. However, RNG can brag that they did manage to take out DK twice in the space of five days, which will help them if they were to meet in the grand finals. By 15 minutes, RNG held a slim kill and gold lead with DK close behind. It all came to a head when both teams clashed in front of the Baron's pit, which resulted in RNG losing the entire team. A few minutes later, they clashed in the river once more and this time, it was RNG who came out on top and took out three from DK. By that time, DK was trying to force the issue by taking the Baron but was found out by RNG before losing four and eventually, their base as well.
Pentanet.GG vs PSG Talon
All PSG needed was one more win to secure their top-four spot and they did so with some style. PSG got off to a great start by taking an early gold advantage to go along with its seven kills to Pentanet's two in only 15 minutes. From then on, it was PSG's show as they bossed Pentanet all around the map and not giving them a moment to breathe. While there were a few glimpses of quality from the boys down under, it wasn't enough to stop PSG as they were playing like men possessed, ending the game even before the 30-minute mark.
Royal Never Give Up vs MAD Lions
MAD needed to come through when it matters most, especially with their tournament lives on the line. Thankfully, they did just that as they showed RNG that they aren't to be messed with. Having lost the first game, MAD got their revenge by getting off to a strong start with seven kills to their name while RNG only had three in the opening 10 minutes. Both teams were at each other's throats but it always looked like MAD had the edge over RNG. This all culminated when RNG and MAD faced off in the river and lost all five soon after. MAD ended the game soon after, taking over RNG's base and taking down the Nexus. By taking down RNG, MAD ensured that they'd get to the semifinals while denying RNG the top spot as well as knocking out C9 in the process.
PSG Talon vs Cloud9
As MAD won their game earlier, PSG also needed to secure themselves a third-place finish. Facing up against C9, PSG proved once more that they are a force to be reckoned with. It was a hotly-contested match as both teams started strongly with C9 holding a slim gold lead whilst PSG had more kills. With their constant movements and rotations around the map, C9 weren't able to keep up with PSG. The PCS Spring Split winners were in fine form, always capable of always coming out on top in team fights. It didn't take them long either before entering C9's base and taking the Nexus down.
DWG.KIA vs Pentanet.GG
Already sitting pretty at the top of the table, DK had to win against Pentanet to ensure they don't squabble with RNG on the same score. While both teams traded kills early on, DK was able to establish a strong gold lead that gave them the advantage later on. Kills weren't on both teams' minds but DK did a far better job at it than Pentanet could. It wasn't long before DK began pushing against Pentanet hard, forcing them to make mistakes in their gameplay. This allowed DK to fully exert themselves into the game, ending it on a high.
MAD Lions vs Cloud9
Today's last game of the day was a rematch between EU and NA, which MAD came out on top the first time. C9 came back swinging to ensure they don't bow out of MSI 2021 without a fight in their second game. MAD was able to take an early lead with five kills to C9's three as well as a slim gold advantage. However, the overall passiveness of their gameplay gave C9 the time they needed to mount a comeback. Heading into the mid-game, C9 looked to be more in control and read MAD's movements way too easily. While they were still behind on gold, C9 was ahead in terms of kills, picking off MAD countless times. After doing all they could to fend C9 off, MAD was forced to call the GG after 36 minutes.
To the Playoffs!
With the Rumble Stage done and over with, we now look towards the Knockout Stage where four of the top teams will compete in a best-of-five series in the semifinals. The victors will go on to play another best-of-five series before crowning the winner.
What's interesting is that the first match of the Knockout stage is between RNG and PSG. The following day, we'll see DK take on MAD Lions. Now, if DK were to win their semifinal match, it would mean that they play back-to-back best-of-five matches two days in a row. Whether this is down to a scheduling issue with the tournament organisers, it does seem unfair to DK, especially since they finished top of the Rumble Stage.