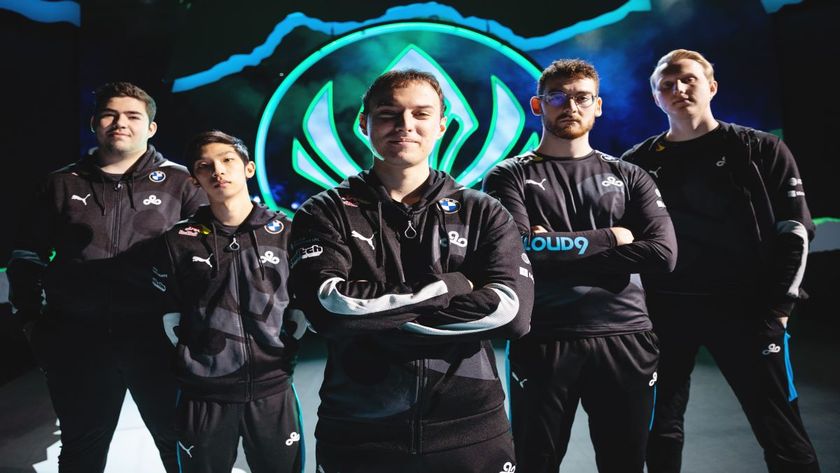 Mid-Season Invitational 2021: Day 4 of the Rumble Stage sees two teams progress through
Two teams are confirmed, only two more to go.
The fourth day of the Rumble Stage saw frontrunners 
DWG KIA as well as

Royal Never Give Up qualify to the playoffs with two games left to spare. With only two spots remaining, this is where MSI 2021 really kicks into high hear.
Both
MAD Lions and

PSG Talon sit comfortably in third and fourth place but don't count out

Cloud9 just yet as they are making a mad dash for the finish line. Sadly, the same can't be said for

Pentanet.GG as they are now officially out of the running.
As tomorrow is the last day before we head into a three-day breat/tk, it is also C9's last chance of causing an upset and kicking either MAD or PSG out of MSI 2021.
PSG Talon vs Royal Never Give Up
There's no better way to kickstart day four of the Rumble Stage than with both PSG and RNG facing off on the main stage. RNG was out for blood after suffering their first defeat of the Rumble Stage against PSG. There were plenty of skirmishes throughout the match as PSG hoped to start off strong. They managed to pick off RNG multiple times, giving them a sizeable kill lead. However, RNG managed to keep themselves in the game with their ability to split-push and farm to keep the gold lead at a minimum. But it was a disastrous fight at the mid-lane that gave RNG the opportunity to take the Baron before making a beeline for PSG's base. Sadly, the SEA squad could only do so much to defend as before long, the cracks began to show and they called 'GG' soon after.
MAD Lions vs DWG.KIA
In a bid to put some space between them and MAD, DWG came out guns blazing to start the match, taking out three from MAD in the opening 10 minutes. DWG took things a step further by constantly applying pressure on MAD all over the map and forcing them to take bad team fights and make questionable rotations. It didn't too long before DWG were inside MAD's base and destroyed the middle and bottom base structures. With only the top lane left, MAD did well in keeping DWG out and buying more time for themselves. But after trying to defend their base from the constant onslaught, they had no choice but to wave the white flag a few minutes later.
Cloud9 vs Royal Never Give Up
Having already qualified for the playoffs, RNG faced off against C9 in what was a do-or-die match for the American org. Of course, nobody expected C9 to take the game off of the Chinese. C9 got the ball rolling with three quick kills in the opening three minutes. RNG were finding it hard to make any sort of plays around the map, which is all down to C9 having the better gameplan. While RNG were finally able to get themselves on the board, C9 were slowly pulling away. It wasn't long before RNG was caught out of position, which resulted in three deaths. C9 smelled blood in the water and they were soon knocking on the doors of RNG's base. They did put up a valiant defense but it wasn't enough to deter C9, giving them their second victory of the Rumble Stage.
Pentanet.GG vs MAD Lions
Pentanet had to win against MAD to keep their tournament dreams alive. Unfortunately, the EU boys had other ideas. By the 12-minute mark, MAD had nine kills and led by 10K gold while Pentanet finally had their first kill of the game. While Pentanet played well and did their best to catch MAD off-guard, it wasn't enough to stop the bleeding. MAD were way too out in front, playing their team fights to perfection against Pentanet. It didn't take long for MAD to end the game, making it the shortest match of the day as well.
DWG.KIA vs PSG Talon
In DK's second match of the day, they faced up against PSG who they have already beaten once before. DK made light work of PSG once again, taking a huge lead against their SEA counterparts in both kills and gold. It went from bad to worse for PSG as DK were performing on another level, reading their every move with ease. While PSG did their best to keep DK out of their base, it was for nought at the end as they just couldn't cope with the amount pressure from all three lanes.
Pentanet.GG vs Cloud9
A win here would've positioned C9 properly heading into the last day of the Rumble Stage. Somehow, Pentanet didn't get the memo as they showed up to play, taking the game in style and ensuring they don't end their run without any wins on the board. Pentanet snagged themselves a handful of kills and towers in the opening 20 minutes, which evidently rocked C9. They threw everything they had (including the kitchen sink), but it wasn't enough to stop Pentanet. The killer blow came in the 36-minute mark when Pentanet caught C9 out of position and very swiftly killed off four, leaving the base defenseless. While it didn't matter much to Pentanet in the grand scheme of things, it leave C9 with all to play for on the last and final day.
Last Day Jitters
It's a three-way finish to the playoffs as there are only two spots remaining for either PSG, MAD, or C9. With that said, C9 have two keys games tomorrow against both PSG and MAD respectively. If they can win both games (provided PSG and MAD lose their other games), it could lead to a three-way tiebreaker to decide which two teams make it.