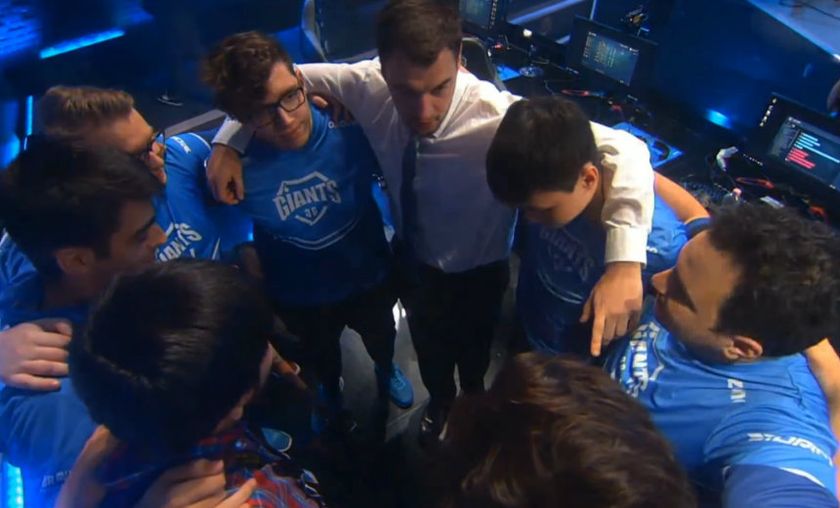 EU LCS: Giants to LCS 2018, Monkeys to challenger
Today was a day of joy for Giants, Misery for Monkeys, and "not yet" for NiP.
With a spot in the LCS up for grabs, it was always going to be a tense series, but Schalke 04 took down game one in convincing fashion, ending it in 30 minutes while condecing just two kills. Things started more slowly in game two but he kills came thick and fast once they eventually started. Again, Schalke had the best of the early game, with three kills to one by the 20 minute mark. Tower kills were even, however, and the gold difference was only 1k. Giants proved the insignificance of such a lead by winning a team fight and taking a free baron at 26 minutes. Now Giants were up by 4,000 gold and the base push was on. From there, it was a matter of time before Giants evened up the series.
Giants had the better start in game three as well. In fact, they were up 3-1 in kills within the opening 10 minutes, opening up a 1500 gold lead. They followed it up with first tower, further growing their advantage. Everything was going there way, and by the time baron spawned, Giants held a 6k lead. They were almost able to end the game in 25 minutes after a four-kill fight went their way. Instead, they had to back off, but after grabbing the baron and another team fight win, Giants were up 2-1.
Vayne made a rare appearance in game four, but she wasn't involved much in the early game, which went ever so slightly in favour of Schalke. That was all they needed, however, as the game snowballed out of control rapidly. Schalke took baron on-spawn and with an 11k gold lead, the game was soon over, with 15 kill to two.
The final game was understandably more tentative to start with. It was all the closest game of the series for a while. It wasn't until Giants went for a 25 minute baron that the game really opened up. Giants secured the buff but lost three members and a turret. Still, the buff was too much for Schalke to fight against and it was Giants who re-claimed an LCS spot for 2018.
Mysterious Monkeys and Ninjas in Pyjamas were next on the rift, battling for the chance to retain their LCS status next year. NiP had a slightly better summer split, though both teams struggled, and it was they who looked the better of the two teams. The first two games were fairly straightforward wins for the Ninjas and things didn't get much better for the Monkeys. A straight 3-0 for NiP leaves them with a chance of staying in the LCS and leaves Monkeys back in the challenger series.